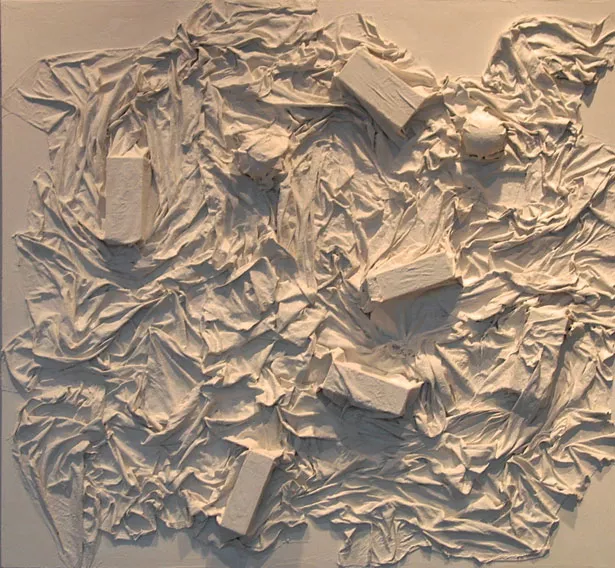 "A day in mourning falls from the bells (Neruda)" by Fran Bull
Fran Bull is a versatile artist, and not just in terms of the media she uses. She has a utilitarian approach to subject matter - that is, using any approach or medium, without regard to formal rules - that gives a surprising conceptual unity to her body of work. For her solo exhibition at Castleton State's Christine Price Gallery, Bull wrote in her artist's statement: "In the spirit of postmodernism, I bring disparate themes and elements together in order to create syntheses of idea and form." In other words, she comfortably bridges the gap between the abstract and the figurative.
The five works of Bull's "Dialogues" series from 2006 most clearly demonstrate her approach. Although formally pure abstraction, the images are driven by narrative content. The etchings each present pairs of freely designed geometric forms that interact, as if in dialogue. Bull's black-and-gray shapes are hard-edged, yet have fluid interiors; they seem to tumble across pristine white fields of negative space. The prints are often large-scale, and her "Dialogues" range up to 40 inches wide. "Line 5 2006," a non-objective copperplate etching, measures a lavish 36 by 48 inches. The piece is alive with convoluted visual textures and subtle gradations of value.
"4 and 20 Blackbirds," from 2001, is a 36-by-25-inch zinc plate acid etching portraying a ravenous head in profile snapping at a fleeing black bird. Bull's figure is dark, like a scabby head disfigured by fire, and as harsh as the toughest images by German Neo-Expressionist Georg Baselitz. "El Animal o La Cabeza (The Animal, or the Head)" is a calmer biomorphic form from 2006. The 48-by-36-inch copperplate etching also has a rich, yet semitransparent, layer of blue over the mask-like profile that crowds onto the picture plane.
The title of Bull's 2007 Italian plaster sculpture and painting hybrid on canvas, "A day in mourning falls from the bells," is the first line of Chilean poet Pablo Neruda's "Autumn Returns" of 1935. The poem's next line is "like a fluttering veil of a roving widow," and it goes on to conjure the whiteness of snow, ashes and smoke. White mourning clothes were a medieval Spanish tradition. Like most of Bull's etchings, this 54-inch-square, high-relief work is devoid of color, but its interminable whiteness is broken by the shadows of wrinkles, a sphere and the contours of five brick-like blocks. It's as if Neruda's fluttering veil had fallen over a vacant city lot, to be covered by a layer of frost. Bull regularly works in Barcelona, Spain, and references to Hispanic culture abound in her work.
Two monumental paintings from Bull's remarkable "Magdalene Cycle," dating from 1993 and exhibited at the Flynn Center's Amy Tarrant Gallery in 2003, also appear at Castleton. The nearly explosive pools of vibrant color in her vertical, 90-by-65-inch acrylic and ink masterpieces dramatically contrast with her darkly monochromatic prints and the relief piece. One work in the series, "Swamp Mother's Foot," is dominated by a sprawling amoeba form of reds and gold superimposed on a field of blended indigos. "Child of Ice" contains a harmony of turquoise and a few splashes of crimson, blended with the same nearly ocher shade of gold.
Unlike the term "Impressionism," which derived directly from Monet's technical epiphanies in "Impression, Sunrise" of 1872, postmodernism in the fine arts isn't easily defined. It's often seen as a negation of New York City's mid-century "isms," and as a force that splintered high modernism like an ax falling on a rotten log. Bull's employment of the term "postmodernism" in her artist's statement fits her pragmatic approach to form and subject. Under that rubric, her work provides insight into the exuberant spirit of contemporary fin de siècle visual art.