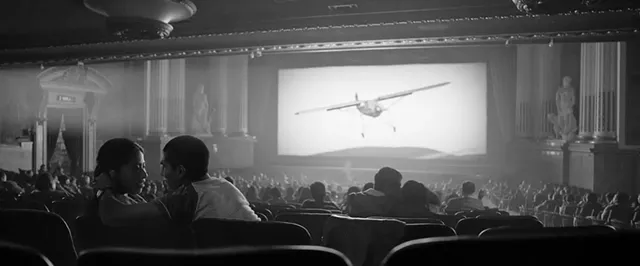 The year 2018 is drawing to a close, and you know what that means. Yup, time for Margot and me to come up with something meaningful to say about the slate and the state of movies in this crazy American moment. This could go any number of ways.
Obviously, we could opine on films that registered the cultural impact of everything from President Donald Trump to the #MeToo movement and the steady-drip downfall of powerful, misbehaving men. We could even opine on a film that didn't register anything at all, because it was made by a powerful man whose allegations of misbehavior caught up with him in 2018 and likely brought his long career to an end.
Woody Allen famously has made a new film each year since 1977's Annie Hall. He made a new one this year, too, for Amazon, called A Rainy Day in New York, but don't bother googling the trailer. The streamer has announced it won't put the picture in theaters or on the air. Ever. Disgraced and deserted by Hollywood, the 83-year-old doesn't have a lot of options at this point. Fin.
But who wants to get bummed out by all that stuff? Instead, how about a sneak peek at a seismic shift scheduled to hit theaters in the New Year? The Netflix effect — that global generational trend toward streaming and away from screening — is poised not just to speed up but to blow up in 2019. Which, admittedly, is a bummer if you own a multiplex.
Everybody is about to get in on the act. With the success of Netflix's model (137 million subscribers in nearly 200 countries), the CEOs of the companies that make your cellphones and smart watches and loads of other things you probably don't associate with movies feel they can't afford not to imitate it.
AT&T, for example, will launch a subscription-based service offering WarnerMedia properties such as HBO in addition to the telecom's TV and movie catalog. YouTube's no longer satisfied with being your go-to for cute cat videos. Its Premium subscription service will offer original films and series produced in collaboration with studios. Meanwhile, Mark Zuckerberg's going mogul with Facebook Watch. A billion dollars has been budgeted for content, so it's safe to say people everywhere will soon be looking up from their phones even less often.
Speaking of addictive devices, Apple has already made many of its products into mini movie theaters. What's the world's cash-richest company to do with surplus profits? Why not go Hollywood? Apple honchos are busy turning billions of dollars into original TV shows and films for release next year. Oh, and they've hired Steven Spielberg.
That's on top of expansions planned by existing media services with Netflix envy such as Amazon Prime and Hulu. Plus video-on-demand upstarts such as Fandor, Mubi, Tubi, Shudder and Sony Crackle. CuriosityStream continues to dominate the streaming documentary market, while DC Comics recently launched DC Universe.
Then there's Disney, which in recent years has all but absorbed Hollywood, gobbling up studios as ravenously as a corporate Pac-Man. Which means its debut streamer, Disney+, will be in a position to keep moviegoers from going to the movies by making those movies available to watch at home. All your favorite old and new Pixar, Touchstone, 20th Century Fox, Star Wars and Marvel releases — plus Disney's own — will be viewable from the comfort of your La-Z-Boy for, the Mouse House promises, a monthly fee lower than Netflix's. Which means, like, way less than the cost of a movie, Milk Duds and Pepsi.
You know what they say: The more things change, the more everybody just stays home. Hey, I plan to continue buying my ticket and gazing at that dream portal in the dark. I just don't plan on having as much company as I used to.
— R.K.
I plan to keep going to theaters, too. Yeah, it's part of my job, but the biggest flat screen you can buy won't give you the same experience as watching in a dark theater with no — or few — distractions. Our local audiences are remarkably respectful as a rule, with the exception of the occasional person who gets on their phone mid-film to tweet about the current state of J-Law's hair.
Riddle me this, though: With all the streaming services in existence or poised to launch, why did we have to lose Turner Classic Movies' FilmStruck, widely acknowledged as the best source for classic films? Shutting it down this fall, owner WarnerMedia called FilmStruck a "niche service."
Well, yeah, but one might counter that people who love old movies occupy a pretty essential "niche" for the movie business; they're often the same cinephiles who voraciously consume new films. Plus, the history of movies is vital to understanding movies in the present. Quentin Tarantino famously developed his filmmaking sensibility by watching obscure old titles at the video store where he worked. Let's hope some streaming service can serve the same function for would-be filmmakers today.
— M.H.
Most Stellar Performance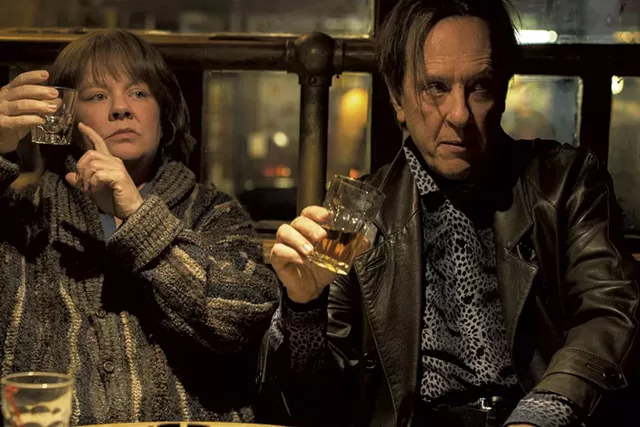 Melissa McCarthy and Richard E. Grant in Can You Ever Forgive Me?
RK: It was two outs and bottom of the ninth for Melissa McCarthy, but she hit it out of the park in Can You Ever Forgive Me? Her turn as a hard-drinking literary forger was the real thing and almost enough to make fans forgive The Happytime Murders and Life of the Party. Second place: Ethan Hawke in First Reformed.
Toni Collette in Hereditary
MH: I'll go to bat for Toni Collette in Hereditary. The genius of that movie is that it keeps you guessing (almost) 'til the end about whether you're watching a psychodrama or a supernatural horror flick. Without the raw realness of her performance as a grieving artist, there would be no such ambiguity. Also great was newcomer Elsie Fisher in Eighth Grade.
Most Annoying Performance
RK: Jennifer Garner (Peppermint), Mark Wahlberg (Mile 22) and Jodie Foster (Hotel Artemis) sure blew like never before this year. Career lows all around. But nothing I saw screamed "waste of talent" like Tom Hardy's utter and total entertainment-free debasement as a walking WTF in Venom. Second place: the movie's blockbuster box office.
MH: I really wanted to like Karyn Kusama's noir revenge drama Destroyer, and there are things to like about it. But Nicole Kidman, for all her formidable talent, feels miscast in the role of a hard-drinking cop with a shady past. When I wasn't distracted by wondering how they made her skin look so weathered, I was irritated by her monotone delivery. Note to all actors: Even doomed, desperate, depressed people can have levels.
Best Comedy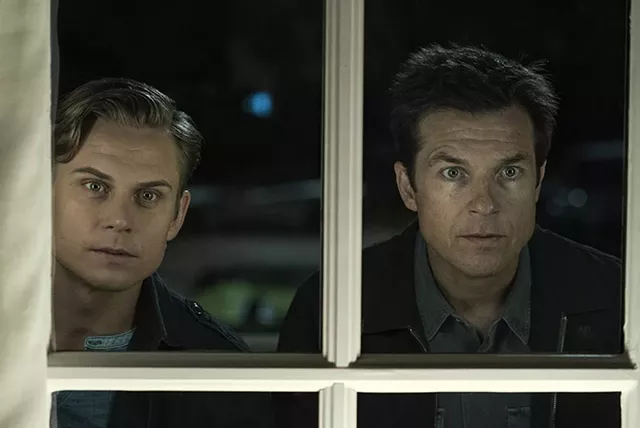 Billy Magnussen and Jason Bateman in Game Night
RK: You know who never expected to be part of the awards-season conversation but suddenly is? Jason Bateman. When I turned in my nomination ballot for this year's Critics' Choice Awards a couple of weeks ago, I figured I'd be the only reviewer to bring up February's Game Night. To my delight, it ranked as one of the year's best — as did Bateman's performance — with a silent majority of the group's membership. Zero buzz, but tons of twisted fun. Which is why Game Night is second only to Yorgos Lanthimos' The Favourite for funniest, freshest and farthest out of 2018.
Awkwafina in Crazy Rich Asians
MH: Can we put together all the bits with Awkwafina from Crazy Rich Asians and Ocean's Eight and make a movie out of those? The zanily unflappable young rapper/actor with the crusty-old-man voice needs her own comic vehicle.
As far as entire movies go, this was a great year for satire and the seriocomic. I had wicked laughs at The Favourite, Tully, BlacKkKlansman and the surreal Sorry to Bother You, all movies with serious concerns that used absurdist comedy to get under our skins.
Worst Comedy
RK: Kevin Hart is having a bad year, I think we'd all agree. The comic got the job he'd long dreamed of: hosting the Oscar ceremony. Then, on December 7, he walked away rather than apologize for old homophobic tweets that had resurfaced. As unamusing in any way as that was, the Hart vehicle Night School was infinitely less so. Second place: I Feel Pretty.
MH: The makers of The Happytime Murders seemed to think they'd created comedy gold by depicting puppets doing things that puppets on kids' shows don't do. But puppet sex, puppet drugs, and puns on "fuzz" and "felt" can only take a movie so far. This one "felt" three hours long.
Biggest Letdown
RK: Vice. Adam McKay's follow-up to The Big Short had everything going for it but just didn't come together. It's almost worth seeing for the insanely dead-on impressions of Dick Cheney, Donald Rumsfeld, George W. Bush, etc. But then, we don't go to movies about matters in recent American history that are this monumentally resonant for the impressions, do we? Second place: Red Sparrow.
MH: I loved Blue Ruin, the 2013 breakout film from director Jeremy Saulnier. One of the easiest ways to get attention with an indie film is to make an ultra-violent noir, but here was one in which the violence was messy and life-size, nothing glamorized about it. Green Room wasn't bad, either. So I had high hopes for Saulnier's new Hold the Dark on Netflix.
Then I watched this incoherent murder marathon, punctuated by pretentious mutterings expressing wannabe Cormac McCarthy insights about how people are just animals, man. Too often, I think, we critics conflate cinematic brutality with significance. You can have one without the other.
Biggest Surprise
RK: John Krasinski is full of surprises. He's married to Emily Blunt (Sicario, Mary Poppins Returns). He's the only person ever to write and direct a movie based on a work by David Foster Wallace (2009's Brief Interviews With Hideous Men). In April, with zero fanfare, Krasinski dropped the year's most devilishly effective horror film, A Quiet Place. I guess he'll run for president next. Second place: Wildlife. Who knew Paul Dano was a great director?
MH: I had a bunch of cinematic surprises this year, some pleasant and some not. My mom, not exactly a horror fan, enjoyed A Quiet Place (so did I!). Suspiria, Luca Guadagnino's arty remake of the 1977 horror classic, somehow ran longer than Vice or Avengers: Infinity War. (And no, despite some good moments, it did not justify that epic length.) And the movie I heard the most chatter about online — Panos Cosmatos' Mandy — never played in our area. Neither did political black comedy The Oath, despite the screening of its trailer at two different local theater chains.
Film So Forgettable I Didn't Remember Seeing It Until Compiling This Year-End Review
RK: I've marveled for decades that Eric Clapton was able to attain the status he has while being so thoroughly, unrelentingly dull. Except for maybe two or three months while the band Cream was still in business, the guy's life and music have been one long, self-involved yawn. So it didn't come as a complete surprise as I prepared this piece to be reminded that I'd watched Lili Fini Zanuck's Eric Clapton: Life in 12 Bars back in February and promptly forgotten it. What were we talking about? Second place: Adrift.
MH: Normally, it takes me several years to actually forget a forgettable movie, but that could happen faster with Tomb Raider. A reboot of a video-game-based franchise that was already pretty forgettable when it starred Angelina Jolie, this film wasn't especially good or especially awful. Just your garden-variety half-hearted Indiana Jones clone like they used to make back in the '80s, only without the retro appeal.
Movie That Deserves More Notice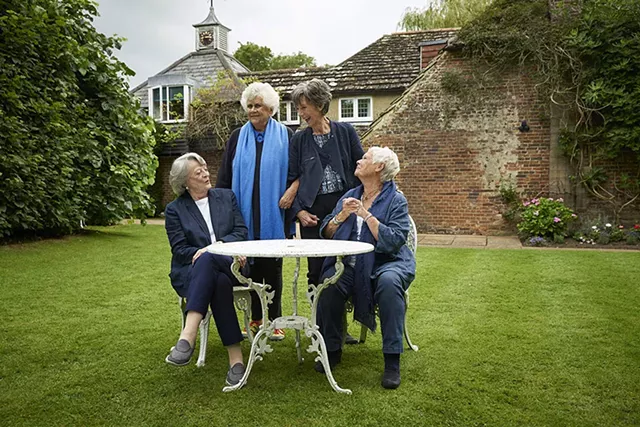 Maggie Smith, Joan Plowright, Eileen Atkins and Judi Dench in Tea With the Dames
RK: I'm surprised Tea With the Dames didn't get an invitation to the prestige-season party. With four — count 'em, four — of Great Britain's finest living drama queens in one film, I would've figured it'd merit a bit more mention. Plus, they're funny as hell. Second place: Mandy.
MH: Yeah, the psychedelic revenge epic Mandy is certainly ... quite something. But my pick is Thoroughbreds, the debut of writer-director Cory Finley, a delightful little dark chamber piece in which a rich teen enlists the help of her sociopathic friend to kill her stepfather. Heavy on the clever dialogue, with hints of Heathers and strong performances from Anya Taylor-Joy and Olivia Cooke, it's consistently smart and surprising. For me, it was the twisted take on female friendship that A Simple Favor was trying to be.
Most Inexplicable Hit
Jonathan Pryce and Glenn Close in The Wife
RK: OK, with a current box office take hovering just under $8 million, The Wife isn't exactly a smash hit. Or, for that matter, anything more than manipulative silliness. Yet there seems to be a contingent out there that pushes for Glenn Close to get an Oscar whenever she appears in anything besides a TV movie or superhero film, and this is no exception. Inexplicably, the actress has drawn nominations from several critics' groups early in awards season. As a result, Sony Pictures Classics just expanded the movie's theater count by 400 screens in an effort to build buzz. The script's ridiculous. Close's performance is unremarkable. I don't get any of it. Second place: Rampage.
MH: Having raked in $131 million worldwide on its debut weekend, a record for The Conjuring horror franchise, The Nun now ranks No. 23 among the top-grossing films of 2018. With a hokey plot and a total lack of suspense, it's also the least scary Conjuring film I've seen by a wide margin. I understand the hunger for horror in the buildup to Halloween, but c'mon, people, let's demand better.
Most Inexplicable Flop
RK: I'd have liked to see Michael Moore's Fahrenheit 11/9 do better. But the reason people found the idea of seeing it more than a tad dispiriting isn't a total mystery, I suppose. Trump fatigue. Who doesn't suffer from it? Second place: American Animals.
MH: I get why Alex Garland's Annihilation wasn't a hit or an awards magnet. It was marketed as a horror movie about shooting aliens, when it's actually slowish and cerebral. It has its issues — chillingly great scenes paired with so-so expository dialogue. It was released back in February. But Annihilation was haunting enough to inspire me to read the source material, Jeff VanderMeer's Southern Reach Trilogy, which the movie doesn't mirror as much as complement. If you like your science fiction weird, don't overlook it.
Most Overrated Likely Award Magnet
RK: In ascending order of overratedness: The Old Man & the Gun, Beautiful Boy, Boy Erased, On the Basis of Sex. Second place: Roma (gorgeous visuals, I agree. I'm just finding it a little thin on virtually everything else).
MH: Confession: I expected to be bored by Roma, because when other critics talk about "the magic of pure cinema," my eyes glaze over. Instead, I was enthralled, so score one for the magic of pure cinema. I was not so enthralled by the montage-heavy Beautiful Boy, I was so-so on Green Book, and I confess to being downright annoyed by Bohemian Rhapsody, now a Golden Globe nominee for Best Drama. That said, the performance scenes of Bohemian Rhapsody are a genuinely powerful theater experience. The same cannot be said of those in the gratingly self-important pop-star drama Vox Lux.
Worst Picture
RK: Did it get worse than Bad Samaritan? Sure, there were movies as pointless and poorly made. But not from filmmakers with Stargate, Independence Day and Godzilla on their résumé. Maybe somebody will make a biopic about director Dean Devlin someday, and we'll find out what went wrong. It would have to be more interesting than this film. Second place: a tie between Gemini and The Strangers: Prey at Night.
MH: The Death Wish remake was pointless, plodding and pandering. Fifty Shades Freed made me yearn for freedom from the multiplex. But I'm not in the target audience for either of those movies — fans of vigilante dramas and fans of tame erotic romance combined with lifestyle porn, respectively. As a horror fan, I am absolutely in the target audience for The Nun, so I hereby pronounce it Not Even Worth Netflixing on a Rainy Sunday Afternoon.
Best Picture
Adam Driver and John David Washington in BlacKkKlansman
RK: Well, we've really come to the end of the year, haven't we? These will be the last paragraphs in the last piece readers see from us in Seven Days until 2019. An honor and a pleasure, as always. Let's do it: I adored The Favourite, Eighth Grade, First Man, Free Solo, Leave No Trace, Green Book, American Animals, The King, Skate Kitchen and so many others. Roma, not so much. It was sort of a spectacular year for movies, unless I'm crazy. In my book, though, it didn't get more brilliant than BlacKkKlansman. How great to see Spike Lee return to form with a picture this on the money and of the moment. Bravo. Second place: The Zen Diaries of Garry Shandling.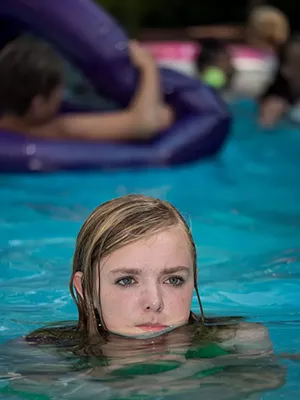 Elsie Fisher in Eighth Grade
MH: Eighth Grade is a brutal, hilarious, revealing slice of life. The Favourite may be my favorite costume drama since Dangerous Liaisons. Black Panther wowed me visually and dramatically, while BlacKkKlansman and The Hate U Give packed timely punches, and Sorry to Bother You revived the head-trip movie for a new generation. Hereditary is my favorite movie that I can't recommend to a single person I know, and my favorite theater experience of the year. (Let's just say people ... reacted.)
But first place goes to Paul Schrader's First Reformed, a non-documentary, non-disaster, non-preachy movie that foregrounded climate change as a human issue in the present tense. The movie is flawed, yes. There are arguments to be had about it. And we should be having them, because it's dramatically compelling and deeply chilling.
On that cheery note, reviewing films for Seven Days has been an honor and a pleasure for me, as well. Happy movie-going in 2019, and please don't forget your excellent local theaters and film series and festivals! We lost our video stores, and I, for one, still miss them. While streaming is indeed a fine thing, I hope not to have to miss theaters, too.