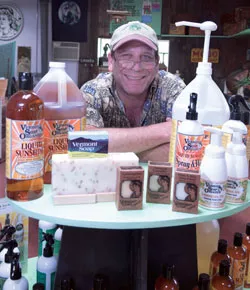 Larry Plesent knows firsthand what hazardous chemicals can do to the human body. For seven years in the 1980s, he worked as a window washer in Burlington, using his own homemade concoction of dish detergent, floor cleaner, windshield-wiper fluid and antifreeze. Every day, he came home literally drenched in the stuff.
That daily toxic bath, which contained such poisons as sodium lauryl sulfate, methanol and propylene glycol, left Plesent with multiple chemical sensitivities. He suffered from contact dermatitis for eight years. Whenever he shampooed, his hair fell out in clumps. After he used a deodorant, he developed a rash across his arms and chest that lasted for weeks.
Stymied, Plesent's dermatologist recommended he try different products. Plesent switched from one brand to another, but his condition never improved.
One day, at a Vermont craft fair, a goat farmer handed Plesent a bar of homemade soap. He tried it and found it didn't irritate his skin. Within three days, Plesent's eight-year bout with dermatitis came to an end.
The difference, he later discovered, was in the farm soap's composition: Unlike conventional soaps, it contained none of the toxic ingredients he had been exposed to as a window washer. But when Plesent looked for consumer soaps without those chemicals, he couldn't find any. So, he started making them himself.
Today, Plesent is the owner of Vermont Soap Organics, a Middlebury company that manufactures natural and certified-organic soaps, shower gels, lotions, nontoxic household cleaners and other personal-care products. With about 20 employees and $2 million in annual sales, Vermont Soap Organics is one of a small but growing number of Vermont companies — others include Twincraft Soap of Winooski and Autumn Harp of Essex Junction — that specialize in nontoxic and organic cosmetics and personal-care items.
The average woman in the United States uses 12 personal-care products each day; the average man, about six, according to the Campaign for Safe Cosmetics. While the "natural/organic personal-care" sector represents only a small fraction of the overall personal-care consumer market, it's expanding by about 10 percent annually, according to Mintel, a consumer research firm. In 2009 the organic personal-care market saw nearly $500 million in national sales.
Like raising organic crops, making organic personal-care items can be more involved, expensive and time consuming than conventional manufacture. However, many consumers don't understand the differences between an "organic" bar of soap and a conventional one. Why not? Because, unlike organic foods that bear the commonly recognized USDA Organic seal, personal-care products have been allowed to use the word "organic" on their labels without adhering to any standards. In fact, for products such as cosmetics, lip balms and hair conditioners, the words "organic," "herbal" and "natural" have had no legal definition whatsoever.
Only three Vermont personal-care product manufacturers are certified as organic by the Northeast Organic Farming Association of Vermont. But, for many consumers, that label doesn't carry the same cachet it has for food. They may be wary of "faux-ganic" companies that exploit consumer confusion by marketing their products as wholesome alternatives, even when they contain ingredients that are known to cause cancer or be linked to other problems such as asthma, sperm damage and learning disabilities.
Joe Smillie of South Burlington, who until January served on the National Organic Standards Board, explains the confusing and often contentious history behind this issue. When the Organic Foods Production Act was enacted in 1990, it was specifically designed to cover food and agricultural commodities. Personal-care products such as deodorants, cosmetics and shampoos fall outside the jurisdiction of the U.S. Department of Agriculture. They're regulated by the U.S. Food and Drug Administration — which, Smillie notes, has neither the staff nor the expertise to police organic standards.
Products that you eat are more strictly regulated than those you rub on your body, even though toxic chemicals can be just as quickly absorbed through the skin as by the mouth. Ironically, Smillie notes, certain toxins are actually safer to eat than to apply to your skin, because the digestive system breaks them down.
Because the USDA controls the use of the word "organic" on all U.S. product labels, for years a handful of companies that made all-natural personal-care products lobbied the agency to create distinct organic standards for their industry. In August 2005, the USDA announced that it would not regulate the generic use of the word "organic" on personal-care products. However, those products would be allowed to bear the USDA Organic seal only if they contained at least 95 percent organically sourced ingredients and followed all the processing and manufacturing guidelines that apply to organic foods. An organic soap bar had to be made to the same standards as an organic breakfast bar.
In short, the USDA abandoned the word "organic" to all takers, while making the organic seal possible but difficult to obtain — unrealistically difficult, say some of the same manufacturers who originally lobbied for tougher standards.
Those manufacturers complain that it's nearly impossible to make certain products, such as soaps and shampoos, without some synthetic ingredients — surfactants, emollients, emulsifiers and preservatives — that are specifically banned under USDA food guidelines. Notes Barb Devine, director of marketing at Twincraft Soap, "We can never make a 100 percent certified-organic bar of soap."
Last year, the Organic Consumers Association filed a complaint with the USDA's National Organic Program, asking it to address the widespread practice of deceptive labeling of personal-care products as organic. In response, the USDA, in talks with the FDA, announced that it plans to issue special organic rules for cosmetics and personal-care products. Those rules have yet to be finalized.
In the meantime, Vermont's organically minded manufacturers adhere to a more realistic standard for their product marketing. They can describe their wares as "made with organic ingredients," which means they contain at least 70 percent certified-organic materials, such as organic lavender or citrus.
One such company is Twincraft Soap, a manufacturer of private-label bar soap that employs about 200 people in Vermont and produces soap for some of the biggest names in the personal-care industry, including Aveda, Avon, the Body Shop, Mary Kay, Estée Lauder, Clinique and Johnson & Johnson.
Twincraft's Devine explains that its certified, "made with organic ingredients" lines — sold under the brand names Leap Organics, Aveda, John Masters Organics, Whole Foods and Kiss My Face — represent a small but growing component of Twincraft's overall business.
Devine says the organic personal-care industry took a big hit during the economic downturn of 2008-09, when consumers seemed more likely to scale back their purchases of organic soaps than organic foods. Still, she says, Twincraft has seen a burgeoning interest in its made-with-organic lines from clients whose customers are seeking more eco-friendly products and are asking tough questions about them. Among them: Where do your ingredients come from? Are they nontoxic and sustainably harvested? Is the packaging recyclable? How are the workers treated?
Even companies that didn't traditionally cater to such customers acknowledge a growing interest in sustainably produced products, Devine adds. One example: Avon last year launched two new bar soaps under their brand "mark," which markets to younger consumers. Both soap lines, manufactured by Twincraft in Vermont, can boast fair trade ingredients and eco-friendly packaging.
Devine echoes the concern of other local personal-care-product manufacturers. "From our standpoint, it'd be helpful if there were organic standards specific to personal care, because we're living by a food standard, and, under that standard, we'll never have packaging that carries the USDA organic seal, and that seal carries a lot of weight to a lot of folks."
One promising sign: Supermarket chain Whole Foods has put its muscle behind the push for tougher personal-care standards. In November 2009, Whole Foods announced that, as of June 1, 2011, all of its U.S. stores will sell only personal-care products certified as organic under one of two nationally recognized independent standards.
That said, until tougher standards are adopted across the board, consumers will continue to be flummoxed by what they see on the labels of consumer soaps, lotions, hair gels, lip balms and shampoos.
Adding to the confusion is a new product label that the USDA began allowing this spring, called "USDA Certified Biobased." This voluntary certification, akin to the Energy Star labeling on appliances, indicates that a product is at least partially made from agricultural or forestry products rather than fossil fuels. However, as the New York Times reported in January, the threshold for certifying products such as lip balms and household cleaners as biobased is not high: Only 25 percent of their ingredients must derive from renewable sources.
Currently, only four Vermont companies are listed on the USDA's website as producing so-called certified biobased products — Vermont Soap Organics among them.
Plesent acknowledges that many of these issues will fly over the heads of consumers. So, when he's asked which ingredients consumers should avoid, he offers one simple rule: "If you can't pronounce it, you probably shouldn't use it on your body."