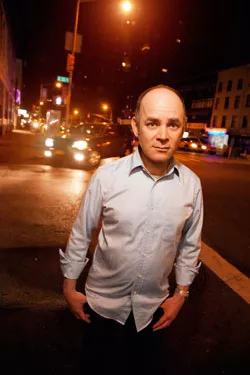 Todd Barry is pretty amazing. Just how amazing is something the comedian will gladly share in his standup act, via Twitter or on his new podcast, "The Todd Barry Podcast." But his is a wryly charming and often self-deprecating brand of low-key, facetious megalomania.
For example, take a recent tweet in which Barry says, "Need to start writing tweets that change lives. Making people double over in laughter is no longer enough." Or another that reads, "Sometimes I think I just got really really famous. Then I remember that I've been really really famous for a long long time."
The joke is that Barry is not actually a household name. But he is among the most widely respected comics of his generation. He's released four successful albums, most recently Super Crazy in 2012. He's done a pair of Comedy Central specials and several late-night talk show appearances. He has turned up on a variety of scripted TV shows, including "Flight of the Conchords," "Delocated," "Aqua Teen Hunger Force" and Louis C.K.'s "Louie" — Barry and C.K. are longtime friends. And Barry's had some choice film roles, including turns in Road Trip, The Wrestler and the underrated cult favorite Pootie Tang.
Barry is a uniquely creative observational comic who relies on a subtle, deadpan delivery and delightfully withering sarcasm. He's also unusually daring. On his most recent tour, the Crowd Work Tour, he ditched his written material and performed hourlong sets based solely on interactions with the audience.
Barry, who is back to performing written material, is headlining the 2013 Green Mountain Comedy Festival. In advance of his very likely amazing performance at Club Metronome on Sunday, May 26, Seven Days spoke with Barry by phone from his apartment in New York City.
SEVEN DAYS: The Crowd Work Tour must have been quite an experience. It almost sounds like a cross between improv and standup.
TODD BARRY: It wasn't improv in the sense where I need a sentence or a word and launch into an hour bit. It was more that I just bounced around just hoping to land ... something. People had interesting stories, and most of the time I was able to come up with something. I imagine there was some dead air occasionally. But that's gonna happen.
SD: In a typical set you'd have material that builds to a finish. With something like this, how do you know when it's over?
TB: That was a challenge that I felt the first few shows. I realized, "God, there's no real momentum." Then it occurred to me that as long as I kept it going for a while and people were having fun, at an hour I could just go, "Uh, we're done."
SD: Just drop the mic and walk off.
TB: [Laughs] It's not like we're going to have a finale. Ideally, it would end with a nice moment.
SD: Would you do it again?
TB: I might do it again some time. On one hand, it was really fun. But on another, you're not getting work done, because you're not really doing any jokes. I didn't come up with a lot of material out of it.
SD: Audience interaction has always been a part of your act. But this is taking that to another level. How long did it take you to get to a point in working a crowd that you were comfortable even trying something like this?
TB: I had done sets where I had done almost all crowd work, 15-minute sets. So even for me, in all my years doing it, I never said, "I'm going to give you an absolute hour." It was a little scary. But also less pressure, because all day there was nothing I really had to think about. I like not thinking.
CC:Stand-Up
Get More: Jokes,Jokes of the Day,Funny Jokes
SD: You have a new podcast.
TB: Yeah. It's just going to be me talking to various folks — comedians, some noncomedians. It's what you think it is. Just me talking. Hopefully it won't just be another comic-interviewing-comics thing. Though it could be. I'll see how long I can do it. Then I'll stop doing it.
SD: Podcasts have become an effective vehicle for comedians especially. Is this something you hope might get your name out there a little more?
TB: It's not really that calculated. I know people who have podcasts, like Marc Maron — it's helped them quite a bit. I mean, he was doing fine. But it's taken him to the next level. And then I've done shows where it's like a live podcast with a host, and you get a whole new set of people, people who, you're like, "I don't think they'd be showing up to a comedy show, these people." Weirdos is who I'm talkin' about.
SD: [Laughs]
TB: They're a certain type of weirdo, the podcast weirdo.
SD: Why has Twitter become such a great tool for comedians?
TB: Comedians need attention. So I think it's a combination of comedians needing attention and that it's a no-pressure way of getting a little bit of whatever you get out of doing a show. It's instant feedback. Maybe you have a stray thought while you're sitting at a coffee shop, but it's not something you want to put in your act; you type it up, and, within seconds, hundreds, thousands, hundreds of thousands of people see it. And you get whatever you get out of that. And it's a good way to spread the word about various projects and things.
SD: And for you it's a great way to mess with people. There's your bit about the Kansas City airport responding to one of your tweets. [Barry poked fun at the KC airport for a lack of food options.] And then Spin responded to you making fun of the Louis C.K. Rolling Stone cover with a fake cover of you.
TB: Yeah, that was nice of them. I was just looking for the equivalent of Rolling Stone. Although I think Spin is out of business, so maybe that's not the equivalent.
SD: You delete tweets on occasion. How do you decide when something doesn't cut it?
TB: Sometimes it will be if I feel like a thought was just too obvious and I think someone else must have thought of it, or maybe it's just not the most interesting take. Sometimes if I get no response and I conclude it was just not worded clearly, I delete it. Or if I think it was bad.
SD: Any advice on crafting amazing tweets?
TB: Gosh. I'm not gonna spill my secrets.
SD: You had a bit in your act where you reacted to a bad review that had been written about you. Do you still pay attention to what people say about you online?
TB: I'm doing it less. I realized it just doesn't make me feel good. And it's not constructive. So why expose myself? I mean, I slip up now and again. But I don't think you really gain anything by going out of your way to find something shitty someone said about you.
SD: Since this is a comedy interview, I'm contractually obligated to ask you about Louis C.K.
TB: Uh-huh.
SD: So he's committed to doing a new hour of material every year, which is a huge output. On the one hand, it's admirable. On the other, if I were a comic, I might be annoyed that he's raising the bar so much higher. How do you feel?
TB: I don't mind him raising the bar. But not everyone works at the same pace. There's authors that put out four books in five years, and there's authors that put out one book every five years. With the immediacy of comedy, people get tired of it. The second time you hear something, it's just not the same. So it's a different type of experience. But I think he's raised the bar and definitely motivated people like ... me. Am I writing as fast as I can? I do think there is a danger [in] just going for quantity or a speed record. Just having something new doesn't mean it's good.
SD: There's been a lot made of Louis C.K.'s self-distribution model, which in theory is great. But isn't there a very limited class of comedians who can get away with doing it?
TB: Yes. It's great that he did that, released his special for $5. But he also has the income to produce that. He has such a large fan base that even at $5 a pop, he made a million dollars in, like, four days. Someone like me, or someone at a lower level, we might lose money, or not get nearly the money [we] would get if Comedy Central gives [us] a special. That's definitely the case with me. But it's a great thing any time you can do things on your own and still make a lot of money. I don't think he would have gotten a million dollars from HBO.
SD: When you're touring to promote an album or a new special, it's not like a rock record where people want to hear the hits. So can you repeat the same material?
TB: That's always the big question. I think you can. The chances of half the room in Burlington, Vermont, or any given room, having seen the special, I think, are slim. It's a vocal minority who are going to have a problem with it. And then there are people who want to hear the jokes from the special. But you always win with new material.
SD: Comedy is experiencing a boom currently. Does there come a point when it becomes too bloated, when the overabundance of comics becomes unsustainable?
TB: I don't know that it's bloated. There are a lot of comics. But there are also a lot of rooms. You've just gotta be patient. I would never say there's too many. I mean, there's too many of anything, probably. There's too many painters, too many poets. At least to make a living, there's too many. Sure, it's frustrating to not get on stage one day, or do a show and it's just other comics waiting to go on who are your audience. But that's just what you've gotta slog through before you hit the big time!
Todd Barry performs on Sunday, May 26, at 7:30 p.m. at Club Metronome in Burlington as part of the Green Mountain Comedy Festival. 18+. $15 greenmountaincomedy.com.
Follow Barry on Twitter at @toddbarry.