Luke Awtry
Richard Bowen
Standup comedy and skateboarding may seem like completely different pursuits. But they have at least one thing in common: You can't get good at either without falling flat on your ass a bajillion times. South Burlington-based standup comic and avid skater Richard Bowen knows this well.
With slightly unruly brown hair, thick-rimmed glasses and blue eyes, he resembles an adult Harry Potter. But Bowen fights depression, not Dementors, and spits jokes rather than spells.
Patches of road rash in various states of healing mark the lanky 32-year-old's body. After nearly 20 years of skating, he still falls. But that doesn't keep Bowen from carving half-pipes whenever he gets the chance. The pastime eventually led him to construct and design skate parks all over the East Coast, including several in Vermont.
"There was a time when I wanted to do that full time, but I'm kind of too crazy," Bowen says, sitting on his front stoop. He adds that he'll "always advocate for public skate parks" and hopes to continue creating them.
Unlike the smattering of purple scabs on Bowen's right arm, the scars he has earned relentlessly pursuing standup comedy aren't visible. But his 70-some journals indicate how prolific he is; each is crammed to the margins with classic setup/punch-line jokes and one-liners. Presumably, many elicit crickets over chuckles.
Since early 2014, Bowen has spent nearly every waking hour focused on writing jokes and performing sets whenever he can. Skating has always helped him channel his physical energy and stave off his lifelong struggle with depression. But when the comedian vowed to write jokes every day, he found his life's calling.
"I just want to tell jokes full time as soon as possible," Bowen says. "I think that's how I can best serve the world."
Bowen is well known to local comics and travels the country extensively on self-booked tours. Between scheduled gigs at clubs and open mics, he'll strap a small PA system on his shoulders and tell jokes literally wherever he can. He'll approach strangers waiting in line, wander into businesses and crash karaoke nights. His favorite spontaneous set, Bowen relates, was in Roswell, N.M., when he insinuated himself into a 4-year-old's birthday party by a UFO-shaped play structure at a McDonald's.
"He's the hardest-working comedian I know — at any level," says Vermont Comedy Club co-owner Natalie Miller.
Born in Sumter, S.C., Bowen grew up in North Pole, Alaska, and spent part of his high school years in the Northeast Kingdom of Vermont. Between his parents' careers in the military and their eventual divorce, he moved around a lot. In 2008, Bowen graduated from Johnson State College with a degree in studio art. He had little interest in pursuing a career as a visual artist — though the fact that he's color blind wasn't a factor, he says.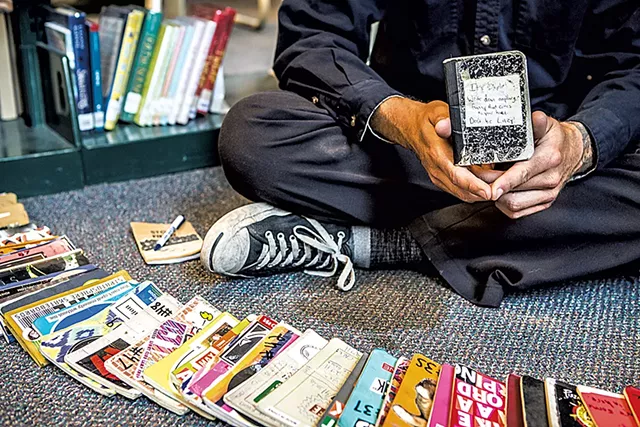 Luke Awtry
Bowen's notebooks
For a spell, Bowen worked at Johnson's Vermont Studio Center doing mostly housekeeping and handyman work. "It was really frustrating to be surrounded by such intensely creative people," he recalls. "I would see people that would make these amazing things. I always felt like I had that capacity, but I could never find an avenue."
Bowen spent much of his twenties working odd jobs — dishwashing, housekeeping, construction and eventually building skate parks. Meantime, he came to grips with his worsening depression. The University of Vermont Medical Center's Seneca Center, a rigorous outpatient psychiatric program, provided Bowen with the structure and tools he needed to cope with the disorder.
"I struggle with it every single day," he says. "I don't want to hide it. It's easier to deal with it when I don't."
Aside from a one-off set during a 2010 comedy competition at Higher Ground, Bowen's first foray into comedy was a late 2013 drop-in improv jam at Spark Arts. That was the performing arts studio that Miller and her partner, Nathan Hartswick, ran before opening Vermont Comedy Club in 2015.
Reeling from a 2014 New Year's Day breakup, Bowen hit his first standup open mic a week later at Nectar's in Burlington. During that year — a particularly hard one for him — he performed standup 29 times, he recalls.
"I was like, If I can do standup when I feel this bad, and it goes that well, I need to go all-in on this," Bowen says.
He always carries a notebook and pen. Scrawled across the cover of his very first notebook are the words "Don't be lazy." Bowen attributes the phrase to a primary influence, the late comedian Mitch Hedberg, who advised, "Write down anything funny that comes into your head. Don't be lazy."
Bowen's journals are filled with wordplay and pun-inspired jokes. The best ones wind up in his sets and his handwritten zine, Rich Jokes. He distributes the latter wherever he performs, and the first 12 issues are available as a box set.
Here's a typical Bowen one-liner: "Whenever I see a sign on a restroom door that says 'Customers only,' I feel so bad for the employees."
A pun-based zinger: "A collapsed shaft is a miner inconvenience."
He's sometimes observational: "Every printer is a 3D printer."
And he occasionally drops an utter head-scratcher: "I think every time a spider dies, an octopus is born."
"He's really good at bridging any sort of gap for audiences who are not your typical comedy audience," notes comedian Annie Russell by phone. The Vermont expat, who now lives in Chicago, started her comedy career around the same time as did Bowen.
Another oddity is his unconventional delivery. Dry and shy, Bowen softly chuckles along with the audience — but not in an unprofessional way.
"There's a certain type of come-dian that's smiling and laughing onstage because they're delighted to share this thing that they think is really funny," says Hartswick. "It's a very joyous, conspiratorial thing."
Watching Bowen onstage or reading his zines reveals that his comedy is largely clean. Though raunch and profanity reign supreme in the comedy scene, this comedian avoids hypersexual, scatological and dark humor, for the most part.
Last month, Bowen was named Laffy Taffy's Chief Laugh Officer — the exact duties of which he says are unclear. (Representatives from the Nestlé-owned company could not be reached for comment.) The stretchy confection is known for the corny jokes printed on its labels; last spring, the brand launched a nationwide search for someone to "help bring in a whole new wave of funny."
After submitting a few jokes and a video clip — which had to be in the setup/punch-line style as well as squeaky clean — Bowen was selected as one of three finalists to win an all-expenses-paid trip to Los Angeles. He and the others performed for a few minutes each during a night of standup at the Laugh Factory. Victorious, he came home with $10,000.
It's no surprise to Miller that Bowen would thrive under the contest's constraints.
"Standup has gone so much toward personal anecdotes," she says. "[But] Richard is a joke writer."
Later this year, Bowen will travel across the country, hitting all of the states where he hasn't yet performed — including Alaska, where he grew up.
"With social media, I know that a lot of people think I'm just out there skating and doing standup," he says. "People always think I'm making a living at it, but I'm not."
It won't be a surprise if, one day in the near future, he will.