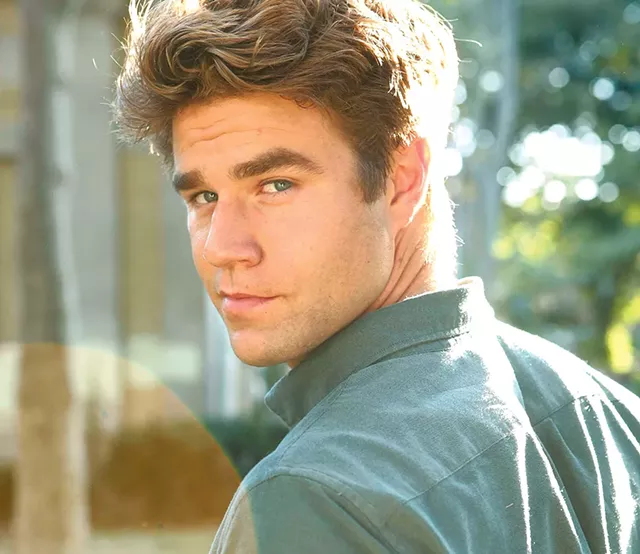 Matthew Broussard is a self-described horrible procrastinator. "I will never be doing the thing I need to be doing," he said in an interview with Seven Days. But his dawdling tendencies have served him well.
Prior to becoming a full-time standup comic, the New Jersey native worked in finance. Broussard, who was raised in Atlanta, comes from an academic family and has a degree in computational and applied mathematics from Rice University. He lost his finance job because he was spending most of his time writing jokes — a pastime that led to winning Houston's Funniest Person in 2012 and to being featured as a New Face at the 2015 Just for Laughs Festival in Montréal.
As he found success in comedy, Broussard confessed, he began shirking his standup responsibilities to work on his weekly web comic, mondaypunday.com. That detour worked out, too. Broussard's hybrid cartoon and word puzzle has a devoted fan base — and an app. So how does he slack off now? With an old childhood hobby: He sculpts action-hero figurines out of clay.
"Sculpture is the one thing that no one will ever pay me to do," he said, "so I will put my work into that." His most recent creation is a female version of the white Power Ranger. "My shelf needed more women figurines," he explained.
Clearly, Broussard is a man of myriad interests and talents — even if he'd almost always rather be doing something else. Still, it's unlikely he'll ditch comedy to join the crafting circuit anytime soon. Now based in New York City, the affable comic is a star on the rise.
Following a string of appearances on TV shows such as "The Mindy Project" and "The League," Broussard delivered a sharp set in 2016 for "The Half Hour," Comedy Central's prestigious standup series. In conjunction with that appearance, he released his debut comedy album, Pedantic, on the CC label. Though he's known for smart jokes and witty wordplay, he can do edgy, too, as is evident in his appearances on the network's roast battle series, "Jeff Ross Presents Roast Battle."
Broussard performs two shows at Vermont Comedy Club in Burlington on Wednesday, February 14 — Valentine's Day. In a recent phone interview, we discussed the standup's thoughts on that holiday, long-distance relationships, and the unlikely connection between math and comedy.
SEVEN DAYS: Where do you stand on Valentine's Day?
MATTHEW BROUSSARD: When I was single, it used to make me feel alone. And now that I'm in a relationship, it just makes me feel stressed that my gift wasn't good enough.
SD: Aw. That's kinda sad.
MB: Yeah, it's kind of a lose-lose for me.
SD: Do you have a best Valentine's Day memory?
MB: I haven't enjoyed Valentine's Day since I was in elementary school and you were forced to get cards for everyone. You couldn't get a special Valentine because everyone passed around cards to each person, and you just end up with a ton of candy. I remember being happy then. Valentine's communism: It was great! Everyone gets equal love.
SD: Do you remember your first crush?
MB: Yes! Anita Trevino. I asked her to the dance in sixth grade. She said no.
SD: Did it ever work out? Do you know what became of her?
MB: Nope! Nothing came of that. She still lives in the town I grew up in, I believe. And she's still pretty.
SD: You were in a long-distance relationship with your current girlfriend for a while. Any advice on making an LDR work?
MB: Pick one airline and build up good loyalty points with them.
SD: Wow. That's remarkably ... sensible.
MB: Giving lots of little gifts is good, too, but an airline with good loyalty points — and a job that makes you travel constantly. That was the beauty of doing comedy: I could always route through Austin on the way home.
SD: What is the best relationship advice you've ever received?
MB: I don't know. This is my first, like, "real" relationship. But I guess my mom's advice was "Buy her flowers randomly, and you will save yourself so many headaches." Buy her flowers when you don't need to. Don't do something nice just to make up for something.
SD: Switching gears, I really enjoyed watching your roast battles on Comedy Central. But some of the insults directed your way got pretty personal. How much of that stuff sticks to you?
MB: It doesn't. As a comedian, your job is to go up there and make fun of yourself every possible way you can. And once you address these things and people laugh at [them], you feel OK about them. If you're sensitive about something in your appearance, and you make a joke about it, and everyone laughs, you think, I guess it's not that big a deal.
SD: Such as you looking like a preppie 1980s movie villain?
MB: Right. And with roasting, most comedians are only going to go after things you've gone after yourself. They're not going to tell me something about me I don't know. I'm more worried about my jokes not working. That's the scary part: If the things, say, aren't funny, or the other person is just way faster than me.
But most of these people are friends, and we talk to each other beforehand. Before every big battle I've done, I've gotten on the phone and asked what they're sensitive about, what they'd like me to not talk about. It's usually just "Don't make fun of my girlfriend. Don't make fun of my family."
SD: I enjoyed your battle with Todd Barry.
MB: He's so fast.
SD: He's so fast and so withering and dry. Was it intimidating to face him?
MB: Very. He is a very good comic, and one thing he can do that some other veteran comics can't is take his style, his voice, and keep it intact while he's roast battling. I've seen a lot of good comics fail at roast battling because they can't do that. There's no transition for him. The person he was doing standup is the person [who] was making fun of my career.
SD: You have a background in math. My background is in music, and one thing I've learned is that many of the best musicians I've played with or covered are also good at math. There seems to be a correlation. It doesn't seem like that would be the case in comedy, but I wonder if your math background helps in joke writing.
MB: I've been asked this question many times before, but you worded it the best I've ever heard.
SD: Aw, shucks.
MB: I usually just get "Math? Comedy? How does that work?" But putting the question the way you did makes it sound less pretentious when I say there is mathematics to joke structure.
In comedy, there is a lot of word efficiency, streamlining, figuring out the optimal word choice and order for the most laughter. And there is very much a joke theory underlying every laugh. And having a logical mathematical understanding, I can take a step back, remove my emotional attachment to this idea, just look at the words and see what pops.
Typically, it's pattern recognition. Jokes basically are just making you think one thing and then twisting it to another, trying to surprise people. There's a math to that. And I think a logical left-brain approach can get you very far. And I know a lot of comedians who are mathematicians.
SD: Really?
MB: Look at the writing staff for "Futurama." That's one of my favorite shows of all time, and I think no one there has less than a master's degree in engineering.
SD: Wow. I'm entertained, and I'm learning stuff.
MB: Comedians always brag about being edgy and going after topics that make people uncomfortable. To me, I would say that if you really want to lose a crowd, start talking about math. Nothing clams a crowd up faster.
So, if you really want to do something impressive as a comedian, make them laugh about mathematics. That's the most challenging thing in comedy. Everyone is talking the #MeToo movement and Donald Trump. No one is talking about parabolas.