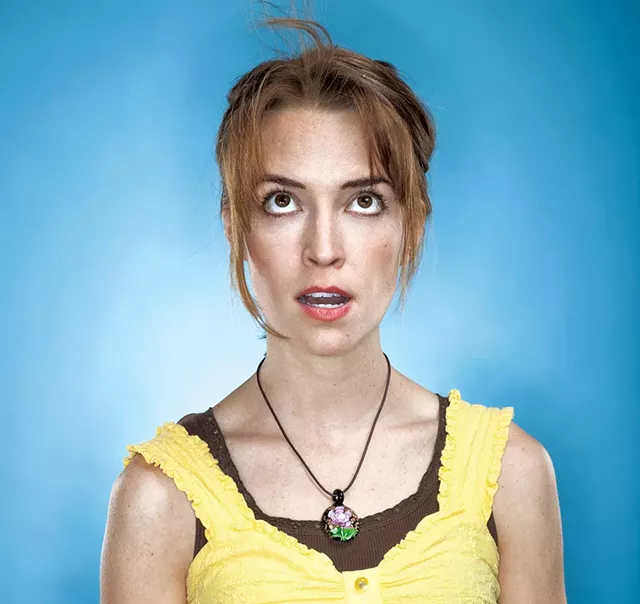 Courtesy Of Christina Gandolfo
Mary Mack
Mary Mack admits that she got into standup comedy "probably for all the wrong reasons." The comedian was born in Minnesota and grew up in Wisconsin, the youngest of six children — "so no one ever listened to me," she tells Seven Days. People are listening to her now.
Mack and her distinctive midwestern twang have been heard on podcasts such as WTF With Marc Maron and radio shows such as "The Bob & Tom Show" and American Public Media's "Wits." As a voice-over actor, she's appeared frequently on "Aqua Teen Hunger Force" on the Cartoon Network's late-night program Adult Swim. She voiced Dylan, the lead character of the short-lived late-night cartoon "Golan the Insatiable" on Fox.
But Mack is most in her element as a standup comedian. In that capacity, she's popped up on the national TV comedy shows "Last Comic Standing" and "Live at Gotham" and made the late-night talk show rounds.
Mack, who often tours with her husband, fellow comedian Tim Harmston, and their dog, Dingo, has an inviting conversational style. Calling herself a "folk humorist," she tends to root her comedy in homespun stories about growing up in a tiny heartland town. But her pleasant midwestern charm can obscure the subtle bite and outright goofiness of her material.
Equally charming (and goofy) are the songs she plays during her sets on mandolin — and sometimes clarinet. Mack's unique combination of wit, style and music has landed her gigs at some of the most prestigious comedy events in North America, including Montréal's Just for Laughs festival, the Andy Kaufman Award, the JFL NorthWest in Vancouver and the SF Sketchfest in San Francisco.
Mack and Harmston — and possibly Dingo — will perform five shows in three nights this week at Vermont Comedy Club in Burlington: Thursday through Saturday, October 26 to 28. Mack recently spoke with Seven Days by phone from a thrift shop, where she was doing "serious business."
SEVEN DAYS: You are a self-described "folk humorist." What is that, exactly?
MARY MACK: Well, when I started, I wasn't really talking about what I would see other comics talking about. I would talk about things that I'm concerned about, like, you know, the fair. Or, am I gonna get goats someday? Important issues.
SD: I grew up in the country, too, so I totally get that.
MM: Some comics, I still don't know what they're talking about in Los Angeles. But I also started out playing acoustic instruments, folk songs. So [folk humorist] seems to be the right description for me, as far as my point of view and where I grew up.
And, you know, I'm not a moron. At least I don't think I am — maybe I'm flattering myself. But I read and keep myself up on issues and vote my own way. And that's how it used to be where I grew up, and I'm really proud of that. But now Minnesota and Wisconsin have fallen victim to the talons of cable news.
SD: That's one way of putting it, I suppose.
MM: People cheer for the news like they cheer for football. And the repercussions have been seen in Wisconsin, and [the state] has really slipped, especially in terms of education.
SD: Not to digress, but you mentioned football. Based on your Twitter feed, I can't tell if you're a Minnesota Vikings fan or a Green Bay Packers fan. You can't really be both, can you? And I promise there's a point to the question.
MM: So, growing up, we only had Minnesota channels, so of course I liked the Vikings. But I went to college in southern Wisconsin, and I started liking the Packers. And my husband is an extreme Packers fan. So he said it's sacrilegious to like both of them and that I would probably go to hell.
SD: So you're a football bigamist.
MM: Yes!
SD: So, I ask because [Packers quarterback] Aaron Rodgers is now out for the season, and there's been some chatter about the team signing Colin Kaepernick. How would you feel if they signed him?
MM: At least it would be something to watch! We don't have hardly any starting line left, so at least there would be some excitement. The Packers stay out of the drama altogether, which is kind of frustrating sometimes.
SD: You tour with your husband. But you also have a joke about dreading your three-week honeymoon because you love Tim, just not all in a row. So how is it being on the road with him?
MM: It's pretty good. He really likes it when I don't make us tour with the camper, which I used to do. And we tour with our dog, too. I think he's just elated that I don't make him set up the camper for every show, so he's keeping his mouth shut.
SD: I'm pretty sure you guys will have a hotel room in Burlington, so Tim should be psyched.
MM: Totally. But it's really good. You're so busy touring that you don't really have time to fight, so it's a safe place for us.
SD: Maybe that's good marital advice for struggling couples: Go on a comedy tour together.
MM: Oh, I don't know. It was rough the first time we tried it. But then it gets easier. And we tour with the dog, who sometimes comes onstage with me. Dingo is supposed to be in charge of me, but Tim tried to make him into a real dog. So Dingo is conflicted. The person with the most prevalence on these tours is Dingo. He's trying to please too many people at one time.
SD: Do you prepare differently for voice acting than you do for traditional acting?
MM: Cartoon acting is so fun. No wonder everybody wants those gigs. You don't have to put makeup on. You get to do so much improv. But I don't really have a great answer aside from that, in cartoon acting, I don't have to make my eyes be the size of a normal person's eyes like I do acting on camera. That's my main goal. Otherwise I look like a crazy person, and that's the honest truth.
SD: You're working on a book. Is it fiction or nonfiction?
MM: I have been trying to write a book, but it takes forever. I don't know how people write books. It's nonfiction, so I have to keep going to therapy, which is why it takes so long.
SD: That's an extra step fiction writers don't have, I guess.
MM: Exactly! I feel like you could write fiction and cure yourself that way. I just keep making myself worse.
SD: You were a serious clarinetist with two music degrees. How did you go from that to standup comedy?
MM: I had a degree in performance and a master of fine arts in conducting. But the shortest way to explain it is that I went to grad school in Nashville, and I started a polka band down there. And at the time, maybe not even now, polka wasn't that popular in Nashville.
SD: Oh? Do tell.
MM: [Laughs.] Yeah, so our band was really scattered and unorganized. Confused, mostly. So I had to stall for time a lot onstage in between songs. And so I'd just make up these stories in between songs. And pretty soon people started saying, "Well, I kinda like the talking better than the songs," which is the worst thing you can hear. You can't hear anything worse as a band than "We really like your talking."
Then my roommate just started signing me up for [comedy] open mics, and I loved it. I didn't have to carry anything. There was no drama. Because we always owed money at the end of the night because we would outdrink our bar tab.
SD: Well, you were a polka band.
MM: I know. It was all about the beer. But, yeah, [comedy] was just easier. I was also teaching middle school band at the time. And when I went onstage [to do standup], it was so quiet, because I don't think people were laughing very much. And I just didn't care. I was so happy people were quiet and not yelling or hitting each other like [at the middle] school. So I just kept doing [comedy] because of that. So it was probably for all the wrong reasons. I couldn't believe people would listen to my silly stories. I still can't.