Courtesy photo
Liz Miele
Liz Miele knows a thing or two about cats. The New York City-based comedian and writer grew up with veterinarians for parents — her mother is a cat specialist. While she knew early on that she wanted to pursue comedy, Miele's animalistic roots frequently pop up in her material — for instance, her joke about being at risk for cat adoption. She's currently working on an autobiographical screenplay titled "Declawed."
Miele, 32, has released two comedy albums, Emotionally Exhausting and Mind Over Melee. She's also produced two web series: the live action, slice-of-life-with-roommates sitcom "Apt C3" and "Damaged," an animated series about two broken robots dealing with life on the fritz.
In 2015, Miele's bit about "feminist sex positions," which brilliantly upended the male-centric lexicon of sex acts, went viral. While it seemed the entire world — such as book publishers, friends and fans — wanted to hear more, she chose to leave the bit behind once she felt it had run its course.
Miele is an avid runner and frequently talks about health issues and mental illness, as well as modern relationships and stories from the road. She performs Thursday through Saturday, June 22 through June 24, at the Vermont Comedy Club in Burlington.
Seven Days caught up with Miele by phone.
SEVEN DAYS: I understand you're heading to Cuba in October.
LIZ MIELE: This'll be my second time going to Guantánamo Bay. I've been performing for the troops over the last couple of years.
SD: What's that like?
LM: You feel like you're giving back. A lot of the bases I've performed on are closed off. When you perform for them, they're desperate just to see a new face, let alone entertainment.
SD: Do the troops respond differently to any of your material? Are there bits that you won't or don't do?
LM: They're incredibly grateful that you're there. Sometimes my lady ideas don't always transfer. I would say 85 percent of the time I do exactly what I would do in a club and have just as well of a response. A lot of the time, [if] it's a predominantly male base, my material may not go as well as it normally does.
I would say it's less about being a woman and more about the fact that I'm a little heady. Even if I'm talking about sex, I'm talking about it in a kind of intellectual way, which I think, if you're in the heat in Jordan, maybe you don't want to hear my perspective on lady issues. But, honestly, they've been nothing but pleasant, fun experiences.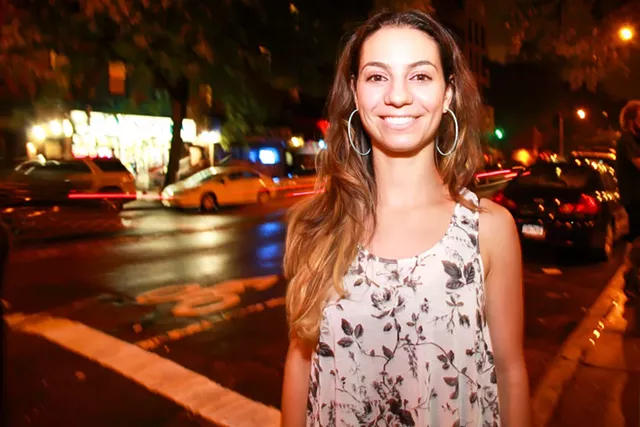 SD: Could you tell me a little bit about "Declawed"?
LM: I'm trying to cut it down and turn it into a short film. It's loosely based [on] my childhood. It's almost like what my life would've been if I didn't discover standup. I was obsessed with cats, and I wanted to be a veterinarian, and my parents loved that idea.
It's about a girl who drops out of vet school due to depression and ends up being a receptionist at her parents' cat clinic. It's kind of a mix [of] what it's like to deal with mental illness and what it's like to deal with crazy cat ladies. Those are the two things I have life experience with.
SD: You've talked a lot about therapy and mental illness. How do you know when a therapist is a good fit?
LM: I would say therapy is very much like dating or finding a best friend in the sense that there is a click. You feel both comfortable [and] challenged by them.
You want somebody that you can be literally 100 percent yourself [with] — maybe even more yourself around them than anybody else, because you're telling them your deepest, darkest secrets, thoughts, desires and feelings. But they can't just be someone you confide in and they pat you on the back, because that's not where growth comes from. So, it's somebody that pushes you and makes you think about why you feel the way you feel or makes you do things that help you grow emotionally.
I've had moments with my therapist where she'll say something, and I'll be pissed off at her for days. And then I'll realize I'm pissed off at her because she's telling me stuff I don't want to hear and that she's actually right. To me, that's what a good friendship or good relationship in general is.
SD: A lot of people think of doing standup as pretty terrifying. What's a job that terrifies you?
LM: Anything that sort of castrates my voice. I think sitting at a desk, not talking to anybody. I'm constantly filled with ideas, [and] the idea of not being able to share them ... I do spend a lot of time by myself, in the sense that I'm writing during the day or driving to a gig.
But I do have a constant outlet, whether it's doing the joke of the day on social media or writing what I hope to be a screenplay or a book. I think I wouldn't be as enthusiastic about life if I was in a place where most of my day, and how I was being expressed, was limited. I'm sure coal mining is also somewhere in there.
SD: I really like your bit that refers to romantic comedies as "romance porn." Are there any rom-com tropes that really drive you up the wall?
LM: I always do get a little angry when it's like ... the dude's been a dick the whole movie. Why are we going back to him? How is this a happy ending? What are we teaching women?
I always hate the the-guy-was-right-there-under-your-nose trope. He's always been my best friend but I never dated him, and then it all just works out. I mean, I've tried that. There's usually a reason you didn't date him the whole time.
One of the ideas I'm working on right now is an anti-romantic comedy, in that the girl chooses the [female] best friend instead of choosing the boy. My best friend — she's been my most consistent boyfriend. She's the one that, even when we have fights and disagree, we always seem to be there for each other and take care of each other, and we don't understand why boys can't do that.
SD: What's something you could never live without?
LM: That's hard. Part of me wants to be like, "my jewelry." I love it so much. [But] to be perfectly honest, it's a mixture between access to art and the art on my walls. I try to go to flea markets and boutiques and small art shows and anything that has young artists. I'm obsessed with street art. I have street art that I've bought all over the world. And I have pictures I've taken of street art that I've printed and framed. Keep in mind, I have no money.