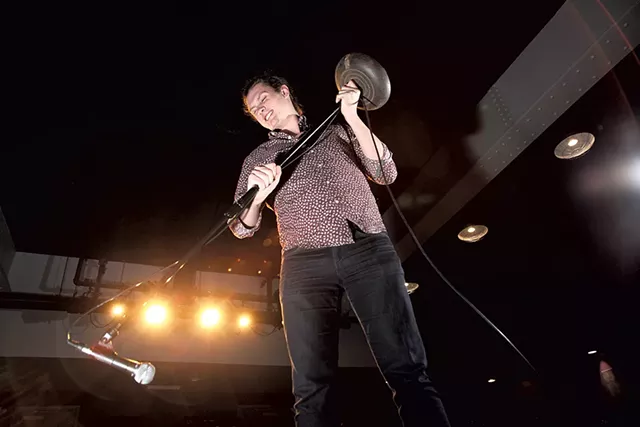 Matthew Thorsen
Kendall Farrell
Kendall Farrell doesn't tell people he's a comedian. This is a little weird given that he spends virtually every waking moment either onstage telling jokes or thinking about being onstage and telling jokes.
"I've always been obsessive about comedy," admits Farrell recently over coffee at the Skinny Pancake in Burlington.
When they ask, Farrell tells people the truth about what he does — or half of it, anyway. The 23-year-old comedian works the front desk at the Hilton Garden Inn in downtown Burlington, just above the Vermont Comedy Club — "because I'm super lazy," he says with a coy grin.
Unless they happen to venture downstairs on a night when he's performing, it's unlikely the tourists and businesspeople checking in or asking for extra towels at the hotel know that the man behind the counter — a tall, pleasantly goofy guy sporting a man bun — is "one of the funniest people in Vermont." That's what fellow comedian and Vermont Public Radio deputy news director Annie Russell calls him, anyway.
Most who've seen him would agree that Farrell is among the most talented, accomplished and admired comedians in the state. He won the Vermont's Funniest Comedian contest in 2015, one year after placing third in the annual competition. He plays stages almost nightly throughout Vermont, from Burlington to the Northeast Kingdom. He travels regularly throughout the Northeast to perform and network.
Later this month, April 27 through 29, Kendall will do five shows in three nights at VCC as the featured comedian supporting Michelle Wolf from "The Daily Show with Trevor Noah." That's a big deal for a local comedian — weekend feature slots at VCC are typically reserved for touring regional comics.
While his onstage résumé is impressive, Farrell's work offstage is increasingly becoming vital to the local comedy scene as well.
When Natalie Miller and Nathan Hartswick opened VCC in 2015, the first couple of Vermont comedy necessarily shifted their focus to the club and away from the hundreds of smaller shows they had produced around the state each year. Farrell has picked up that mantle.
He's helping to nurture Vermont's booming underground comedy scene by producing a range of recurring showcases that feature a curated mix of local and regional talent. These include Farrell's weekly Comedy & Crepes series Mondays at the Skinny Pancake, the monthly Brews & Bros showcase he hosts with Nicole Sisk at Foam Brewers in Burlington, the monthly LGBTQLOL gay comedy show at VCC, and the semimonthly political comedy series he coproduces with Russell, United We Standup, also at VCC.
"It's so important to have someone doing these kinds of shows because it gives more people a chance to see Vermont comedy, and it gives local comedians a chance to get better," says Hartswick by phone. The success of VCC is tied to the health of the comedy scene overall, he notes. "And a few people have stepped up to fill the void. But I think Kendall has done it most effectively."
"Part of doing a show is that you want to be developing new people as much as you can," explains Farrell of his passion for producing. "Because new people will bring other new people to the show and help spread the word."
"He's great at recognizing talent," says Russell. "He's given a lot of newer local comics their first five-minute sets, which is a real growth opportunity for them."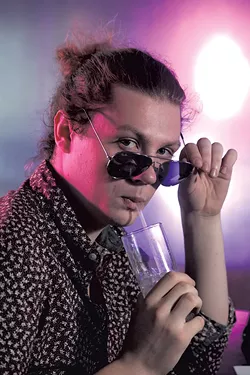 Matthew Thorsen
Kendall Farrell
While Farrell's showcases help germinate the next crop of Vermont comics, his efforts aren't entirely altruistic. He readily admits that part of the reason he produces so many shows is to get stage time for himself.
"In this scene, you have to create your own opportunities," he says. And few in the current comedy community create as many of those opportunities — for themselves or others.
Farrell got into comedy because, as he puts it, "I kinda failed at everything else." After high school, the Vernon, Vt., native attended Emory University in Atlanta. It didn't go well.
"I went to school for business," he says, explaining that his parents run a small business, so it seemed like a logical move. "But then I got to school and realized no business would be well served with me at the helm."
Somehow, Farrell missed the memo that math is rather important when it comes to business.
"I'm not bad at math, but it's not my thing," he says. "It would be hard to interview for a business job. Like, 'I'm not the best at math. But I try hard!'" He pauses, then adds. "I don't try hard, though."
Except when it comes to comedy.
Farrell dropped out of Emory after a few semesters and moved to Boston to take a video-marketing internship. That went about as well as school had, he says. But while he was there, Farrell started attending comedy open mics — first as an observer, then as a performer.
"I figured, if I'm going to be poor anyway, I might as well have fun and do something that's creatively fulfilling," he reasons. "Really, I tried comedy for a lack of anything better to do."
Following a solid month of doing open-mic slots nightly, Farrell moved to Burlington, theoretically to go back to college at the University of Vermont. But he lasted only a semester before dropping out again.
"I was kind of sad to be coming back to Vermont after Boston," he says, adding that he assumed there would be fewer opportunities for stage time and that he would have to slow down. "But I didn't."
For comedians, stage time is precious currency. If anything, Burlington offered Farrell more opportunity to hone his craft.
"I could get up every night and do way more time," he says. "In Boston, you get, like, two minutes and there are 60 people on the list."
Farrell became a regular at area open mics. Eventually, he inherited a weekly gig from comedian Regi B hosting an open mic at South Burlington dive Franny O's — now called the Sugar House Bar & Grill. For two years Farrell hosted that show, whose primary patrons were barflies, other comics and a comedy-indifferent pool league.
Farrell is a chameleon onstage. As a host, he exudes easy, enthusiastic charm. His wit is as quick as the impish grin he often flashes while working a room.
"He's very good at picking up on things that happen in the moment and making them funny," says Hartswick.
Given room to stretch out, Farrell can be silly, insightful and dark by turns. He might riff on anything from politics to intimate details of his personal life to, say, his dad losing a finger in a wood chipper — he masterfully touched on all three during a recent gig at Foam.
"Kendall is incredibly versatile," says Burlington comedian Tim Bridge, who also did a set at that Foam show. "But he's consistently funny, too, which is really hard to do."
"His writing and editing is really tight," says VCC's Miller. "He's just professional."
"He might go dark," says Hartswick. "But he always does it with kind of a pleasant, goofy smile on his face, or an awkward hand gesture that allows you to go there with him."
"He's just fucking hilarious," says Russell. "I love the way he sets up his punch lines. He's great at misdirection."
While Farrell excels at political humor and social commentary, he's not above going blue (using sexual innuendo). But even his dirtiest, most lowbrow bits highlight his comedic range.
"Some people ask me why I have to do so many dirty jokes," Farrell says. "That's just what's on my mind. If I could sit down and write jokes about funny doors, I would. But that's not what I think about."
For all his accolades and accomplishments, Farrell understands that he's still a work in progress.
"Three years in, I'm a good host," says Farrell. "But I don't feel like a master of my craft."
Thanks to his talent and tireless effort, though, Farrell would be a good bet to approach mastery before too long.
"He's gonna go places," says Bridge. "He's doing everything you need to do to become a successful comedian. I'm excited to see where he goes, because there is no doubt in my mind he's going to be doing this for a living one day."
Maybe then Farrell will tell folks what he does.