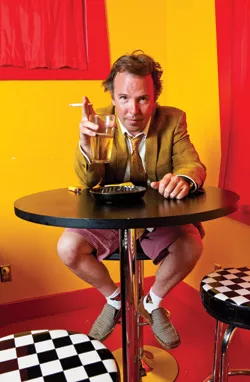 In May of this year, Rebecca Vitsmun's Oklahoma home was destroyed in a tornado. In a TV interview in the aftermath of the storm, CNN's Wolf Blitzer asked Vitsmun if she thanked "the Lord" for her decision to evacuate the house with her 19-month-old son moments before it collapsed. Vitsmun's response: "Uh, I'm actually an atheist."
The clip — which includes an awesomely befuddled Blitzer — went viral and eventually found its way to comedian Doug Stanhope, who is also an atheist. Stanhope started an Indiegogo campaign to raise money for Vitsmun, a total stranger. He set the goal at $50,000, which was reached in 17 hours. All totaled, the campaign, flying under the banner of Atheists Unite, raised more than $125,000.
Stanhope is currently on tour and will perform at Club Metronome in Burlington this Thursday, October 24. In advance of that show, Seven Days spoke to the comedian by phone. We asked him about his unusual charity endeavor, his recent Shit Town Tour and his new Netflix special, Beer Hall Putsch.
SEVEN DAYS: You specifically chose a smaller club to record the special, rather than a theater. What do you like about the smaller venues?
DOUG STANHOPE: I think there is just a whole different feel. Any time you get into theaters, even small theaters, it feels like you're doing a play. I've never liked playing theaters. If it weren't for the money, I'd only play 75-seaters. It feels like you're having a conversation.
SD: So you appreciate the audience interaction?
DS: Yeah … to an extent. I get some fucking rowdy people at my shows. And rowdy is a really diplomatic way of putting it. I get a lot of fucking drunken assholes.
SD: I feel like that would be more distracting in a small room.
DS: When you're playing a small room you can police it easier than you can with the random drunk asshole in a balcony that you can't see or hear, but he continues to bellow things at you that you don't understand.
SD: Do you have a strategy for dealing with hecklers?
DS: No. You just gotta take 'em as it comes. It all depends on the heckler and the heckle and the situation.
SD: You must get some nasty ones, given the drunken-asshole portion of your fan base.
DS: [Laughs] I rarely get negative heckles. I get, "I'm your biggest fan and I've been drinking since 3:30 for this show that I drove 200 miles to see. And now I'm fucking blackout drunk and need you to address me. I'm gonna yell out my favorite old bit in the middle of your favorite new bit that you don't have quite worked out and fuck up the entire timing of."
SD: That sounds even worse.
DS: Yeah. And it's always the blubbering guy after the show. "Hey, man. I love you." It's hard to put a serious hammer down on them when they're shouting affection for you. But they're still fucking up the show as much as someone who hated you.
SD: How did the idea for the Indiegogo campaign for Rebecca Vitsmun come about?
DS: It was just one of those drunken late-night ideas that sounds funny and you usually just never get around to doing it. And I realized if we were gonna do it, we had to do it before some school shooter steals all of CNN's attention and it's no longer a story. Something that's the most important thing in the world, and as soon as CNN stops playing it, you forget immediately.
SD: News cycles are incredibly short now.
DS: That's why it's so hard to write topical material. Three weeks after the Boston Marathon bombing there's something else that's the most incredible thing in the world. And then you forget. "Oh, yeah. That marathon thing. I kind of remember that."
SD: What was her response?
DS: She was kind of stunned. The first time I talked to her she was almost apologetic. She said, "No offense, but I just want you to know that I don't really feel a kinship with other people just because we're both atheists." And I go, "Neither do I. I didn't really even do this because I cared about your home. I just did it to kind of be a prick." I want to picture her fucking Christian, "thank God for only destroying all my shit and not killing everyone" neighbors, I want to see all her Jesus neighbors watching her get a giant cardboard check while they're still eating off of a FEMA truck.
SD: Clearly charity and being a dick are not mutually exclusive.
DS: They're not! It's incredible how good that felt, compared to texting fucking $10 to Red Cross. Seeing a life changed that quickly, I want to do it every year. I want to start a Rebecca Vitsmun Antihero Award, for somebody who got fucked over. One of those kooky stories where they shut down a kid's lemonade stand because he didn't have a permit, and all of a sudden he's got a giant cardboard check.
SD: You just wrapped up the Shit Town Tour. What was the verdict? Who has the shittiest town?
DS: The shittiest show was Milwaukee. Obviously not the shittiest town, but the shittiest show. Akron, Ohio, was probably one of the fucking worst towns. Some of them were pretty rough. Champaign, Illinois. Muncie, Indiana. Pretty bleak.
SD: Why subject yourself to that?
DS: Because it's fun. I like playing places I've never been. You have to play the cities to make money. But I don't need much money. Fun is way more important. And they appreciate you more in shitty towns. They never get anything. And they know their town is shitty. They're not offended when you call it a shit-town tour. Cleveland is like that. They just embraced being a shitty city and ran with it.
Doug Stanhope, Thursday, October 24, 6 p.m. at Club Metronome in Burlington. $25.18+.
The original print version of this article was headlined "Praise Doug"