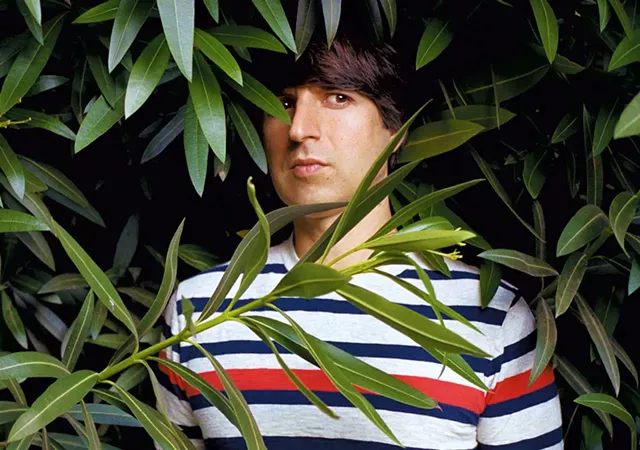 Courtesy Photo
Demetri Martin
Standup comedian Demetri Martin is very funny. This interview is not. But please don't let the lack of levity stop you from reading — or prevent you from seeing Martin when he performs on the Flynn MainStage in Burlington on Saturday, April 14.
Martin is currently on his new Let's Get Awkward tour. For the most part, it's built on the same kind of hyper-efficient, absurdist comedy that's endeared him to fans for nearly two decades: clever one-liners, punny doodles, the occasional musical number. But the show also includes something new to Martin's act: personal stories.
When we asked him about those, the conversation led us to his 2017 movie Dean — Martin's film debut as writer, director and star. The dramedy centers on an illustrator, played by Martin, coming to terms with his mother's death. It's based loosely on Martin's own experience of losing his father when he was in college.
The film is poignant and funny, but it's not exactly laugh-out-loud interview fodder. Like the following Q&A, it highlights another side of Martin that's by turns thoughtful, compassionate and engaging.
In advance of his Flynn show — where he undoubtedly will be way funnier — Seven Days spoke with Martin by phone.
SEVEN DAYS: You're experimenting with more personal material on this tour, which is something you've typically avoided throughout your career. Why now?
DEMETRI MARTIN: There's a little bit of personal stuff in there, a couple of stories, but it's not too prominent. I love doing one-liners and jokes, and I can't get away from them too much. I don't know what it is, but there was something [pushing me] to try and talk about some personal stuff. But, for whatever reason, it's just not usually where I find inspiration; there's not a lot of comedy there for me. For better or worse, it's jokes that inspire me — thoughts and ideas instead of autobiography.
SD: You've been writing a book of fiction. Do you think working in a narrative form has prompted you to look at stories from your own life?
DM: Yeah, that might be part of it. Also, I made my first film that came out last year. That was also fiction, but it was more autobiographical, at least in its themes and what I was trying to cover in the story.
But, now that you bring it up, when I was doing press for [the film], we would do Q&As after the screenings, [and] that was an opportunity to talk about personal stuff in front of an audience, which was kind of fun.
But, for whatever reason, I don't get sick of the jokes as fast as I get sick of myself and my stories. And the jokes are easier to rotate and replace because they're short. I don't have big chunks of my show dependent on a certain narrative. The jokes are 30 seconds, and that kind of modular quality makes it a fun game for me.
SD: Speaking of games, you've said previously that you look at jokes as puzzles.
DM: Before I did comedy, I spent more daydreaming time on puzzles, especially when I was in school. It was a way to escape: to think about a puzzle and try to think about the answer. Years later, it dawned on me that maybe the reason I like one-liners and jokes is that they can have a kind of puzzle-like quality to them. The punch line is kind of a solution, if the crowd agrees with you that it's funny: "Oh, I found a solution to that idea or that predicate." Within the structure of a joke, there is so much fun that you can find as the writer or the deliverer.
SD: You wrote Dean more than 20 years after your father's passing. How do you think the film might have been different had you written it when you were younger?
DM: When he passed away, I didn't know that I would have any sort of a creative career. I didn't really write about anything then. It was only later, when I had some distance, that I felt like I could talk about my experience with grief and loss, losing a parent pretty young. And he was young; he was only 46.
As a first movie, I wanted to do something that was more personal and take advantage of film as a medium, where I could have more intimacy with an audience and tell a story. It's different than onstage, where there is intimacy but it's more presentational. Also, my movie is a comedy, but it's kind of a dramedy — it's not a drama by any stretch. So, in that dramedy space, it felt like something I could tackle. I could deal with the topic a little bit and still try to make kind of a funny movie.
SD: Having lost a parent as well, I'm struck by how my relationship to that loss changes as my own life does. Has being a father changed your relationship with your father's passing?
DM: I remember when I lost my dad, it struck me — and this was crazy — that I had a clear contender for the worst day of my life. And I really didn't before that. In a lot of ways I was lucky: I got all the way up to 20 years old without a clear contender. Maybe I failed a test, or a girl didn't like me, but there was no real standout. Then you lose someone you really love, and a bomb just goes off in your family life. I remember thinking on the day of my father's funeral, I don't know if it gets worse than this.
Then we were in the car at the cemetery, and I remember thinking, Someday this will be 10 years in the past. Someday I gonna not cry about this. I can't imagine it. But it's gonna happen. Sure enough, one day I look up and it's 10 years since the day my father died. Then it's 15, 20.
Then you become a parent and, in my experience, the absence is felt all over again, but in different ways: Oh, my kid's never gonna know my dad, that kind of stuff. Then, when you start getting into parenting, you start thinking about the choices and the style your parents had, the sacrifices they made. I was lucky, because I had a good relationship with both my parents, and they had a good relationship with each other. Now, that's not the most helpful thing in comedy, it turns out. It's probably why I do jokes about balloons and dogs and stuff.
SD: Like you, I am the son of a preacher man. Also like you, religion never really stuck for me. So, I'm curious, how did you "lose your faith," so to speak?
DM: I'm not quite sure. I do think belief is a fascinating topic. How do you acquire a belief? How do you lose one? How quickly can you do either?
I grew up in the Greek Orthodox Church and didn't question it one way or the other. I just went to church every Sunday. I was an altar boy until I went to college. But there wasn't a lot of discussion about the Bible in my house, or Jesus, or any of that.
The Greek Orthodox liturgy is in archaic Greek, so my dad's up there chanting, and I had no idea what they were saying. There's a lot of presentation and there's incense, and my dad has some kind of cape on. So it's a good show, for sure. And my dad's sermons were very anecdotal, which was really kind of cool because it's so much more personal. He was a funny person, so the congregation would be laughing a lot, and he'd have these relatable stories that went along with whatever the topic of the week was.
So, I guess what I'm saying is that I don't know how much there was to "lose," in that sense, because it wasn't as strict as some other faiths. It was more of a slow fade and learning more about my own beliefs and asking myself, "What do I believe?" I don't know if I'm full-on atheist — I guess it's somewhere between atheist and agnostic, but it's no formal thing. But that is not to say I'm not spiritual. The mystery of our existence is pretty fascinating.
*Correction: April 12, 2018: A previous version of this story misstated the plot of
Dean
. The movie is about an illustrator coming to terms with his mother's death.