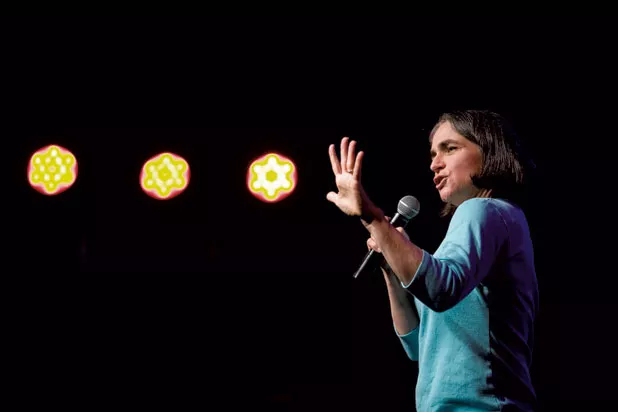 Cindy Pierce delights in her imperfections, as she'll be the first to tell you. Though her catalog of missteps is likely no longer than anyone else's, the New Hampshire comedian is better equipped than most to laugh about them — and to make others laugh with her. Pierce, who bills herself as a "comic storyteller" ("I don't tell jokes," she says. "I can't even really remember a joke!"), performs her latest one-woman show, Comfort in the Stumble, in Stowe and Burlington this month. In it, she makes light of her embarrassments, her sexuality and her body to hilarious effect.
"Something that is so normal for someone else never seems to be smooth for me," Pierce, 48, says in a phone conversation. She's referring to everyday events such as shopping for clothes and washing her hands. "It used to be that I'd get embarrassed, recover and be able to find the humor later," she says. "Now, in the middle of a situation that is unraveling, I can see that it's going to be a great story for me."
Pierce knew this change of perspective was complete when, in the middle of giving birth to her first child, it dawned on her how "outrageous" the situation was, and how she couldn't wait to tell her friends about it.
The comedian's observations about sex and female anatomy are particularly keen, and comical. Especially ribald is her story about a rather unfortunate case of poison ivy, and Pierce's misguided attempts to soothe its itch. Comfort in the Stumble is billed as "adults only," since she is unabashedly frank, though never vulgar. The word "vagina," for instance, comes up quite a lot.
Pierce's frankness is partly motivated by her desire to upset the stereotype that females should behave "properly." The other part is not taking herself too seriously. As she cavorts and gesticulates onstage while skewering her own foibles, Pierce is clearly comfortable with her body and her outsize personality.
"My message is not to be embarrassed by who you are," she says. "That's the comfort in the stumble." Pierce adds, "It's something I try to instill in my [three] children: never to think you're better than anyone else."
"We're all gonna stumble," she says. "Pick yourself up."
Pierce and her husband, Bruce Lingelbach, own the inn where she grew up, Pierce's Inn in Etna, N.H.; the couple bought it from her parents in 2002. A rural New England inn may not seem like a breeding ground for saucy comedy, but Pierce gives credit to her childhood experiences there. "I think I learned pretty young that when guests start having a few cocktails, you can really try out your humor," she says. "You learn to read audiences."
She's become especially keen at reading high school and college audiences; between her innkeeping and standup gigs, she delivers about 10 talks a year on issues of sex, gender, intimacy and pornography. Pierce has recently spoken at Colby and Bates colleges and will do so several times at Dartmouth College this year.
She's been surprised by what she's learned from young audiences. "College students know [little] about sex because there's too much information out there," Pierce says. "They're learning about sex from porn, Cosmo, friends who have a lot of sex. These are not reliable resources!"
She encourages her college audiences to be more open and communicative, and not to assume that the XXX-rated video they may have watched online has anything to do with actual sex. "You've gotta be able to guide your partner before you're swinging from a trapeze with a double-headed dildo," she exclaims.
Easy access to pornography, Pierce believes, has skewed the gender/sexuality dynamics of the younger generation. She's plainspoken in her opinions on the subject: "I don't think porn is a good thing." But Pierce knows that "porn is never going away," she says. "We just need to prepare kids so that they can navigate it with realistic expectations."
Pierce's approach to her college lectures is much the same as her approach to her comic storytelling. Speaking of both roles, she says, "My mission is to inspire people to be kinder to themselves, to not be so critical of themselves. People keep thinking that they've got it all figured out, but we're never going to! That's such a liberating thing."
Cindy Pierce performs Comfort in the Stumble on Saturday, February 8, 8 p.m. at Town Hall Theatre, Akeley Memorial Building, in Stowe; and Friday, February 14, and Saturday, February 15, both at 8 p.m., at Main Street Landing Performing Arts Center in Burlington. $25. cindy-pierce.com/tickets