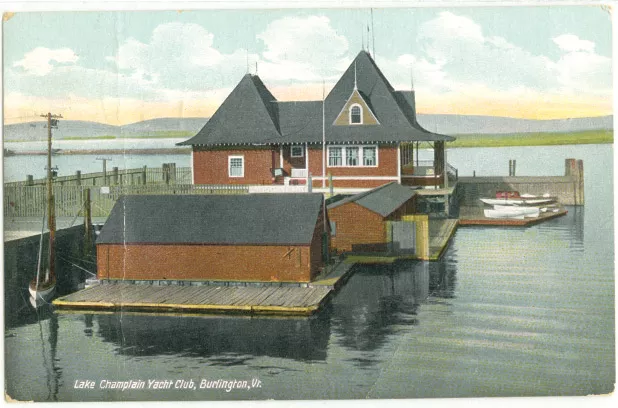 A vintage postcard of the Lake Champlain Yacht Club.
A fog slowly lifts from Lake Champlain, revealing the still, glassy surface of Shelburne Bay, which is eerily quiet for this time of year. On a normal May morning, the bay would be a dense, swaying forest of sailboats, the air filled with the sound of riggings rattling in the breeze. However, this has been anything but a normal May and, on this particular morning, only a lone sailboat rocks silently on its mooring.
Along the grassy western shore of this sheltered cove, just a stone's throw from Shelburne Point, sits an unused row of overturned dinghies, kayaks, canoes and runabouts. The concrete boat ramp and wooden staircase that lead down to the water are almost completely submerged, and a nearby parking lot is virtually empty. For weeks, the docks have been inaccessible from dry land. Time and tide may wait for no man, but here at the Lake Champlain Yacht Club in Shelburne — known more succinctly to its 200 or so members as the LCYC — the 2011 sailing season will have to wait another few weeks until the record floodwaters subside.
There's still much work to be done at the LCYC, as members of the oldest yacht club in Vermont — and perhaps the oldest on Lake Champlain — gear up for another summer on the water. By all accounts, yachts are like second homes that require continual maintenance and upkeep, and the LCYC isn't the type of place where "the help" swab decks and repaint hulls.
Don't be fooled by the club's hoity-toity name. The LCYC isn't some snooty social club where the über-rich anchor their 80-foot schooners, nibble Russian caviar on the veranda and peruse the Dow Jones listings with bored indifference. On a typical summer afternoon, a visitor is more likely to spot a gaggle of teens following one another like baby ducks onto the lake in a fleet of Flying Juniors, or learner sailboats, while their parents labor offshore repairing the family's 20-foot cabin cruiser. A new generation of Vermonters is discovering the joys of sailing, and many nascent boaters are getting their bearings on Lake Champlain with the help of the LCYC. Its ranks are growing — and include some families who don't even own a boat.
The LCYC's "Great Room" is a large clubhouse built in 1998 with high ceilings, exposed wood beams and padded wicker chairs that face a large granite fireplace. On a recent visit, two of the club's longtime members greet me: Mary Lintermann, the LCYC's communications director; and Bernadine "Bern" Collins, the club's historian and former "commodore," or president. (Collins was elected the club's first female commodore in 1988.) The clubhouse walls are lined with colorful burgees, or triangular flags that often fly from sailboat riggings, collected by members while visiting other yacht clubs around the country.
Ordinarily, the garage doors to the clubhouse would be open and families would be filling the place for a weekly "burger burn," or barbecue, as they await relatives returning from a regatta or late-afternoon cruise. On this particular day, however, the LCYC's launch, the Milo C. Reynolds — named after the club's longtime secretary and treasurer from 1911 to 1961 — is parked forlornly on a trailer in the center of the Great Room.
As Collins explains, the LCYC was founded on May 16, 1887, as an outgrowth of the Sharpie Yacht Club of Burlington. The club's original mission was to "encourage the introduction and development of yachting on Lake Champlain," particularly at a time when virtually all boat traffic on the lake consisted of commercial vessels. Over its 124-year history, the LCYC erected several clubhouses at the foot of College Street in Burlington. The third one, built in 1913 — the two earlier ones burned down — inspired the design of the current Burlington Community Boathouse.
There was a time, Collins admits, when the LCYC was quite a bit stuffier than its modern incarnation. Local lore has it that several members splintered off from the club in 1936 to form the Malletts Bay Boat Club in Colchester, hoping to escape the LCYC's "highfalutin social atmosphere."
The club fell dormant as the Great Depression waned and stayed that way throughout World War II, Collins reports. It wasn't until 1962 that a new generation of sailing enthusiasts purchased the club's current property on Shelburne Bay and "reactivated" it.
Ever since, the LCYC has been run as a self-governing, nonprofit organization, in which all but 5 percent of membership dues go to covering the club's operating budget. As Lintermann points out, it's also a hands-on working club, which means that members are expected not only to pay their dues but also to contribute sweat equity toward the maintenance and upkeep of the property and equipment. Just last week, they held their annual spring workday to clean up debris that the high water left behind. Lintermann often advises new members, "Bring your work gloves!"
The LCYC still adheres to its founding mission of promoting boating and sailing on the lake, with an emphasis on racing, cruising and lake education. But the current heart and soul of the club seems to be its junior sailing program, which is open to members and nonmembers alike. Since 70 percent of the club's 175 vessels are wind powered, much of the emphasis is on teaching young people the ins and outs of catching the wind, tying knots and getting home safely.
From May through October, the LCYC holds club races every Wednesday evening, and about a dozen other races and regattas on weekends. It hosts frequent regional and national-class regattas, too, as well as noncompetitive "cruises" up and down Lake Champlain. A typical cruise starts from Shelburne Bay, runs north to Point Au Roche (just north of Plattsburgh), south to Diamond Island (off Kingsland Bay) and back home to Shelburne. Some members organize longer trips and take their boats "off lake" — they've ventured as far south as Cuba and as far north as the Maine coastline, Collins notes.
While some members may have been born with bilgewater in their blood, others didn't learn to sail until they were well into adulthood. For her part, Collins, 71, grew up about as far removed from a nautical environment as possible. Born in Nebraska and raised in Kansas, she says she never set foot on a sailboat until she met her husband, Peter, who grew up in Great Neck, N.Y., and learned to sail on Long Island Sound.
"The first time he took me sailing was in a knockabout in Narragansett Bay," Collins recalls, "and I thought we were all going to die!" Collins and her husband moved to Vermont in 1965 and joined the LCYC in 1973, shortly before their youngest child was born. Collins remembers taking all three of their kids sailing on the family's Tanzer 22 while their baby daughter was still in diapers.
"It was the best of times and the worst of times," she muses. "I would nurse her with the boat keeled over, with my feet up on the bulkhead."
Like Collins, Lintermann didn't grow up on a sailboat. A longtime kayaker and canoer, she says she didn't learn to sail until just six years ago. You would never guess it from the way she peppers her conversation, seemingly unconsciously, with nautical phrases.
"I think we're seeing a whole wave of younger people coming through the club," says Lintermann, 53, about the LCYC's growing membership. "When I came on board, I felt like I was one of the younger members."
Evidently, what attracts members to the LCYC isn't just the beauty of its locale or its easy access to the main body of Lake Champlain. There's also a real sense of egalitarianism; club dues are kept relatively modest by the do-it-yourselfers who take care of all but the most involved or technical projects.
"It's very much a workingman's yacht club," says Adam Alpert, 55, of Milton, who learned to sail at the LCYC when he was 14, shortly after his family moved to Vermont from Chicago. "There's a pretty wide cross-section of members from different economic walks of life. It's a very colorful mix."
Like a traditional yacht club, though, this one has a busy social calendar. It begins with an opening cocktail party on the first Saturday in June, followed by such events as the Regatta for Lake Champlain in mid-July and the Ladies Cup Race and Dinner in early August, and culminating in the annual awards ceremony and dinner in mid-October.
Despite the focus on racing, not all members are highly competitive, Collins emphasizes. The club holds plenty of cruises, potlucks and Wednesday-evening burger burns designed for those who just enjoy being out on the water, or watching from the shore.
Given this sailing season's delayed start, Lintermann says she expects Memorial Day weekend to feel a bit different from previous years, with more drinking than usual.
"We're going to be very social this year!" she says with a laugh. Hopefully, partygoers will be cut off before they get three sheets to the wind.