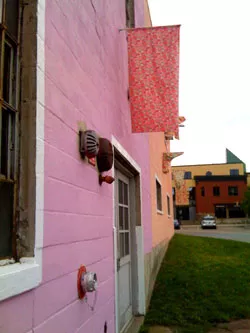 The winged monkeys perched on Burlington's Union Station have a good view of the changes taking place across Lake Street: April Cornell's HQ — which formerly housed Waterfront Video and Mesa International — is getting a makeover.
The squat brick rectangle has become downright girly this summer. Its broad, cement-block backside has been painted sherbet hues of orange and raspberry, and pretty floral banners now hang protruding from the wall.
In front, facing Battery Street, the only feminine touches so far are hanging pots and door-framing urns spilling over with bright petunias. An unfriendly "No Parking" sign still hangs in the window, the trim paint sorely needs an overhaul, and the south half of the building is obviously vacant, its windows smudgy.
Cornell, who moved in last February, says she's tending to the place "little by little" and plans on painting the windows and adding awnings soon. The paint job on the back was occasioned by a tagging incident. Right now, Cornell is "concentrating on the business," she says.
Inside, the walls are a palette of cheeriness, the floor is dark, the furniture homey, and stacks of Cornell's signature fabrics are everywhere. Oversized Buddhas preside over tables, lending a dignified calm to the décor. The icons also make a visual link to India, where Cornell's products are manufactured.
Though it almost looks like a retail space, this serene Burlington headquarters for the fabric design and web business is not open to the public. But even the mail carrier was fooled at first. Says one employee, "She walked through and asked why there weren't price tags on anything."
Cornell says she still doesn't have specific plans for the empty space next door. But whatever it is, she vows, "will bring some traffic down here — foot traffic."