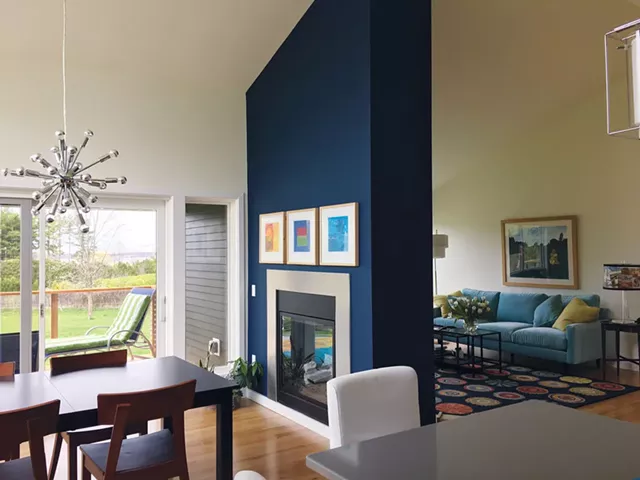 Courtesy Of Betsey Dempsey
Dining room wall in Betsey Dempsey's home
The notion of "throwing shade" has a whole different meaning for Betsey Dempsey, and it's not an insulting one. The native and current resident of Shelburne is the sole proprietor of Color Concepts. As the business name suggests, she is a color consultant.
No, not for hair. Dempsey helps clients choose paint colors for their walls at home — both interior and exterior — as well as for commercial offices. As with many unique occupations, her route to this one was circuitous.
Dempsey said she loved making art as a child but "never took it seriously." As a college student she went into finance, but that didn't quite fit, either (though, she noted with a laugh, "I married a financial planner"). She began her career trajectory as a graphic designer before moving on to prepress work in the printing industry. Then she got into web design.
"That turned into a lot of coding," Dempsey said. "I needed a creative outlet and went into decorative painting." Aptly, she called that side business Artistic Finishes. It would prove a turning point.
"While I was doing that, I'd be in people's homes and they'd ask, 'Can you help me pick out colors for my kitchen?'" she recalled. Dempsey began to realize she had a special affinity for color and could actually do consulting for a living. Artistic Finishes "morphed into" Color Concepts. "I'm so lucky," she said. "I ended up doing what I love."
The majority of Dempsey's work is with residential clients, followed by commercial jobs. Another avenue is sharing what she knows about color — for instance, in regularly scheduled free sessions at Vermont Paint Company's Williston store.
"She's available to our customers to help them with color choices," said owner David Erkson. "They'll bring in fabrics, tiles, iPad photos of rooms — Betsey helps them even if they have no idea what they want. She's very good at listening to people and [finding out] what they like."
Erkson added that while his own staff help customers as best they can, they're not trained in color theory. Nor do they have the advantage of going to a customer's home to see the rooms, the furnishings and how available light impacts color. "It can look different in every room, even in the same house," Erkson observed.
Nest caught up with Dempsey and quizzed her on her colorful life.
Courtesy Of Betsey Dempsey
Betsey Dempsey
NEST: How far afield do you travel for work?
BETSEY DEMPSEY: I travel locally ... as far as North Hero, Stowe. If someone would pay me, I'd go anywhere!
NEST: Your website says you were trained by Benjamin Moore to present color seminars. What's that all about?
BD: Yes, I teach a class at Champlain Valley Union High School's Access program every semester. It's a one-night class for an hour and a half. It's more geared to helping people not make mistakes.
NEST: You note that the most important consideration on a job is the client's preferences. But I'm assuming people consult with you because they aren't sure, can't decide or don't trust their judgment...
BD: Yes, or don't know what they want.
NEST: But if someone clearly wants help, how does their preference come into play?
BD: They have colors that they like or don't like, or don't feel comfortable with. I want them to be happy.
NEST: Do you find your job is sometimes to get people to make a more daring or adventurous choice with color?
BD: Definitely. In [one residence], the client wanted linen white in the bathroom. I said, "Let's give this [wall] a deep gray." I had to twist her arm, but in the end she loved it.
I work with people who just want shades of white, and others are eclectic — they like every color of the rainbow. I try not to push my preferences [on clients], but look at what's best in the room.
NEST: You work with both residential and commercial clients. Do you have a preference?
BD: They're different. Businesses need to think about what the space is used for — what kind of business is it? What kinds of people are going to be in it? It's more psychological. In schools, elementary students need different colors than high school.
NEST: Are people pickier, or more anxious, about choosing color in their own homes than in a workplace?
BD: Not necessarily. Owners of a business can be just as picky. Sometimes I have to explain why residences and businesses are different. In a residence, I'm a little more inclined to say it's about what makes you comfortable. If it's your business, it's not all about you. It might be about your customers.
Courtesy Of Betsey Dempsey
The entry at Logic Supply in South Burlington
NEST: What's the most common job you're asked to do?
BD: I do a lot more residences. The projects really vary a lot, from just a bathroom, say, to a whole floor plan. I find people get tripped up on an open floor plan. What looks good in the kitchen might not look good down the hall.
NEST: Are you ever called in to essentially fix a mistake a homeowner has made — that is, an unsatisfactory color choice?
BD: Yes. The two color families that people make the biggest mistakes with are yellow — it amplifies like crazy, like they're living in a school bus — and blues. They turn so blue so fast.
Also, there's a myth: I've heard people say pick a color on the strip and then go one lighter because it's going to go darker on the wall. That's not true — there's just more of whatever [color]. And the strips can be deceiving — it's not a gradient [of the same color].
NEST: What about exteriors?
BD: That's a whole other animal. Any color will magnify like crazy outside. There's much greater square footage, and usually more light. You have to go quite a bit darker than you might think. I would normally go two shades down [from what a client has picked out].
NEST: Are there colors you would never use in any particular room?
BD: No, I don't think so. I've used black, hot pink. There's a place for every color.
NEST: Is boring beige ever the right choice?
BD: There are plenty of people who still like that.
NEST: Do you have a favorite palette or color family yourself?
BD: It changes. I'll just see a color, and I become enthralled. I do love water-ish hues. I'm a sailor.
NEST: Any color pet peeves?
BD: An all-gray house. I try to tell people, "Remember, we live in Vermont; nine months of the year it's gray." I can't live in gray — not that I want to live in a crayon box.
NEST: What are your consultation rates?
BD: It's complicated — it's by location. I'm based in Shelburne, so it's not just about mileage but the ease to get [to a job]. It starts at $50 per hour.
NEST: Have you had to find compromises for, say, married homeowners who want different palettes?
BD: All the time. I really have a second degree in marriage counseling. I've learned a trick [for when couples disagree]: Don't pick either color, so neither wins or loses. I'll pick something else. They consider me the "expert," so that usually works out.
NEST: How often do you change your own wall colors?
BD: We just built a house, so that was a big project for me — I'm my own worst client.
NEST: Any disagreements with your husband?
BD: No. We've been married 25 years. He says, "Just go ahead," because he knows I'll do what I want anyway.
NEST: Why do so many people paint their house white?
BD: I think because it's easy — they don't know what else to do.