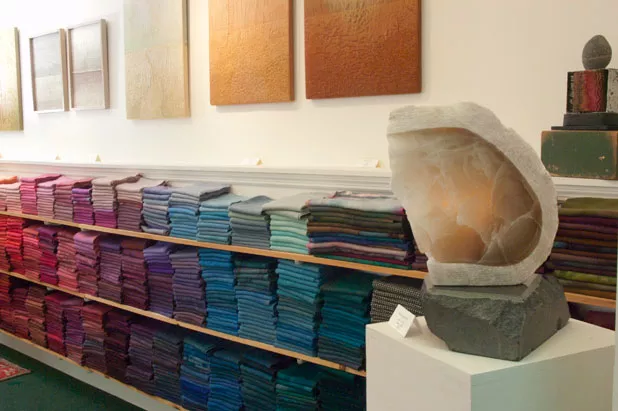 At the Rae Harrell Gallery in Hinesburg, a rainbow of neatly folded wool — ranging from burgundy to chartreuse, plaid to pinstripe, tie-dye to houndstooth — spans an entire wall and nearly steals the show. "I tell you, someone's going to walk in here and say, 'I want that wall of wool,'" Harrell says. "And I'll pack it right up for them."
Luckily for visitors, the year-old gallery, which specializes in fiber art, features much more than raw materials, beginning with Harrell's own work. The self-taught artist, 64, exhibits paintings, mixed-media sculptures and hooked rugs, all of which are infused with bright colors and a sense of humor.
"Fiber is hot right now," says Harrell. "[The gallery] was jumping this morning. People from Ontario were waiting on the porch when I got here."
On a recent afternoon, it's the tail end of Harrell's most recent show, "No Boundaries in Fiber," and two works from her "Chihuly Folly Series" welcome visitors at the gallery entrance. Squiggling worms of fiber shoot out and around a pair of lamps in the style of the glass artist Dale Chihuly. "I like the dichotomy of soft and hard," says Harrell. "I love the contrast."
A sculpture titled "Out of My Mind" looks like the Emerald City, if it were composed of hooked wool-covered Lucite tubes, with feathers shooting from the top like a headdress and a single felt eye keeping tabs on the gallery. "This is what my life generally looks like," Harrell says with a smirk.
She also shows optical-illusion diorama boxes inspired by an old cartoon in which Bugs Bunny peeks his head inside a little tent, which magically contains the entire interior of the Taj Mahal. Look inside a peephole in Harrell's box "Into the Woods," and you'll find a forest landscape that seems to unfold in all directions, thanks to mirrors.
Harrell doesn't just show her own work. Since John Bates at South Burlington's Black Horse Fine Art Supply began representing her, she says, she has been able to focus on showing other artists. The gallery's most recent show featured work by Vermont members of the national Surface Design Association, including Eve Jacobs-Carnahan, a "knitting sculptress"; Karen Henderson, who hand-weaves, dyes and stitches roughly textured landscapes; Diane Shullenberger, who assembles tiny scraps of fabric to create intricate photo-realistic images; and sculptor Kevin Donegan. Harrell points out that his sensual, alabaster-and-granite piece called "Lemon Wedge" looks a lot like an integral part of the female anatomy. "Lemon Wedge, my ass," she jokes.
Harrell — who has a thick wave of gray hair and a hot pink shirt that matches her artwork — opened her gallery a year ago in a small strip mall, which is still undergoing renovations. The other tenants are her husband, Loy, who runs an antique store, and the Lighthouse Baptist Church.
"I moved in when it was a dump," says Harrell of the space, which used to house a mobile-home supply shop. These days, it's warm and welcoming. Harrell and her fiber friends gather there to touch up hooked rugs or just sit around with coffee and chat. Loy wanders in and out throughout the day, and the charismatic Baptists keep things interesting. "They're rocking on Sundays," says Harrell, a Buddhist.
Harrell grew up in Louisiana — you can hear it in her buttery voice — and has been an artist her whole life. "My mother would give me paper and crayons and say, 'Go make something,'" she says. In her twenties, she moved out to California to work as an actress — "I did a lot of waitressing," she says with a smile — and married a "rock-and-roll guy … You know how that ends."
After her first marriage, Harrell moved to Ohio to deal antiques, which is how she met Loy. They married and moved to Vermont in the early '80s. Together they raised five children, two of whom have a presence in the gallery. Hillary Harrell lives in Santa Fe, N.M., but her hooked rug full of soaring hearts was included in her mother's recent show. "She's in love, and you can see it in this rug," says her mother.
Another daughter, Rebecca Harrell, is depicted in one of Harrell's own hooked rugs, playing the guitar with a flower in her hair. Rebecca starred in the 1989 movie Prancer and now works as a producer in Hollywood. When asked if she is proud of her daughter's success, Harrell smiles broadly, but clarifies: "I hate that word, because, you know, it goeth before the fall."
On the afternoon of our visit, Harrell's friend and fellow rug hooker, Judy Cole, is in the gallery, working on a peacock rug for a November exhibit of the Green Mountain Rug Hooking Guild at the Shelburne Museum. The two women unfurl the piece on the floor and begin pulling swaths of wool from the rainbow wall, arranging them on the unfinished portion and imagining the result.
They agree there's no better way to spend a rainy afternoon. "This is the business that I always wanted," Harrell says. "I am truly living the life."