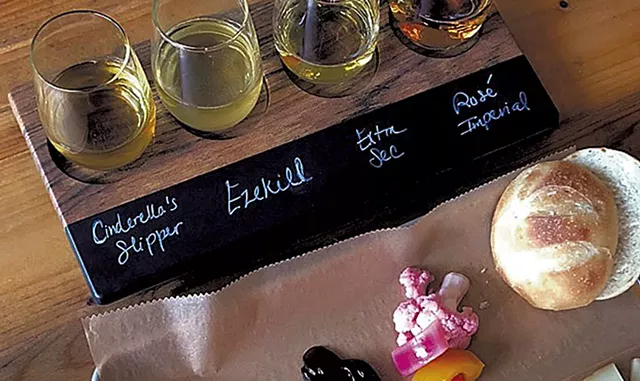 Courtesy Of Eden Specialty Ciders
Eden Specialty Ciders flight with food pairings
A new event series will kick off on Sunday, August 25, celebrating Vermont-grown cider and supporting the preservation of the state's working landscape.
CiderTerra is a collaboration of Eden Specialty Ciders, Windfall Orchard, Tin Hat Cider, Flag Hill Farm Vermont Hard Cyder and Puckerbrush Cider. The first event, hosted by Eden Orchards in West Charleston, will be a walk-around tasting that pairs samples from each cidermaker with local bites.
"It won't be fancy," said Eden Specialty Ciders founder Eleanor Léger. "We want it to be an event where you can experience the range and style of each of these producers, talk with the makers, and learn about the harvest-based, wine-like production methods we're using to make our ciders."
The Vermont companies featured at CiderTerra are dedicated to producing cider exclusively from Vermont-grown apples, and the event will highlight their commitment to small farm growers around the state. "The Vermont cider scene is dominated by large producers using apples from elsewhere, and we want to let people know that there's a whole different kind of cider that is connected to the land and expresses terroir," said Léger.
The first event will benefit the NorthWoods Stewardship Center, a nonprofit educational, research and conservation service organization based in East Charleston. Future CiderTerra events are being planned around the state, benefiting local nonprofits that support the agricultural community and environmental conservation. Tickets are $30, available here.