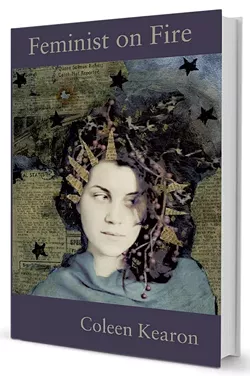 Feminist on Fire by Coleen Kearon, Fomite, 125 pages. $12.95.
"You just need four words to explain why you dump any woman," said an uncreative comedian sometime last decade. "Count the words: That bitch was crazy." The audience cracked up. "That's totally sexist!" I heckled back. He ignored me.
Fast forward to now, when feminist discourse is enjoying a renaissance even as one in four American college women reports having been raped or sexually assaulted. Or rewind to the late 1960s and early '70s, the setting for most of Coleen Kearon's new novel Feminist on Fire.
"All I did was say that men were mean to women, and that it made sense that women would not like men because of that. That it was normal, not crazy, for women to feel that way," says the narrator, Pam, a member of a radical feminist group, to her 6-year-old-niece, Mia.
Published by Burlington's Fomite press, Feminist on Fire is a slim, semi-biographical novel based on the author's aunt, Pam Kearon, who wrote second-wave feminist essays and was active in the New York radical collective the Feminists. Nonlinear in form, Pam's story is told in hazy fragments. It functions as a compassionate exploration of the second-wave feminists who have served as both inspirations and scapegoats for their present-day counterparts.
Kearon, who lives in Montpelier, shows her characters attempting to fight for rights within the larger patriarchal society, rallying for access to safe, legal abortion and for an end to men's violence and abuse. The novel also hashes out the brutal disagreements among the factions of the women's liberation movement of that time: white feminists who tended to exclude women of color, lesbian separatists who believed women should cut ties with men, anti-pornography feminists who advocated for celibacy, and still others who embraced sexual freedom.
The debate over women's reconciling heterosexual desires with criticism of male domination gets ugly in the novel. Lesbian separatists come off as particularly rigid and insufferable in Kearon's narrative: They "infiltrate" meetings of the Feminists and challenge "our ridiculous belief that we can accomplish anything while sleeping with men," she writes. Pam attempts to challenge this line of thinking, but ends up getting drunk, throwing a pool stick at the separatists and getting kicked out of the group. (Thankfully, and unsurprisingly, a credo of simple informed consent won this battle in contemporary feminist thought.)
The author further complicates her power dynamics by depicting Pam as having an abusive mother, a weak though caring father, and masochistic, self-destructive tendencies. The narrator's depression and mental illness never fade into the background.
Hence Pam can't appreciate the feminist movement's victories: Roe v. Wade, gradual legal changes that allowed "no-fault" divorce laws, the enactment of equal pay for equal work, and fully paid parental leave. (Wait, some of those did actually happen, right?) The novel ends at Ronald Reagan's sweeping reelection, when a despondent Pam is about to die and Mia is pretty bummed.
Perhaps the saddest aspect of the novel is that Pam doesn't form long-term emotional connections with other women — except for Mia, who remains a part of her life despite her travails. Passing on both her sharp critiques and her tendency to turn to substances, Pam gets a 12-year-old Mia stoned.
The sparseness of Kearon's prose and the limited action realistically convey the depths of the protagonist's depression, addiction and chronic unemployment. This is a story of a woman with strong convictions who only briefly tries to navigate the world she fiercely wants to change before, essentially, isolating herself from it.
Pam is a sympathetic but flat and predictable character. She suggests an intelligent yet mercurial sociology classmate who gets shitfaced and comes apart at parties and isn't invited to the next one — much to everyone else's guilty relief. Pam only falls on her face because she's wasted, not because she earnestly tries for something different and fails. Though it's believable that Pam had limited options in her era, the book would have been more interesting if she hadn't conceded personal and political defeat so quickly and fully. As is, its cloudy sea of sorrow can leave readers wanting tension, action, humorous interludes, surprise and variety.
Feminist on Fire does not try to pinpoint a single culprit for Pam's downward spiral: schizoaffective disorder, male violence, an abusive childhood, crummy therapists, patriarchal society, addiction and isolation from other humans are all factors. Yet the book does encourage us to empathize with such broken women — or, at the very least, to listen to them and their concerns instead of dismissing them as "crazy."