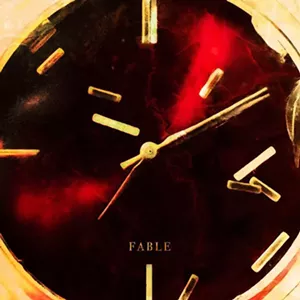 (Self-released, digital)
In 2016, folk-rock trio Navytrain emerged from the University of Vermont's creative ether. The hardworking group gigged constantly, hitting practically every venue in the Burlington area, often two or more in the same week. Seven Days first honed in on the group, which singer-songwriter Cole Davidson fronted, after the band released the eerily beautiful, continuous-shot live video for its single "Runaway." Davidson's earnestness and fragility were staggering, and his voice and guitar skills were ear-catching, to say the least.
Navytrain split up somewhat shortly after they began, but not before gaining notoriety in the local and regional jam band scene — with eyes particularly on Davidson. Now that Navytrain has left the station, Davidson continues the group's neo-Americana sound. However, his debut EP, Fable, is dreamier and more ethereal than anything his former trio cooked up.
There's a sense of newness across Fable's five tracks. Wispy atmospherics support a foundation of lightly plucked acoustic guitar and sparse percussion, all bathed in reverb. Davidson wields space like just another tool in his collection, weighing emptiness against the full force of his musical prowess. Davidson's voice is powerful — though he shows this not through overblown wailing, but rather with control and nuance. It takes a lot of power to sing with this kind of effortless restraint and finely tuned modulation.
On the airy opener "Praise Be," Davidson confronts temptation. As his guitar lightly flickers in and out, layers of vocal harmonies converge for a reverent, gospel-infused hook.
In a completely meta tune, "Troubadours," Davidson questions his entire musical career: "Lord knows I know / My sound is a dime a dozen / Another sad song from a tortured soul / Cue the eye roll / White boy thinks he's something." True, the singer-songwriter genre is overcrowded with young, white men who think what they have to say is original and important. But Davidson admits his faults and hopes for the best.
"Someplace" features the artist's finest fingerwork, weaving together a spritely nylon-stringed web of tones. Subtle R&B vocal influences emerge as the singer fully reveals the song's meandering melody.
The final track, "Fable," is a soft and uplifting ballad that connects the EP's sonic dots. Again, Davidson frequently uses sonic vacuums to underscore emotional moments that can't be fully conveyed with sound or words.
Fable operates like a palate cleanser for Davidson. You can hear that he's hard at work carving out space in a congested artistic arena. His acute sense of structure and dynamics will serve him well on his journey.
Listen to Fable on Spotify. Davidson celebrates the release of a new EP on Wednesday, February 6, at Nectar's in Burlington.