Laura Sorkin
Indoor skydiving at SkyVenture Montréal
Many Vermont families hit the slopes at the first sign of snowfall. But skiing isn't for everyone. When you don't have a ski-resort season pass, figuring out fun, family-oriented winter activities can be challenging. So we asked Kids VT staff and contributors to recommend trips and activities — of the non-skiing variety — to spice up those long winter days. We've included outdoor and indoor options, and outings that take anywhere from a few hours to an entire weekend. Some adventures are educational, others are physical and some are just plain fun. Use this à la carte menu to combat cabin fever.
Jeb Wallace-Brodeur
Skating on a local pond
Gliding on Ice
While my family enjoys canoeing and swimming in Vermont's numerous lakes, an extended cold snap offers the chance to explore them in a different way — on ice skates.
One choice spot for skating is the public boat-access area near the Craftsbury Outdoor Center. If conditions are right, the center's groomers plow a wide loop with plenty of elbow room for skaters of all ages and abilities. The wind on Big Hosmer Lake often blows the snow clear, and my family and I have skated across the entire lake, stopping to visit with ice fishermen. Afterward, hot cocoa, chicken noodle soup and chocolate chip-cookies are our favorite treats at the outdoor center's spacious and welcoming touring center, while the toasty woodstove warms chilly hands and feet.
With either a $5-10 day pass or a $100 season pass, ice skates are included. However, I purchase used skates for my family for $10-40 a pair at Morrisville's Power Play Sports. When the kids outgrow them, we trade them in for store credit. Owning our own skates gives us the freedom to check out other lakes, such as Caspian Lake in Greensboro and Lake Elmore. Also, many public parks flood, freeze and groom designated fields for free public skating. We go to the farmers market field at Atkins Field in Hardwick and the town field on School Street in Wolcott.
—Brett Stanciu, Kids VT calendar writer
International Allure
Whenever we have a free winter weekend, we like to go up to Montréal. I find it easiest when we anchor the trip with one planned event and spend the rest of the time walking around, following our interests. For example, we'll get tickets to a show or plan the day at the Biodôme, then spend the rest of our time ambling through Chinatown or window shopping on St. Catherine Street. Once we booked an afternoon at SkyVenture Montréal, an indoor skydiving place, which was one of the most exciting things I have ever done.
Food is one of the best reasons to visit Montréal, and we make sure to take advantage of the incredibly diverse cuisine. One trip, just to be decadent, we made a point of having chocolate for breakfast, lunch and dinner. Juliette et Chocolat (three locations in the city) specializes in chocolate food and drinks. For more savory fare, try smoked meat — Montréal's version of a pastrami sandwich. Schwartz's Deli is the most famous place to get a smoked-meat sandwich, but if the line is long, try Dunn's Famous diner for good, affordable food. They have three locations and a big menu to please picky eaters.
Our only criteria for a hotel is that it's centrally located so we can walk to our favorite neighborhoods. If I can find a good online deal at one with a pool, I'll jump on it. Swimming is a perfect activity for those late-afternoon hours when the kids are tired of walking but it's not quite time for dinner. We've been happy with our recent stays at Hotel Bonaventure, which has a heated outdoor pool open year-round and the Fairmont Queen Elizabeth, which has a pool in the basement.
—Laura Sorkin, contributing writer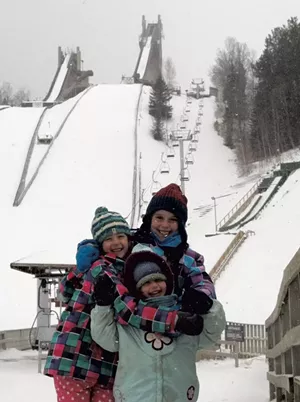 Jessica Lara Ticktin
The Ticktin girls at the Olympic complex
Olympic-Size Adventure
There are few better places to embrace winter activities than the site of the 1932 and 1980 Winter Olympics in Lake Placid, N.y. Located just an hour and a half from Burlington, this small Adirondack town has wintry fun for every member of the family. We spent two nights at the Golden Arrow Lakeside Resort, a hotel in the center of town that overlooks Mirror Lake and is in walking distance to many activities and restaurants.
Bundle up and head to the Olympic Oval, an outdoor rink originally used for speed skating. Public skating costs $5 for kids and $8 for adults, and you can rent skates for $3.
If skating isn't your thing, take the chairlift up to the Olympic Jumping Complex at Whiteface Mountain, where you can ride a glass-enclosed elevator to the observation deck for a panoramic view of the Adirondack High Peaks. The newest attraction at the complex is an exhilarating tube ride down a 700-foot chute, either during the day or under the lights at night. For younger kids, the Lake Placid Toboggan Chute — a three-story converted ski jump ($5-10) — and dogsledding rides both take place on the frozen surface of Mirror Lake.
—Jessica Lara Ticktin, contributing writer
Alison Novak
The planet walk at Montshire Museum
Science and Baking
The drive to the Montshire Museum of Science is on the long side for a day trip from our home in Shelburne. But leaving mid-morning puts us in Norwich around 11:30 a.m., perfect timing for an early lunch at King Arthur Flour Bakery + Café. A kids' meal includes a choice of sandwiches, plus applesauce, cookie and drink, while adults can pick from creative options like the pulled pork sandwich and kale salad — I recommend both. The expansive store attached to the café is a good place to stock up on baking mixes, cupcake pans and domestic items you never even knew you needed. You can also grab a cappuccino and a cookie before driving a couple of minutes down the road.
Arriving at the museum around 1 p.m. will give you plenty of time to take it all in before the 5 p.m. closing time. My family's can't-miss exhibits? The leafcutter ants' habitat, where we search for the elusive queen (last seen: August 29), and watch the tiny, intelligent creatures chew and haul leaves through a network of pathways. We also like to make soapy creations of all shapes and sizes — and snap some cool photos — in the new-and-improved bubble area. If the snow isn't too deep, kids can burn off energy by trudging from planet to planet in the scale model of the solar system located right outside the museum's doors. We've never trekked the 1.6 miles to Pluto, but maybe this year.
If you're headed homeward due northwest, Montpelier is the perfect stopping point for dinner. In winter, we like the homey feel of Sarducci's. Order penne Bolognese for the little ones and some chicken picatta and vino for the adults.
—Alison Novak, Kids VT managing editor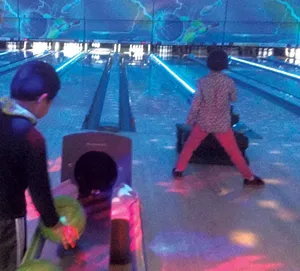 Cathy Resmer
Bowling at Spare Time
Let the Games Begin
When my kids and I are sick of the cold and feeling competitive, we head to Spare Time, a family-friendly bowling alley and arcade in Colchester near Costco. The lane computers there make it easy for kids and adults to bowl side by side. I usually configure our games so that my 7-year-old daughter and 9-year-old son bowl with bumpers, metal bars that keep their bowling balls out of the gutter; when it's my turn, the bumpers retract, ensuring that we're evenly matched. One of them usually wins.
Spare Time's loud and overstimulating arcade mostly contains machines that give tickets, which is a major turnoff. Not only are they expensive, most of them are eerily similar to slot machines. But I'm usually up for a few games of air hockey. And my son and I like to play Jurassic Park, an episodic video game in which players shoot and capture dinosaurs. He and I have spent 30 minutes — and about $20 — completing all of the levels together.
Teaming up with him against the dinosaurs is surprisingly satisfying, but it's not as fun as chasing the kids around Spare Time's sweet, two-story laser tag arena. If you're not bothered by the fact that you're toting toy guns and zapping each other, laser tag is a good way to work up a sweat. It's not cheap — one 15-minute round is $7.50 a person — but a few games still cost less than a lift ticket.
—Cathy Resmer, Kids VT executive editor
Meredith Coeyman
The butterfly exhibit at Fairbanks Museum
Stargazing and Polar Bears
While fresh air is essential in the winter, so are activities that don't involve five layers of clothing and a frozen face. The Fairbanks Museum & Planetarium in St. Johnsbury, Vermont's first natural history museum, is an hour and a half drive from our home in Burlington. The red sandstone Victorian building — complete with tower and arched windows — is itself a work of art. Admission is $8 for adults and free for kids under 5, but our family of four took advantage of the $20 family rate.
Stepping inside the barrel-vaulted main room is like entering a cabinet of curiosities. Taxidermied animals large and small fill most of the first floor. My son couldn't decide which was his favorite: the diorama of a fox eating a duck, or the snakes. But in one delighted moment he exclaimed, "Now this is what nature looks like!" While most specimens are secured behind glass — the extensive bird collection includes everything from chickadees to flamingoes — others are tucked in corners and on cases. That you could stumble upon a warthog or come face-to-face with a polar bear makes the experience feel more like poking around an explorer's attic than touring a stuffy museum.
The room's manageable size meant we didn't suffer from fatigue, and I was relieved to find an alcove with hands-on activities for kids like crayon rubbings and stacking toys. But my favorite was the butterfly exhibit; their colorful splayed wings reminded me of warmer days. For an additional $3 per person we caught the "Night Sky" presentation in the cozy 45-seat theater. Throughout the 30-minute tour of the constellations, our narrator used humor and knowledge to connect the cosmos to everyday life. Techniques like comparing Orion's hunter to The Hunger Games' Katniss Everdeen kept children engaged. On our way out, we stopped at the Nature Store, which is filled with well-curated merchandise focused on the natural world. My kids soared out the doorway as "Osprey Boy" and "Owl Girl," convincing me that we'd return soon. And our pit stop at Positive Pie in Plainfield for pizza, pints and $6 kids' meals made the trip complete.
—Meredith Coeyman, Kids VT contributing editor
Courtesy of the Swimming Hole
The Swimming Hole lap pool
A Soothing Swim
In the deep of winter — when it's too cold to ski and our family can't stand another round of indoor obstacle-course races — we head to the Swimming Hole in Stowe for a little warm-water fun. The 15-mile drive from our home in Morrisville is perfect for our kids, who are prone to carsickness. Admission to the indoor pool can add up at $20 for adults, $14 for kids ages 6-17 and $6 for kids ages 5 and under, but visitors can come and go all day. The fee includes the children's pool; the eight-lane, 25-meter lap pool; and, for adults, a modern workout facility with cardio machines and weights. The children's pool is heated and never gets deeper than three feet. A waterslide (open 3:30-6:30 p.m. every day) and several other giant water-fountain toys are fun for everyone. My kids love the suspended buckets that overturn when full.
On your way there, pick up a brown-bag lunch at Commodities Natural Market on Mountain Road to eat in the Swimming Hole's lobby. Our favorite? Apples, Cabot jack cheese and Green Rabbit chive bread. Or take a break from the pool and walk or drive to Harvest Market, also on Mountain Road, for some prepared deli sandwiches, baked goods and a cappuccino. You can even pick up a baguette, soft cheese and a bottle of wine for a simple dinner when you arrive home.
—Darcie Abbene, contributing writer