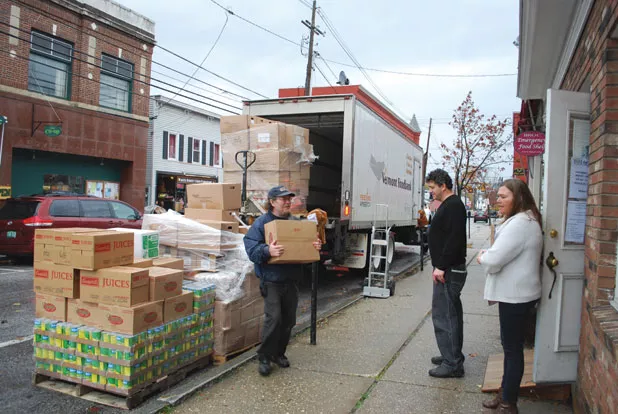 Donna Taylor and two volunteers unload a delivery at a Rutland food shelf.
"You know, I can stand to lose a little weight," joked 54-year-old Jim, patting the swell of his belly under a gray T-shirt. "But that's not how you're supposed to do it, by going hungry."
Jim, who declined to give his last name, was hunkered down on a metal-frame chair at the BROC Community Action Food Shelf on Wales Street in Rutland, paging through a coupon leaflet. It was a quiet day at the downtown food shelf — always is, on the first of the month, when Vermonters receiving assistance from the Supplemental Nutrition Assistance Program, or SNAP, see their benefits automatically deposited onto electronic debit cards.
But when they check their balances this month, recipients will notice less cash at their disposal: A 5 percent cut, designed to trim $11 billion nationwide over the next three fiscal years, took effect on November 1.
"I lost a whole $11, but I'm just by myself," said Jim, whose monthly allocation is down to $189. A veteran who previously worked as an electrician, he spent five years living on the street until landing an apartment a year and a half ago. "I'm certainly not going to go without. You take a family of four or five, though, and that's a different impact."
For a family of four, in fact, last Friday's change amounted to a reduction of $36 — a sum that would have otherwise purchased three boxes of basic cereal, three gallons of milk, two dozen eggs, three two-pound bags of carrots and five pounds of Macintosh apples.
The nationwide cuts aren't "cuts," per se, but rather the expiration of a temporary boost to food stamps included in the 2009 economic stimulus package.
One in seven Americans receives SNAP benefits, and the program has more than doubled in cost since 2008 to accommodate more individuals and families hit by the recession. Over the last five years, the number of Vermonters receiving food stamps increased by 71 percent, from 58,464 people in September 2008 to 100,087 in September 2013, according to the group Hunger Free Vermont. The Vermont version of the SNAP program is called 3SquaresVT.
"It is the first solution to hunger in this country, and it's the best one," said John Sayles, chief executive officer of the Vermont Foodbank, a private nonprofit that distributes eight million pounds of food to Vermont each year. The Foodbank collects food from farms, businesses, grocery stores, the U.S. Department of Agriculture and the organization Feeding America, then redistributes it to food shelves and soup kitchens around the state.
Sayles believes SNAP benefits were too low even before the most recent cuts, and he worries that in today's political climate, the question isn't if benefits will be cut further, but rather, by how much.
Some SNAP recipients already turn to the food shelf to make ends meet, said BROC food shelf coordinator and outreach specialist Donna Taylor. Now food shelves like this one are bracing for an increase in demand.
The BROC food shelf is a bare-bones operation. Taylor's desk is wedged against one wall, across from a small fleet of humming, mismatched freezers and refrigerators. Canned goods and boxes of discount-brand cornflakes line open shelves.
This facility serves 600 people a month, providing a three-day supply of food to each visitor. (And the one-visit-per-month rule doesn't appear to be set in stone.) Every other Friday, the Vermont Foodbank makes a large delivery, and, when supplies get low in the interim, Taylor purchases groceries from local stores — some of which also make donations — to keep the shelves stocked.
The first day of reduced benefits, November 1, coincided with a Foodbank delivery. Taylor had four volunteers on hand: Jim and three other forty- and fiftysomething men, several of them SNAP recipients and food shelf beneficiaries. She trotted around the office in ankle boots with heels, clipboard in hand — part dorm mother, part warehouse supervisor.
"Food truck's here," one of the volunteers called out, when driver Bruce Mullen pulled a large white truck up to the curb at around 9:30 a.m. Outside, the rain started falling harder.
Mullen hopped down from the cab, clambered into the back of the truck, and started unloading pallets of food. His was one of seven Foodbank trucks, each capable of carrying 30,000 pounds of nourishment, that circle the state five or six days a week.
"When I can get meat products, I jump all over it," said Taylor, as the volunteer helpers carried packages of frozen hamburger, chicken and pork inside. Soon the food shelf was packed with cardboard boxes and discarded packaging. Twenty cases of cereal. Fifteen 10-pound bags of potatoes. Fifteen cases of canned mandarin oranges.
"You see how quick it comes in?" asked Jim, stacking shrink-wrapped chicken parts in one freezer. "It goes out even quicker."
The volunteers were still knee-deep in cardboard when Peter Luther and Julia Burkett, 37 and 43 respectively, ducked inside out of the rain. Taylor greeted them by name. They grabbed two seats in the waiting room, under posters advertising local community meals, while Taylor assembled plastic grocery bags full of food.
"People have it worse than we do," Luther was quick to say. "We are eating. We do have a roof over our heads." The couple aren't married, but they pool resources, and Burkett's SNAP benefits play a crucial role in their budget. She's unemployed, and, like Jim, is seeing an $11 cut to her benefits — money that might have bought a family pack of ground beef.
Luther used to work as a maintenance tech in a broom factory that's since closed. Now he has a job as a cook, making "barely $10 an hour." He doesn't receive food stamps now, though he has in the past.
Luther said he is not angry, just resigned. He settled back in his chair to wait. "It is what it is," he said.
In the meantime, the three-day supply of provisions from the food shelf helps ease the pain for the couple. Food shelves that were designed as a place to go during a crisis, said Sayles, are increasingly morphing into a staple.
Yet Sayles said that the country's charitable food system accounts for just 4 percent of the total food aid delivered to needy Americans. Government programs make up the rest. Cuts to those programs — even $11 ones — are sorely felt by those most in need.
"That is what some people live on," Sayles said. "It really is a big hit to people who are struggling every day and, in almost every case, working very hard to do the right thing."