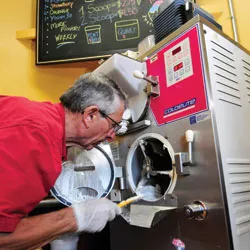 Jeb Wallace-Brodeur
Angelo Caserta
Like most Europeans, Angelo Caserta measures ingredients in grams and kilos, not ounces and pounds. For instance, the 70-year-old chef says he has the capacity to turn out five kilos of gelato in each batch. Instead, he renders half that, to his wife's occasional chagrin.
"He could save a lot of grief," chides Joanna Caserta, 71, watching Angelo make gelato inside the couple's Montpelier restaurant, Al Portico. Bigger batches would halve the time commitment of his morning gelato-making sessions, she reasons.
"No, I will not do that," declares her husband, clearly proud of his process. The pastel array of gelato inside his display case is likely to date back only a day or two. Gelato, Caserta says, should be fresh, fresh, fresh: "Most people I know [who taste it], they say they've won the lottery."
Most tubs of the creamy gelato that Angelo Caserta makes sell out within a couple of days. The flavors range from a deep, intense chocolate to the luscious strawberry sorbetto he creates with berries from Sam Mazza's Farm in Colchester.
Caserta's workspace is a corner of Al Portico, an airy café on Berlin Street devoted to Italian culinary delights — pizza and calzone, mainly, but also espresso and gelato. Conceivably, a customer could move from counter to counter for breakfast, lunch and dessert.
And customers are more and more likely to check out Caserta's newest specialty. Nationwide, iced-dessert options have exploded in the last two decades, and many of the new ones have lower fat content. Frozen yogurt is the king of this crop, but in recent years, gelato — ice cream's silkier, lower-fat Italian cousin — has stepped up. While ice cream has about 14 percent milk fat, gelato has between 6 and 8. And, while frozen yogurt can seem almost retro, gelaterias are au courant, especially in urban areas.
Gelato has been slower to travel to rural regions. When the Casertas left retirement to reopen their Italian eatery this spring, Angelo knew true gelato was not easy to come by locally, he says. Supermarket pints are frozen harder than are servings in a gelateria, where ideally the product is made on the day you eat it.
"True" gelato looks and feels almost molten, like frozen lava. Because less air is whipped into its body, the dessert is denser than ice cream, its flavors more intense. Its consistency hovers between that of a custard and a sorbet.
Gelato's main drawback is its low staying power; it needs to be made frequently, and by hand, which renders it less cost effective than ice cream.
Though conflicting stories abound about gelato's origins, the essence is that Romans and Egyptians brought the concept of sorbet — fruit juice mixed with snow — to southern Italy. Over the centuries, twists on the frozen dessert spread from the country's heel to its calf. In the 16th century, Florentine chef Bernardo Buontalenti enthralled the court of Catherine de Medici with his form of gelato; not long after, a Sicilian named Procopio dei Coltelli perfected the gelato-making machine and opened a gelato café in Paris. By the late 19th century, mobile gelato carts were commonplace in northern Italy, where a creamier gelato made with eggs and cream is sold, in contrast to the sorbetto of the south.
Caserta has had a talent for spotting old-as-new food trends since he learned to make pizza in New Jersey in the early 1970s. A few years later, when he had a restaurant in Manchester, Vt., he brought an espresso machine from the Bronx and imported an Italian device to make pasta from scratch. After opening Al Portico, the couple's third restaurant, Caserta purchased a pasteurizer and blast freezer and set about perfecting a craft he was first exposed to as a child.
Growing up in Lazio, about 45 minutes by car south of Rome, Caserta occasionally helped a friend of his father make gelato. He and his wife moved from Italy to New Jersey in the 1970s, and when they tired of New York City encroaching on their Jersey suburb, they loaded up a station wagon with their two young daughters, dog and possessions, and headed north. The Casertas opened their first Italian restaurant, Angelo's, in Manchester in 1978.
In 1992, the couple moved to Montpelier and opened La Pizzeria, which they ran for 14 years. After they closed it, intending to retire, they rented out the building to a succession of businesses, including the eatery Girasole. When their last tenant foundered, the Casertas decided to dive back into Italian culinaria. "I was into gardening, but what are you going to do?" Joanna recalls.
While turning out pizza and calzone was old hat, gelato proved an invigorating challenge for Angelo. "I needed to justify myself," he says. "Pizza I know." He spent the spring refining his flavors.
They include Donatella, a milk chocolate and hazelnut gelato; mint, atop which Caserta drizzles hard-shell chocolate syrup; and espresso, which draws its powerful flavors from astringent Italian coffee paste and small bits of dark chocolate.
Maple proved more of a challenge. Too much sugar messes with gelato's freezing process, and most syrups Caserta tried were too sweet. Eventually, Grade B syrup seemed to work best, because it is powerful and can be used in smaller amounts. The maple taste is subtle on the first lick but spreads across the palate on the finish.
Caserta's sorbetti, such as strawberry, watermelon and lemon, are so creamy that it's hard to believe they lack cream. The snow-white lemon sorbet has an intense pucker. "You know how we use lemon sorbetto in Italy?" asks Caserta wistfully. "To cleanse the palate. It's an excuse to stay at the table for three or four hours."
On a recent morning, Caserta's task is to make three flavors: cherry, banana and pistachio. For the last, a squat, round tin of Italian pistachio paste waits on the counter, with an "I (heart) Gelato" sticker stuck to its side.
"Gelato, it's very simple," he insists in a thick Italian lilt. As his grandson, Malcolm, plays undulating classical guitar on a nearby stool, Caserta sets about making his first batch of the day.
He places a plastic bucket on an electric scale and pours in a few hundred grams of whole milk. He adds a sprinkle of dextrose, then reaches for white sugar. Caserta recites each measure aloud, carefully watching the scale while he reminisces about his childhood. The young Angelo used to help his grandfather, a pharmacist, at work. "I would watch him mix things. He would give me powders to put in paper, and I would always taste them," Caserta recalls. "He would tell me, 'You are going to get sick!'" He pours sugar into his bucket and stirs.
Then he adds a spoonful of starch as a stabilizer. "Without this, you cannot make a good gelato, or anything else," Caserta advises. The stabilizers are essential to prevent the dreaded ice crystals from forming.
He whisks the components, then adds the pistachio paste. When the pale-green mixture is whisked to his satisfaction, Caserta transfers it to his Coldelite, an Italian-made machine that doubles as a pasteurizer and a chiller. As the gelato is heated to 185 degrees, the smell of ground pistachios fills the room. "First it cooks, then it freezes," says Joanna Caserta, who is watching the process.
Angelo Caserta knows some people like to cold process their gelato, but he thinks pasteurizing lets the flavors mingle and blend. A few minutes pass, and he flips a switch; hot cream swirls down into the chiller, where it is cooled to 27 degrees. It then eventually oozes into a rectangular silver tin.
Caserta carts the gelato to his blast freezer, which will chill it to minus-38 degrees Fahrenheit in about 15 minutes. The air inside the freezer is a sharp, tingly cold. A sample of the slightly chilled gelato tastes of cream and earth.
As he waits, Caserta muses. "I'm going to come up with a recipe that may be very strange," he says. Its ingredients include extra virgin olive oil and Parmesan cheese. He'd also like to create a beer-flavored gelato. "Everybody loves beer here!" he exclaims.
Caserta doesn't know what regulations, if any, might apply to gelato with alcohol content. "If I go to jail, they'll say, 'Oh, he was a nice fella,'" he jokes with a shrug.
Asked if gelato making will wind down for the fall and winter, both Casertas look stricken. "Why?" blurts Joanna, turning up her palms. "Gelato is good for every season." In the fall, the couple will roll out gelato pastry and cakes.
Despite gelato's sophisticated deliciousness, most of the Casertas' clientele are kids. Joanna says they seem entranced by the colors. "'Can I have the green? Can I have the white?' they ask. Their faces light up."
Customers like to taste all the flavors, and Angelo gladly obliges everyone, from the youngest to the oldest. The only difficulty: choosing.