James Buck
Stephanie Slocum and Ray Rouleau in the Tap Room
The keg in the conference room is a hint, as are the beer taps decorating the walls. All suggest that Vermont Information Processing is a tech company focused on the beverage industry.
From a campus at the Water Tower Hill office park in Colchester, VIP creates software and processes data to help customers manage inventory, distribution and sales through web and mobile applications. It has quietly grown over the past decade from 183 to 429 employees. The list of clients has grown, too, now exceeding 1,000 distributors and 800 suppliers.
Execs at the privately held, employee-owned company won't disclose profits or revenues, but they anticipate more growth. VIP plans to construct one or two buildings on recently purchased adjacent land within three years and to continue expanding the workforce.
"We're constantly, constantly hiring," said human resources assistant Stephanie Slocum.
"We're not short of work," agreed company president Dan Byrnes. "So we're always looking."
VIP's customers range from international beer behemoths such as Anheuser-Busch and MillerCoors to Vermont's own Switchback Brewing, Fiddlehead Brewing and Long Trail Brewing. The company also counts spirit makers and wineries as clients, including national players such as Jack Daniels and E. & J. Gallo Winery, as well as Vermont's Caledonia Spirits.
The software programs that VIP designs don't make beer or wine, but they touch nearly everything else in the economic chain that puts beer in the fridge and cocktails on a restaurant bar.
The company's EasyPick app is designed to help warehouse workers find, scan and accurately load orders using iPhones and Bluetooth scanners. VIP's digital sales sheet allows beverage salespeople to pull up a picture and description of a product on an iPad to make a more visual pitch to store owners. Other programs help with ordering, tracking products and inventory, monitoring display space, delivery, and payments.
Burlington-based Switchback uses VIP's web-based software iDIG to track how much beer is selling where and when on a given day.
"In an industry where there's so much competition, there's so many breweries out there, it gives us the specificity to hone in on these items that are important,'' said Darby Kitchel, territory sales manager for Switchback.
In a siloed industry, VIP has worked to offer software for all three components of the beverage world: supply, distribution and sales.
As a result, the company has a unique footprint in the industry, said Ray Rouleau, VIP's director of strategy and supplier sales, on a tour of the office last week.
The company has a big reach, observed Jeff Couture, executive director of the Vermont Technology Alliance, an industry trade group.
"VIP, somewhat quietly, really, has become a major player in software that is behind some of the major brands in the beverage industry, both the companies that are the distributors and the actual brands themselves," Couture said. "Their software really runs at the core of a lot of these businesses, and it's happening right here in Vermont."
James Buck
The gym at VIP
VIP employees work in beverage-themed conference rooms (e.g., the Margarita and the Keg) or at desks arranged in an open-seating plan. There are no individual offices or executive suites for company leaders. When he's not roaming the office, Rouleau spends his time at a stand-up desk next to a window overlooking the parking lot.
"I haven't used a chair in, like, seven years," he said.
The company is not big on titles — Rouleau joked that he wasn't even sure of his own. VIP emphasizes its egalitarian approach as a selling point to potential software designers and junior programmers. In a state with extremely low unemployment and a small tech sector, every pitch counts.
"Their careers blossom here because there's not a hierarchical structure," Rouleau said.
The office's open design helps seed collaboration, added Byrnes, who was dressed on the sunny October day in athletic casual: khaki shorts and sneakers. "That's the whole idea," he said, "that we're all communicating, that everyone is in touch with what's happening."
The company's bid to develop a team approach was visible in other ways, too. A group of sweaty employees tromped into the office from their lunch hour wearing shin guards and carrying hockey sticks.
They'd just faced off at the company's street-hockey rink behind one of its buildings. Out front, another group of employees raced up and down a basketball court. A few more were working out in an employee gym, which has locker rooms and showers.
James Buck
VIP employees playing street hockey
Christine Krebs often plays point guard during the lunch-hour basketball games. "I just always get refreshed and ready to do my second half of the day," she said. She started as a software developer at VIP 14 years ago and now manages a data and analytics team that helps customers "find trends and find where they can sell product better."
Krebs said she has stayed because she likes the company culture and because there are opportunities to advance if "you are willing to work hard."
The workplace amenities exist to encourage both employee wellness and a winning attitude. In the rapidly evolving beverage industry, VIP is constantly cultivating new clients and developing new software solutions for their problems. "So, competition's good," Rouleau said.
Of course, it's not all about slap shots. Nurturing is part of the playbook, too. VIP is one of few local companies to offer on-site childcare. During Seven Days' visit, infants and toddlers were taking their afternoon nap as a lullaby soundtrack played softly. Ben Barnum, a sales data entry employee, was holding his 11-month-old daughter, Addie. "I come down on my lunch breaks and watch her progress daily," he said.
The licensed facility has 60 slots for company members' children between the ages of 6 weeks and 5 years. Parents must pay for the care but at a lower rate than most local childcare centers charge.
VIP founder Howard Aiken, now retired, opened the company childcare center in 1990 to make the work-family balance easier for employees. "There were three or four women that were about to have their first babies," said Louise Morgan, operations director.
At that point, VIP had 24 employees and had just moved to new quarters in Colchester. The business was slowly expanding from its original mission: data collection and sales analysis for the beverage industry.
When VIP was founded in 1972 in Burlington, cloud storage, email and smartphones didn't yet exist. Customers would send sales info to VIP by bus; it would be keyed in and processed on a mainframe computer before returning to the customer as a tidy report.
As computers became common in workplaces, VIP began to offer beverage delivery route accounting solutions. And with more technological advances, VIP expanded its range of software solutions, including a big shift in recent years to mobile devices.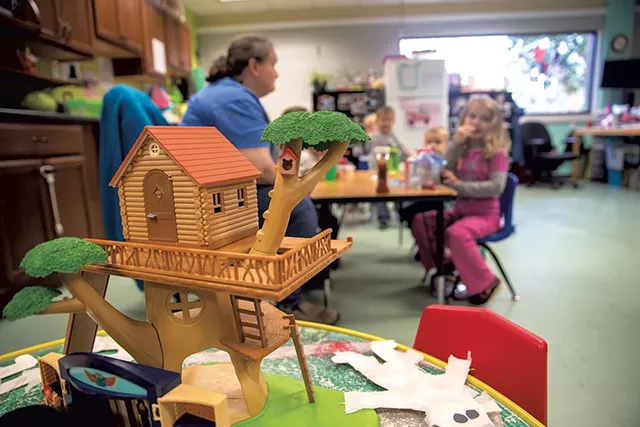 James Buck
Childcare at VIP
In 2001, Aiken decided to sell the company to his employees — 45 at the time. His thinking? "I want to have the employees that helped build the company own this company," according to Byrnes, who was one of those employees. He's been with VIP for three decades.
Today the company is 100 percent worker owned through an employee stock ownership plan. New hires begin collecting shares through a retirement program after one year and are fully vested after six. When they leave, they get cash value for the shares they have accrued. The structure helps build motivation, Rouleau said.
"It goes into the whole culture. You work here because you're an owner; you work here because it's a family," he noted.
VIP's growth has accelerated over the past five years with the purchase of several other companies, including Beverage Data Network in 2015 and TradePulse in 2017. About 360 of VIP's 429 employees are based in Colchester; the others work remotely or at small offices in states including California, North Carolina and Pennsylvania.
In addition to helping customers do market research, VIP helps create analytics and market research reports for industry trade groups such as the Beer Institute and Wine & Spirits Wholesalers of America.
Jobs at VIP include customer support, as well as data "cleansing" to check sales and confirm that, for example, a vendor is a restaurant and not a convenience store. There is some employee turnover, but most hires who settle in wind up staying, Rouleau said. "Once you fit in, you are in. I always tell people: If you make it one year, you make it 10."
VIP's intention to expand in Colchester is stymied by just one thing: a shortage of tech workers, specifically software developers.
The company is willing to train recent grads in computer science and other technical fields and has had good luck with students from local schools. But it's been more difficult to find experienced programmers and software developers.
"To get someone that has ... three, four, five years of experience, they are not around," Byrnes said.
Usually when employees come from out of state, it's because they have some connection to Vermont, Morgan added. Some went to college here and want to move back, or they have family in the area. VIP tells prospective hires that they "don't have to go to a big city" to have a career in tech, she said.
Despite the hiring obstacles, VIP has no plans to leave Vermont for more fertile tech pastures, its leaders say. And, without shareholders to answer to, it's unlikely the business will follow the familiar trajectory of a homegrown enterprise that gets purchased by an out-of-state corporation, which often then sheds or transfers jobs.
Byrnes is adamant that such a change will not happen at VIP. "We are not interested in selling the company," he stated firmly.
Disclosure: VIP is a Vermont Tech Jam sponsor.