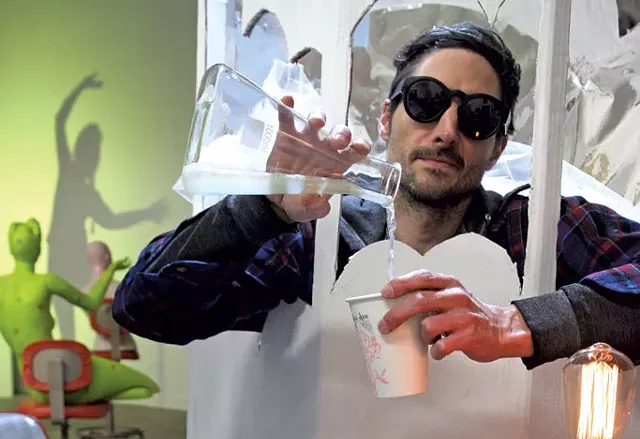 Matthew Thorsen
Keith Wright
Keith Wright, proprietor of the new Burlington café and event venue Rubra Atra, is a little cagey when asked to explain the name of his business. He allows that it means "red black" in Latin, but he won't explain the significance of those colors. Wright doesn't seem the type to be a Chicago Bulls fan.
Either way, the translation is helpful in locating Rubra Atra. Its signage-free entrance, tucked into a red-painted back corner on the south side of the Soda Plant, is helpfully painted with enormous, red-and-black roses. Pulling open the black door, visitors are greeted by the welcoming aroma of roasted coffee that fills this high-ceilinged space. With its expansive white walls and funky furnishings, the interior of Rubra Atra looks like a great place to screen movies.
And that's exactly what Wright — a 37-year-old barista savant and former DJ — intends to do with it. A film series that he's dubbed Black Box Movie Theater will make its début on Saturday, December 5, with a screening of Matt McCormick's Towlines (2004), a short independent documentary about, of all things, tugboats.
If that sounds arcane, that's part of Wright's idea. "I don't think people want to see action movies," he says. "They're ready to see something new."
We right intends to host a weekly series of foreign, art and experimental films — screened on a white wall. His enthusiastic disquisition on the subject is peppered with the names of cinematic trailblazers such as Ingmar Bergman, Andrei Tarkovsky and George Kuchar. If the series catches on, Wright envisions inviting guests to curate screenings and using the venue as a forum for works by independent Vermont media makers.
More than that, he wants to use the 40-seat Black Box as "an idea generator that gets people moving and thinking" about film and art. In between sips of coffee that he brewed by a method of his own invention, Wright passionately holds forth on the necessity of a vital local arts community. Suitably, the location he's picked for his venture is next door to the S.P.A.C.E. Gallery, and in a building that holds other artist studios and creative businesses.
Rubra Atra doesn't announce its presence very loudly. Though he's been serving up coffee for nearly half a year, Wright set out a sandwich board on Pine Street only about a month ago.
He has financed Rubra Atra in part with an inheritance from his grandfather, also named Keith Wright and the owner of Williston's Skateland roller rink, which closed in 2000. "I don't have to sell out, so I'm not worried about the money aspect," the younger Wright says. "I want to build it slow and steady, by word of mouth."
Rubra Atra won't be selling alcohol at Black Box screenings — a strategy Wright borrowed from Skateland, where he deejayed for an all-ages crowd. In fact, one of the things he loves most about film is that it's as accessible as music. "Everyone knows how to listen to music," he says, "and everyone knows how to watch a film."