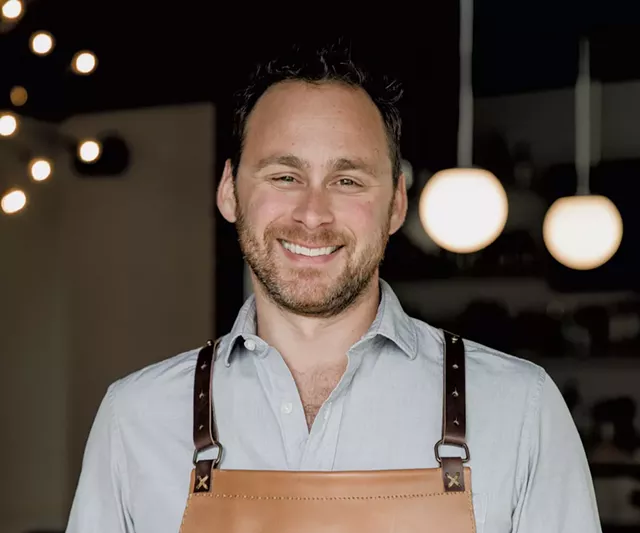 Courtesy Of Erin Little
Max Overstrom-Coleman
In a New England pasture, a "wolf tree" is the lone tree that remains after most of the forest has been cleared for farming. Livestock and other animals gather at such trees, said Max Overstrom-Coleman, who pursued doctoral studies in ecology at Dartmouth College.
Wolf Tree is also the name of the bar that he'll open by the end of October at 40 Currier Street in White River Junction. The 24-seat craft cocktail bar is intended to be a community gathering place, just as a wolf tree is in a pasture.
"The whole point of the bar, for me, is as a love letter to Vermont and the Upper Valley," said Overstrom-Coleman, who grew up in Manhattan and Chelsea and went to Camp Billings in Fairlee. He returned to the UV for graduate school 11 years ago and settled in the area. His restaurant experience includes working as a bartender at Carpenter & Main in Norwich.
Wolf Tree, which shares a building with Rio Blanco Salon & Spa, features a bar fashioned from green-and-white Danby marble. "It's big and gorgeous," Overstrom-Coleman told Seven Days by phone. "It's one of the sexiest things I've ever fucking seen."
The menu at Wolf Tree will highlight local products such as vegetables, cheese and charcuterie, served with baguettes from King Arthur Flour. Cocktails will showcase "found and foraged" ingredients, Overstrom-Coleman said.
"There are really dynamic, fun and unique flavors that exist in this region that people don't necessarily associate with cocktails," he said, citing sumac as an example. Such ingredients will be used "to infuse spirits or accompany spirits, to adulterate, showcase and highlight things for craft cocktails that are hopefully larger than the sum of their parts."
Wolf Tree will be open Wednesday through Sunday, with the exact hours to be determined.