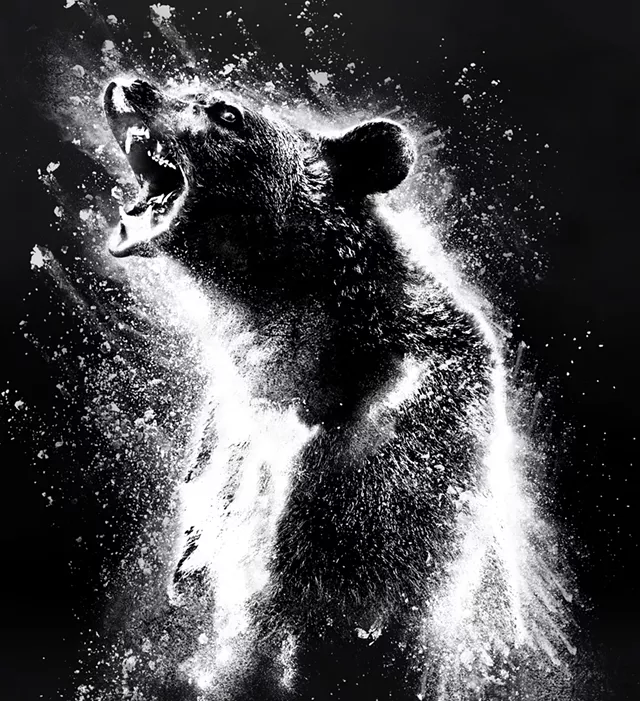 Courtesy Of Universal
A bear goes on a cocaine binge — and a bloody rampage — in Universal's endearingly retro meme movie.
Over the past year, Universal Pictures has made bank with a new genre that might best be called meme cinema — relatively low-budget films that can be sold on viral marketing and a concept that is easily explained in three words or less. Violent Night? Santa kicks ass. M3gan? Killer AI babysitter. Cocaine Bear? No explanation needed.
Somehow Elizabeth Banks' R-rated horror comedy managed to gross $23 million over its opening weekend, in second place after the latest Marvel offering. A week before the Oscars, I took a break from award-worthy films to see what the Cocaine Bear hysteria is about.
The deal
In 1985, a drug smuggler flying over the Tennessee area jettisons a shipment and attempts to parachute to safety. He fails, and numerous duffle bags full of cocaine end up littering the Chattahoochee-Oconee National Forest, where they become snacks for a hungry black bear.
Up to this point, the film follows the outlines of a strange but true story that concluded with the death of the bear, whose stuffed pelt still adorns a Kentucky mall. In Banks' version, however, the furry cocaine fiend doesn't become yet another casualty in the war on drugs. On the contrary, fueled by Bolivian marching powder, it goes on a rampage and proceeds to maim and dismember everyone in its path.
Among the imperiled are the park ranger (Margo Martindale); a plucky single mom (Keri Russell), who comes to the park in search of her equally plucky truant daughter (Brooklynn Prince); two tough guys (O'Shea Jackson Jr. and Alden Ehrenreich) who have been dispatched by a St. Louis drug lord (the late Ray Liotta) to recover the cocaine shipment; and a not-very-menacing teen gang called the Duchamps. Will any of them survive the jaws and claws of fury?
Will you like it?
Cocaine Bear opens with a lengthy title card instructing us on how to survive a black bear attack. After a few seconds, the source of the information pops up: "Wikipedia."
That throwaway joke encapsulates the spirit of the movie. The whole thing feels like a half-hearted goof, a term paper on the real-life "cocaine bear" incident written by a kid who got bored of consulting Wikipedia and started making stuff up. The movie is shaggy, it's shambling, and it doesn't pretend to be even tenuously connected to reality. Its hit-or-miss humor might remind you of skits from the dire last half hour of a "Saturday Night Live" episode. In between the absurdist scenes of bear antics and mayhem that made the trailer go viral, it can feel very long.
For all these reasons, I can't give Cocaine Bear a high rating. But what use do cocaine bears have for artistic excellence? This bear certainly has no compunction about dispatching the Duchamps, whose name seems to embody a joke about modern art that never comes to fruition.
That's true of many of the jokes in Jimmy Warden's screenplay. Yet, for all Cocaine Bear's incompetence, a cloud of affability hangs over the movie, making it hard to dislike. It's been years since I saw a film on the big screen that felt so much like a B movie from the golden age of VHS, without the slickness and cynicism that took over genre films toward the end of that era.
If you leave aside the CG bear — which has a lot of personality for an entirely digital creation — the movie feels like a relic of the time in which it's set. It's weirdly generous and sentimental toward its characters, even the ones who are destined to be chomped on.
One half-formed subplot involves a world-weary detective (Isiah Whitlock Jr.) learning to love a wee, foofy dog, and we spend a lot of time hearing how much Ehrenreich's sad-sack character misses his dead wife. The kid characters spout profanity and joke about trying cocaine, but these pre-internet tweens are too innocent to know how one does such a thing. When the hapless mother played by Russell runs into the tough guys and is asked to identify herself, she declares, "A mom" with a self-righteousness that invokes the divine cinematic right of all mama bears to defend their offspring.
If you're wondering whether that includes the literal bear, you'll have to see the movie to find out. But I can tell you that Cocaine Bear takes a remarkably nonjudgmental attitude toward the title character's cravings; the script even gets in a dig at the prison-industrial complex that the drug war built. This may be the story of a ruinous coke binge, but it has the soul of a stoner movie.
If you like this, try...
Maximum Overdrive (1986; rentable): In its gleeful gore and B movie ridiculousness, Cocaine Bear reminds me of Stephen King's directorial debut, a cable TV staple in which trucks and other machines come to life and try to take over the world.
Grizzly (1976; AMC+, freevee, Hoopla, the Roku Channel, Shudder, tubi, rentable): An 18-foot "prehistoric" grizzly bear terrorizes tourists in a national forest in this relic from the Jaws era, which demonstrates that footage of actual bears just isn't that scary.
Grizzly Man (2005; freevee, Pluto TV, tubi, YouTube, rentable): If you want to get dead serious about bears and the importance of giving them their space, watch Werner Herzog's documentary about the death of conservationist Timothy Treadwell. Or read A Libertarian Walks Into a Bear: The Utopian Plot to Liberate an American Town (and Some Bears) by Valley News reporter Matthew Hongoltz-Hetling.