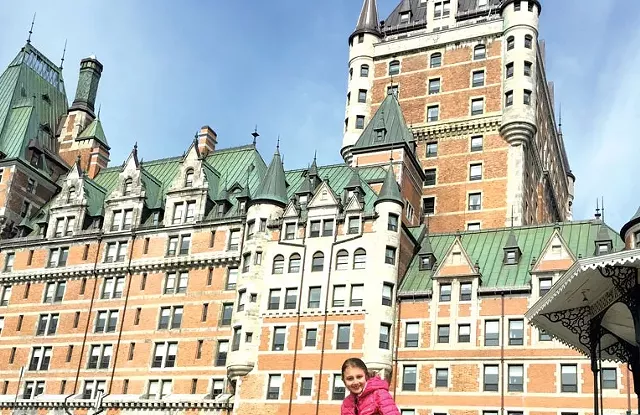 Mira in front of the Frontenac
Before this spring, I'd visited Québec City just once on a high school trip with my French class. That was February of 1994, during the city's annual winter carnival. It was so cold that, rather than frolicking in the snow, my most vivid recollections involve sitting on a school bus trying desperately to warm up my fingers and toes.
In our 12 years living in Vermont, we've crossed the Canadian border many times to visit Montréal, but we never ventured farther north, perhaps because of my unpleasant memories. When I realized it takes less than four hours to drive to Québec City from our home in Shelburne, I decided to remedy that. During my kids' April school break — thankfully, a much milder time of year — we spent three nights in the historic city exploring the cobblestone streets, eating lots of buttery carbs and pretending we were in Europe. We loved it so much we're considering a summer trip, when the temps are even warmer.
Where to Stay
We booked a room at the Fairmont Le Château Frontenac (1 Rue des Carrières). I chose it for its central location within the walled Old City, the fact that it has an indoor pool and, I admit, its castle-like grandeur.
We were able to find a room with two double beds and a pull-out couch on Travelocity for around $190 American per night. It wasn't until I returned home and did a little research that I realized this was a fantastic deal. Rooms appear to be more than double that rate during the summer months, but Paule Bergeron from Québec City Tourism says the price has to do more with supply and demand than the season. In other words, you might luck out and get that price during a slow week in the summer. The Frontenac is a lovely, elegant hotel with great amenities, so it's worth browsing for a good deal.
If you can't find one, try for another highly rated, modestly priced place in or near the Old City, like Hôtel Clarendon (57 Rue Sainte-Anne), Hôtel des Coutellier (253 Rue Saint-Paul) or Le Manoir d'Auteuil (49 Rue d'Auteuil). For budget-friendly options for families, Bergeron also recommends Hôtel du Vieux-Québec (1190 Rue Saint-Jean) in the Old City and Hôtel Best Western Plus Centre-Ville (330 Rue de la Couronne), which is in walking distance of the Old City and has an indoor pool. Frequent travelers who have points with major hotel chains should check out Hilton Québec, Hôtel Delta Québec or Hôtel Marriott Québec Centre-Ville.
What to Do
"Once Upon a Time" at the Musée de la civilisation
Museums and young kids aren't always the best combination. Luckily, the Musée de la civilisation (85 Rue Dalhousie) — a culture and history museum located in the Old City, close to the Saint Lawrence River — has lots of tactile, hands-on activities to keep young visitors engaged. Admission is $16 Canadian for adults and free for children 11 and under.
We started with "Lifelines," an exhibit that runs until September 5 and showcases contemporary art of Australia's indigenous people. The large-scale, vibrant Aboriginal dot paintings and kangaroo and sea turtle sculptures made from recycled wire held Mira and Theo's interest, but it was the interactive galleries on the bottom floor that really got them jazzed.
I'm not one to bandy about superlatives, but "Once Upon a Time," characterized as a costume workshop for ages 3-10, is the most impressive imaginative play space I've ever encountered. Circular platforms showcase elaborate, beautifully handcrafted costumes ranging from fairytale characters like the Three Little Pigs, Snow White and the Gingerbread Man to more general sprites, elves and pirates. Each costume comes in little kid, big kid and adult sizes, and adjoining rooms offer a tunnel slide, tall tower and magic beanstalk for exploration. Kids can climb atop a wooden horse and battle a seven-headed dragon, stir potions in a witch's cauldron or wander into a labyrinth of fun-house mirrors. Mira and Theo happily entertained themselves for an hour. And the adult costumes let Jeff and me get in on the action, too.
A kid "statue" outside the Frontenac
On the opposite side of the museum's bottom level is another gallery with a slightly less impressive "youth zone" called "Earth Unveiled." Its interactive models and illustrations explain earth science concepts like gravity, density and rock formation. There's a tornado simulator, a station showing the way in which tectonic plates interact and an earthquake simulator, which was Mira's hands-down favorite. Visitors climb inside a box designed to look like a small room in a house, with a ladder and tools chained to the wall. Inside, three different buttons offer to mimic earthquakes of three different intensities — the highest being a level 7 on the Richter scale. The experience was surprisingly intense, more like an amusement park than a science exhibit.
We ate lunch in the museum's restaurant, which looks out onto a construction site, with the Saint Lawrence River beyond. The yogurt parfaits, croque monsieurs and orzo salad were a cut above your typical cafeteria fare.
From there, we followed the river for a couple of blocks to the Traverse Québec-Lévis ferry, which takes you across the St. Lawrence to the historic town of Lévis and provides a great view of Québec City and the Château Frontenac from the water. The double-decker ferry is huge, with lots of benches to relax on. It takes just 12 minutes to cross the waterway, but the round trip, which requires that you disembark and re-embark in Lévis, was around 45 minutes. It was a good chance to get off our feet for a bit and economical, too: One-way fare is $3.55 Canadian for ages 12 to 64, $2.40 for ages 5-11 and free for kids 4 and under.
Québec City has a population of just 516,000 compared to Montréal's 1.65 million, and it feels a lot smaller, too. It's very walkable, especially if you stay within the Old City. We spent hours meandering down the charming cobblestone streets, popping into shops, checking out the city's many statues, climbing on cannons and admiring the architecture.
According to Bergeron from Québec City Tourism, 1 percent of the construction budget of any publicly funded structure must be devoted to art. So in addition to older statues of explorers, generals and religious figures, you'll come across more modern, edgy sculptures as you stroll.
A modern sculpture by Luce Pelletier outside the Frontenac
Dozens of tourist shops sell cheap clothing, key chains and postcards. Mira and Theo both picked out T-shirts with the fleur-de-lis symbol featured on the Québec flag, and Mira got a Canadian flag pin for her jacket. My favorite store was the slightly more upscale Boutique métiers d'Art du Québec, which sells jewelry, pottery and other crafts from Québécoise artisans and reminded me of Burlington's Frog Hollow Vermont State Craft Center. I picked out a pair of earrings from Montréal-based jewelry maker Anne-Marie Chagnon that were très jolie.
To get our blood pumping, we ascended the Escalier du Cap-Blanc, which, at 398 steps, is Québec City's longest stairway and was originally built in 1868. The wooden staircase has several landings where you can rest and takes you from Dufferin Terrace, a wide boardwalk that runs behind the Château Frontenac and affords great views of the St. Lawrence, to the Plains of Abraham, part of the Battlefields Park where a pivotal battle was waged during the French and Indian War, which has trails and fields for frolicking.
If you want to bypass stair climbing, the Funiculaire du Vieux-Québec (16 Rue du Petit-Champlain) is a fun way to get from the Lower Town (Basse-Ville) to the Upper Town (Haute-Ville) of the Old City. It's an exciting and somewhat unsettling ride in a glass-enclosed cabin that takes you 210 feet up at a 45-degree angle. It lasts just a few minutes, and a one-way trip costs $2.25 Canadian.
Where to Eat
One of my favorite things to do on vacation is try out local restaurants. Québec City offers many fine-dining options, but with kids in tow, we were looking to find casual and family-friendly eateries that also serve delicious food. One such place is Paillard (1097 Rue Saint-Jean), a spacious café where we spent two mornings eating flaky, decadent chocolate croissants and sipping coffee and hot cocoa. The no-frills establishment offers communal seating and stand-alone tables and is centrally located in the heart of the Old City. It's open from 7 a.m. until 10 or 11 each night and also serves sandwiches, soups and gelato. Grab one of their excellent baguettes in the morning and stick it in your tote for an afternoon snack.
For a cozier dining experience, head farther down Rue Saint-Jean, outside of the Old City walls, to Crêperie-Bistro Le Billig (481 Rue Saint-Jean). The small, charming restaurant serves both savory buckwheat crêpes and dessert crêpes, and has a large selection of wine, beer and hard ciders. It's the kind of relaxed, effortlessly cool place, with quirky wall hangings and knickknacks on the windowsills, that makes you feel like a local. We went for dinner and — because the crêpes were mind-blowingly delicious — again for lunch before we hit the road back to Vermont. The kids enjoyed variations of egg, cheese and ham crêpes while Jeff and I went for more sophisticated versions with duck confit, figs and goat cheese. For dessert, we all split the Ecstasy crêpe, a feast of chocolate ice cream, fudge and whipped cream, and devoured it in less than five minutes.
The Ecstacy crêpe at Le Billig
We enjoyed what I consider the Platonic ideal of a burger at Le Chic Shack (15 Rue du Fort), an informal restaurant with a stylish industrial vibe located directly across from the Château Frontenac. Juicy patties with toppings ranging from maple bacon to sunny-side-up eggs are sandwiched between buttery buns and delivered on small metal trays. Burger-averse Mira enjoyed a yummy sweet potato soup, and we all split an order of poutine. Their version of the Québécois specialty looks more like a heap of crispy potatoes than French fries and is topped with gravy, cheese curds and scallions. The burger joint also serves up salted maple milkshakes, homemade sodas and, for those feeling virtuous, a variety of gourmet salads.
For delicious maple soft-serve ice cream, with an optional chocolate or maple dip, head to La Petite Cabane à Sucre (94 Rue du Petit-Champlain), an adorable storefront/sugar shack, near the ferry. For more maple, check out Les Délices de l'Erable (1044 Rue Saint-Jean) for a wide range of maple-flavored delicacies including ice cream, milkshakes, lattes and local goodies like honey and vinegar that are perfect for gifting.
Logistics
On top of the wall bordering the Old City
Adults need a valid passport or enhanced driver's license to cross the Canadian border by car. Children age 15 or younger may present an original, photocopied or certified copy of a U.S. birth certificate in lieu of a passport. If traveling without both parents, it is advised that children under 18 have a certified letter of consent from the non-accompanying parent. You can find a sample consent letter here: travel.gc.ca/travelling/children/consent-letter
The current exchange rate is very favorable for Americans: one U.S. dollar to $1.30 Canadian. While that might make it feel like things are cheap, be aware that there's a steep 9.975% Québec sales tax that boosts the sticker price.
If you want access to email, phone calls and texting while in Canada, call your cell phone provider to sign up for a international data plan for the month to avoid exorbitant charges. Many hotels have Wi-Fi, but some, like the Château Frontenac, charge a daily fee.
Eau My!
When we visited in April, the weather was a pleasant 50-something degrees, but, in the summer, temps sometimes creep into the 80s. Village Vacances Valcartier (1860 Boulevard Valcartier, Saint-Gabriel-de-Valcartier) is a massive water park with over 35 slides, a wave pool and two lazy rivers, just 20 minutes north of Québec City. The Aquarium du Québec (1675 Avenue des Hôtels), which you'll see signs for as you enter the city from the south, features water jets and an elaborate outdoor playground, in addition to lots of fish, polar bears, walrus and seals.