Oliver Parini
Marilyn Gaul
Over more than three decades of running her eponymously named clothing store, Marilyn Gaul has heard her customers make a lot of pronouncements. She recites a few that are characteristic : "I don't want sleeveless." "I'm going to lose 10 pounds." "It has to be a dress, but I really like pants."
Now, in a conversation at her College Street shop, Gaul recalls Marilyn's history as she prepares to shutter it and sell jewelry online. It's a sea change for a stylish Burlington retailer who has personally dressed innumerable women in professional, casual and formal wear and bold jewelry.
Even when no one says a word, Gaul seems to have a sixth sense about her clientele. "When a woman comes through my front door, 90 percent of the time I will know she has a wedding to go to," she says. "She walks in with a look of panic, and I'm like, 'Wedding?'"
Often, the woman is the mother of the bride. And the Vermont-style wedding will take place in a barn. The occasion has a color theme. It will be kind of fancy, but not really...
Part stylist and part shrink, Gaul calmly and confidently leads her customers through sartorial possibilities, not just for weddings but for every occasion — or no occasion at all. She expertly slips into a fitting room an article of clothing that turns out to be just what the person is looking for.
"Most women need help; they have no idea," Gaul says. "I say to women, 'I want you to see what I see.' A lot of what we do is therapy."
Gaul, 68, opened her clothing and jewelry store in Shelburne in 1984 and moved the business to its College Street location in 1991. Her quarter century there will end in late January. Soon thereafter, she'll open an online jewelry store based in her home in Warren.
"Closing this business is a huge task, and opening a new business is a huge task," Gaul says. "I need some time for myself to focus all my efforts on creating my new business."
As Gaul talks with a reporter about her life and work, a parade of women enters the store to browse and shop. Longtime customers have been coming in to thank Gaul, to give her one more hug and to wonder aloud: "Where do I go now?"
"This is my place," says Susan Shane, a physician who lives in Shelburne. "This is where I come for great, quality clothing and personalized service. It's a great store for working women and fancy functions."
The decision to close her store came to Gaul like an "epiphany" last summer, after one of her employees told her she planned to leave her job for personal reasons.
Oliver Parini
Inside Marilyn's
"Her decision triggered something in me that said, 'I'm going to stop doing this retail thing,'" Gaul recalls. "So many things have happened in my life, and I've learned to trust that inner soul, that inner voice, the inner guides that are there to help you. I believe in guardian angels and guides."
Gaul grew up in the 1950s and '60s in New Jersey and says she remembers eating TV dinners and sandwiches of Skippy peanut butter and Marshmallow Fluff. If the food wasn't so hot, it was a time of great style for women, who donned shirtwaist dresses and pearls, pillbox hats and spectator pumps. Gaul has fond memories of school shopping trips with her mother, who for a time owned a children's clothing store.
"I loved shopping," she says. "I'm going to guess that I was born with a good eye, and I was exposed to my mom's good eye."
As a teenager, she and her friends took exciting trips to stores such as Gimbels, Bamberger's and Alexander's. It was the heyday of department stores, and Gaul recalls being impressed by the array of goods, the displays, the escalators.
This is the big time now, she remembers thinking.
Gaul became a medical assistant after high school, married the young man she had dated as a teenager and moved with him to Philadelphia, where he attended dental school. After he graduated, the couple moved to Ticonderoga, N.Y., his hometown and the site of idyllic summers Gaul had spent at her grandparents' camp on the lake.
"That was going to be forever," she says. "[But] the life story I thought I'd have and what it turned out to be are pretty much polar opposites."
When her marriage ended after several years, Gaul moved with her daughter, then 5, to Middlebury. Dressed in gaucho pants, tall leather boots and an orange-striped poncho from Panama — the style of the day — Gaul sought employment at a kitchen shop. She got the job, her first in retail.
That led to work in the Bead Shop. Gaul put her sharp eye to use on trips with the boss to trade shows in Manhattan.
"I took to it like a duck to water," she says.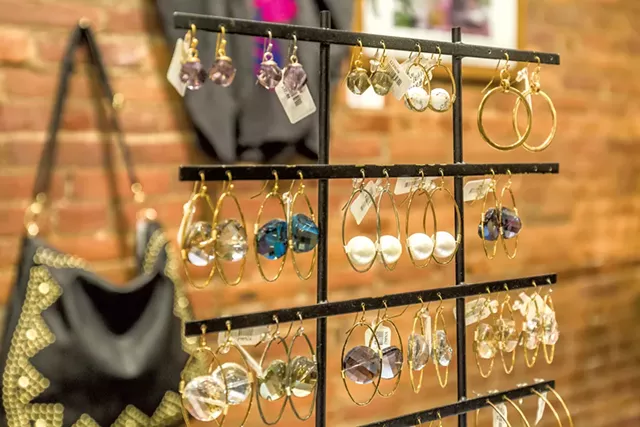 Oliver Parini
Inside Marilyn's
Gaul bought the small business in 1978 and soon moved it to a larger space on Main Street in Middlebury. There, she renamed it the Rainbow Room and amassed an inventory centered on themes of peace, love and rainbows.
Gaul sold posters, T-shirts, toys and bath products. She pierced ears. But after a time, she felt ready to move on. In 1984, Gaul had a chance to be one of the original tenants of the Jelly Mill Common, a commercial development on Route 7 in Shelburne.
"It gave me an opportunity to grow aesthetically," Gaul says.
She opened Marilyn's in June of that year as a women's clothing and jewelry boutique. The store moved downtown seven years later.
Taking what she calls an "organic" approach to design and display, Gaul hangs sweaters on the exposed brick walls of her space, exhibits jewelry in glass cases and scatters scarves about or drapes them on a complementary outfit.
She views the choice of her inventory as a "partnership" between herself and her clientele, she says. Over time, Gaul observes customers' selections and offers the women choices — textures, colors, prints — that she thinks they will want to wear.
Gaul and her longtime assistant, Christine Bouvier, model their wares while they work. On a recent weekday, Gaul is dressed all in black — long jacket, flared pants, boots and a turtleneck bedecked with a thick chain necklace of green resin. She helps a man select a gift for a woman he describes as blond and blue-eyed: blue leather gloves and a blue turtleneck in the style of Gaul's black one.
"Women are shoppers; men are buyers," the proprietor says. "They come in, see something, make a decision and go."
For women, who tend to linger longer, Gaul has tried to create a stress-free, guilt-free shopping zone — a place that brings joy into the process.
"Helping women feel beautiful has been one of my pleasures," says Bouvier, who has worked in women's retail for more than 30 years, including a dozen at Marilyn's.
Gaul demonstrates that she feels the same way as she interacts with a hesitant shopper, encouraging her to step out of her comfort zone and "make the leap" with a jacket that's a little splashier than the usual.
"Your clothes speak before you open your mouth," Gaul says.