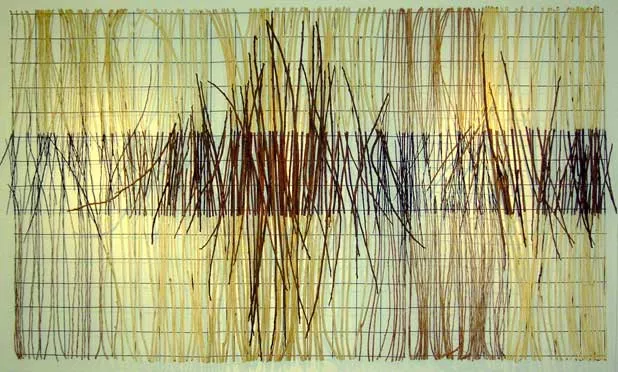 "Apple and Sumac" by Elizabeth Billings
Hand weaving has, for all practical purposes, become a lost art. With the exception of the Harris tweed jacket — a "good find" staple of local rummage sales — few examples of handwoven clothing are still worn by the masses. The textile industry of the 19th century freed Western women from the loom and, eventually, the sewing machine.
Like other lost arts, weaving began to make a comeback in the 1970s when artists saw an opportunity to use fabric as a medium. Still, "fiber art" is often relegated to the realm of craft. Museums rarely take fabric works seriously. Is the medium too feminine, perhaps? Too ephemeral? Or just not valued in the marketplace?
It's hard to say whether any of these factors, or all of them, influence museum purchases and exhibitions. But they underscore what's notable about the mini-retrospective of Elizabeth Billings' work at the University of Vermont's Fleming Museum. Though the display is small — just 11 works in all — it gives viewers a sense of the trajectory of her work over the last 20 years.
Billings, who lives in Tunbridge, weaves cloth using traditional Japanese methods, and she has literally branched out with a series of large public-art installations made of woven twigs. The most striking local example adorns a long wall at the Burlington Airport. Billings often collaborates with Andrea Wasserman on her public projects; the duo most recently finished an enormous installation composed of slate, twigs and glass at the Philadelphia Airport, and a bamboo wall hanging at the University of Florida in Gainesville.
Billings' medium is weaving. Simple materials — cotton or linen thread or large twigs — make up her palette. There's a rawness and power in the direct way she presents these elements, but her finished works can seem understated at first glance. After all, can a hand towel, curtain or bunch of twigs be considered art?
The answer is yes, if Billings has anything to do with it.
The "hand towels" are part of a series of nine panels she made in the 1990s that document the daily travails of a 19th-century Vermont housewife. Each panel, the size of a drying cloth, features indistinct handprints and silk-embroidered words lifted from the woman's terse journal entries, such as "More cold and rough. Thrashing wheat. December 19, 1860." (Sounds like an old Yankee version of Twitter.)
The towels, with their direct association to cooking and cleaning, uncannily convey a sense of the lifelong labor of one woman's existence. It's as though Harriet Warren Vail has dried her ghostly hands on each towel, and her very words echo on its surface.
Billings' "curtain," one of her early works, is an enormous swath of handwoven cotton cloth called "Wall of Ancestors" that features dozens of white skulls on an indigo background.
Billings studied ikat weaving in Japan in the mid-1980s. She used that intricate method, which involves dyeing threads in indigo or cochineal before they are woven into fabric, to create all her pieces in the Fleming exhibit. Ikat is a Malay word meaning to tie or bind, and that's exactly what the work entails.
Billings says the method, which is also used in Uzbekhistan, India and South and Central America, is like tie-dyeing. She wraps skeins of 20 to 50 threads at a time to create white patterns in the weaving. In "Wall of Ancestors," for example, she covered the threads with tape to resist indigo dye. This white pattern came together to form the haunting skulls with their gaping eye sockets and slack jaws. Billings made dozens of these skulls on small panels and sewed them together into 8-foot lengths of fabric. Each of these layers was then sewn into 11 horizontal layers. The woven tapestry undulates against the wall like a curtain for the dead, a macabre reminder that life is transitory.
One of Billings' most recent twig weavings, "Apple and Sumac," is displayed on the opposite wall. Dozens of apple branches, stripped clean of bark except in the very middle, are carefully arranged in an interconnecting pattern. The sumac is integrated into the center of the piece like a flourish of embroidery.
Billings began using wood as a way to bring the natural world indoors. "All along, I've explored the rhythms of nature, and this is another way of showing our connection, which is really important for the time we're in right now," she says. "If we keep a closer connection to nature, we'll be a better species."
Through her ingeniously subtle use of tactile materials, Billings makes that necessary connection more tangible for all of us. She also ties the present to the past and, in so doing, reflects our need to understand our common humanity.