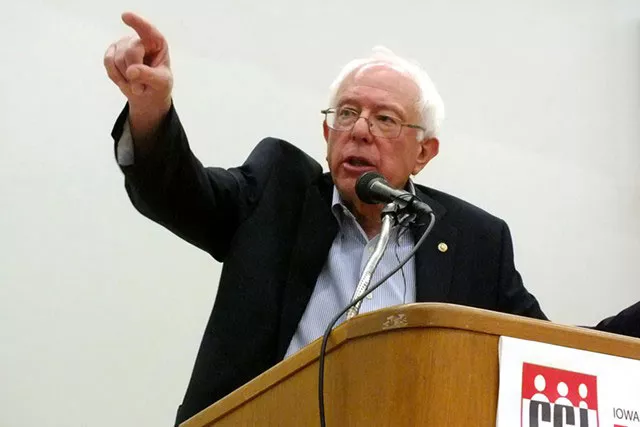 File: Adam Burke
Sen. Bernie Sanders campaigns in Iowa last September.
When he began flirting with a presidential run early last year, Sen. Bernie Sanders (I-Vt.) repeatedly said he would make up his mind after the 2014 midterm elections.
After that deadline slipped, he told the Associated Press' Dave Gram last December that he'd decide by March. As in: this month.
Asked Monday at a National Press Club luncheon when he'd declare his intentions, Sanders served up his customary dodge: "I think we need an agenda — we need candidates who are going to stand up for the working class of this country, for working families, so that's what I'm thinking to do."
"It ain't an easy task," he added. "And I don't want to do this thing unless I can do it well."
Some of those closest to Sanders say he genuinely hasn't made up his mind — or at least hasn't told them if he has. But a veteran political consultant who plans to work for Sanders if he decides to run says an announcement could come within weeks. Whether that means merely forming an exploratory committee or jumping headfirst into the race remains to be seen.
"I think it's still March," says the consultant, Tad Devine, who served in senior roles in Al Gore's and John Kerry's presidential campaigns. "My sense is that, you know, the timeline that he's talked about, which is sometime this month, is still applicable."
Surely contributing to the ever-shifting timetable is a lack of clarity around when presumptive Democratic frontrunner Hillary Clinton will enter the race. Her advisers floated the notion earlier this year of waiting until summer to do so, but they've recently suggested she'll make it official in April.
"Things are kind of frozen in place because of Hillary," suggests David Yepsen, who covered nine Iowa presidential caucuses for the Des Moines Register.
Nevertheless, says Yepsen, who now runs the Paul Simon Public Policy Institute at Southern Illinois University, Sanders should "get in now."
"Why would he want to wait until after [Clinton] got in?" he says. "Get in and see what you can get going. He certainly would be generating some media attention at this stage of the game because there is such a void on the Democratic side."
For evidence of that, look no further than the continuing resonance of last week's revelation that Clinton used a personal email account to conduct official business during her tenure as secretary of state. There's no question the story merits serious probing, but its shelf life has certainly been extended due to a paucity of other storylines for the political press corps to pursue.
For his part, Sanders brushed off a question about the matter during his appearance at the National Press Club, expressing frustration with the media for focusing on "political gossip" instead of substantive issues, such as chronic unemployment and childhood poverty.
We plead guilty, your honor!
Sanders said he'd just asked "the person at the front desk" of his Senate office: "How many calls are we getting on Hillary's emails?"
"You know what the answer was?" he said. "Zero. [It's] not one of the major issues facing me."
Asked whether Clinton's plans — or those of Sen. Elizabeth Warren (D-Mass.) — would have any bearing on his own, Sanders said they would not.
"I don't run against people. It's not my desire to trash people. Hillary Clinton is a remarkable woman with an extraordinary history of public service," he said, his voice steadily growing in volume. "It would not be my job to run against her. It would be my job, if she ran and if I ran, to debate the serious issues facing our country, as intelligent people should be doing in a democracy."
Fair enough. But Sanders knows as well as anyone how closely his political fate is tied to Clinton's. The only reason Vermont's septuagenarian Democratic Socialist is getting any ink, after all, is that Clinton has big-footed most serious challengers out of the race.
Though he steered clear of server-gate Monday, Sanders unsubtly articulated a policy-based critique of Clinton that he'll surely build upon in the coming months. He reminded his audience that he voted against the Iraq War, fought the deregulation of Wall Street and opposed the North American Free Trade Agreement. He didn't mention that the Clintons supported all three, but he didn't have to.
"He's going to talk about what he believes," Devine says. "And if she agrees with him, that's fine. If she doesn't, there will probably be a big debate about it."
Precisely what a Sanders campaign would look like remains a mystery.
Clinton and her potential Republican foes have been immersed for months in the so-called "invisible primary," in which candidates line up staff, early-state organizers and fundraising bundlers. But Sanders' elongated exploration appears to be a shoestring affair.
He has just one full-time campaign aide, Nick Carter, and has relied upon two Senate staffers to guide his voyages to Iowa, New Hampshire and elsewhere on the presidential circuit: state director and perennial campaign manager Phil Fiermonte and spokesman Michael Briggs.
While most top-flight Republican operatives have already been snapped up by one of that party's many potential candidates, Devine expresses confidence that Sanders could still enlist an A-team of campaign advisers should he run.
"I've spoken to people — really good, really top-notch people — who absolutely would love to be part of this effort," he says, adding that Sanders has not officially hired any of them. "I don't have any doubt that if he wants to do this, it comes together very, very quickly. I have no doubt about that at all."
But wouldn't most Democratic operatives steer clear of an uphill effort against a frontrunner who could occupy the White House — and dominate Democratic politics — for the next eight years?
"The truth is that after two Obama campaigns, there are thousands of young political operatives in America and the Democratic Party who have extensive organizational skills," Devine says. "And you know what? They're not all going to work for Hillary Clinton. A lot of them don't want to. They're much more comfortable with a candidate who's a very progressive figure who speaks to them like Obama did."
Devine says he doesn't know whether a trusted confidante such as Fiermonte — a former Burlington city councilor and labor organizer — would manage Sanders' campaign, or whether the senator would bring in a big gun from D.C. He does believe that his business partner, Mark Longabaugh, would likely play some sort of leading role.
"I think presidential campaigns can be run by a combination of people who have a long history with a candidate and people who have a long history of doing this," Devine says. "Jimmy Carter ran a successful campaign in 1976 that was run by a bunch of people from Georgia."
What's more clear, Devine says, is that Sanders will run "a very untraditional campaign." It'll cost at least $50 million and require an extensive fundraising operation to net small-dollar donations, but it will rely more on grassroots organizers than big-time media buys.
"He's got a tradition in Vermont of campaigning in town hall meetings," he says. "I would envision that as a centerpiece of the way he would campaign."
Yepsen thinks that's just the right approach. Unlike Sanders, who's traveled five times to Iowa in the past year, Clinton has largely steered clear of the state she lost to Barack Obama in 2008. That, he argues, has not been "sending the right signals" to Iowans who expect direct contact with candidates.
"She's not out here," Yepsen says. "The Democrats are getting frustrated by the fact that there's an awful lot of Republican activity, so that makes them anxious to get something going on her part."
Former New Hampshire Democratic Party chairwoman Kathy Sullivan supported Clinton in 2008 and plans to again this year. But she agrees that any presidential candidate has to get out and about in her small state and be prepared to answer questions on anything from Common Core to Ukrainian sovereignty.
"I think it's a tough race for anybody else in New Hampshire. She's popular here," Sullivan says of Clinton. "But people in New Hampshire like to see campaigns. They like to see candidates and base their decisions on what they're seeing and hearing."
Granite Staters will get a chance next week. Sanders plans to make his ninth campaign trip to the state next Monday to tape an interview before a live audience at WMUR-TV's Manchester studio.
Will he announce his candidacy then? Don't hold your breath.
Media Notes
In January, the Montpelier City Council rejected a local newspaper's petition to ask voters for a $27,254 appropriation.
Nat Frothingham, the Bridge's editor and publisher, argued at the time that municipal money was necessary to keep the free, twice-monthly publication afloat. But councilors unanimously agreed that the city should not dole out cash to for-profit entities — even if they're not profitable at all.
But the Bridge is back. It's launched a conventional fundraising campaign with letters to friends and donors — and a far less conventional Kickstarter campaign.
The old-school Frothingham says he'd never used the online fundraising platform before — "I'm not on the net looking for campaigns to support," he says — but when a staffer suggested it, he said, "OK, let's see what happens."
With three days remaining until its Friday deadline, the Bridge has raised $5,895 from 102 donors. But according to Kickstarter's rules, it will have to reach its $10,000 goal to collect any of those pledges. Helping them along the way: New England Culinary Institute students, who are baking cupcakes for those who pledge at least $25, and an anonymous donor who is matching contributions dollar-for-dollar.
Frothingham says $10,000 should keep the paper running for four to five months, during which time it plans to become a nonprofit, install a board of directors and seek new sources of revenue.
If it fails, will the paper go out of business?
"Folding could happen, but folding looks a little more distant than last time we talked," Frothingham says. "The response to our letter has been good, and the response to Kickstarter has been good. I'm feeling more optimistic today than I was when we chatted a month and a half ago."
Finally, Vermont lost one of its warmest journalistic voices this week with the death of Vermont Public Radio reporter Susan Keese.
The South Newfane resident died Saturday morning at age 67 of complications related to the flu, her family announced Sunday.
"She fought so hard and so courageously, and we did everything we could to save her," her son, Christopher Pyatak, wrote on Facebook. "There are no words to express how much she has been loved and how much she will be missed."
Keese got her start reporting for the Rutland Herald in the early 1980s. She later edited Marlboro College's alumni magazine and returned to the Herald in 1995 to pen a column called "No Stone Unturned," which focused on family life and the natural world.
Keese began covering southern Vermont for VPR in 2002, later serving as a founding producer of "Vermont Edition," the daily public affairs show. In recent months, she focused much of her reporting on the decommissioning of the Vermont Yankee nuclear power plant, a highly technical story she told from a heartfelt perspective.
"She really worked hard to get the voices of the people affected," says VPR news director John Dillon. "She wanted to humanize every story, if possible."
The memorial service is Saturday, March 14, at 3 p.m. in the Williamsville Grange.