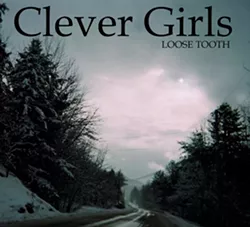 Clever Girls, Loose Tooth
(Self-released, digital download)
The discovery of a loose tooth is cause for celebration — if you're 5 years old and it's a baby tooth. But a wiggly permanent tooth is quite the opposite. It's like something out of a nightmare, and a fairly common one at that. A quick perusal of any of those dubious dream analysis websites yields the same answer: If you're dreaming of loose teeth, it's indicative of insecurity, guilt or a general sense of instability. And for Burlington's Clever Girls, any of those feelings could be culled from their heartbreaking debut EP, Loose Tooth.
Clever Girls, a countrified rock band, pepper their sound with elements of gritty garage rock and even a little grunge. It's only been a year since they played their first show, making them relatively new on the Burlington scene. Singer-songwriter Diane Jean fronts the trio and plays rhythm guitar. 1881's Rob Slater and Winfield Holt round out the group, dividing drum, bass, keys and lead guitar between them.
Jean is the group's primary songwriter and sole lyricist. The EP chronicles her experiences of making poor decisions, as well as both inflicting and encountering pain. Her vocal confidence and quirky outlook buoy the record's five tracks, never once slipping into diaristic monotony.
"Crazy" is an ambling country waltz that finds Jean debating context and its effect on an array of stimuli. Her indelible belt occasionally quivers as she reaches the peak of her vocal range. She croons, "It ain't autumn / Unless you see the leaves / It ain't heartbreak unless we're both a bit crazy." Slater's bed of organ ushers the song into a gentle fade.
The title track is a hip-shaking alt-country number that features some impressive drum work from Slater. He deftly reinvents the song's percussive palette several times throughout the song's two and a half minutes.
The EP's opening cut, "Tell Me No," is a twangy, moderately paced stomper. Holt's lead guitar line rumbles and roils between Jean's depiction of near-obsessive fixation on a sweetheart: "You're every movie that I've seen / And my eyes are still glued right to your screen / Oh, babe / I'm at the edge of my seat."
Holt's low and steady bass line introduces "45," a stark slow jam that detonates into a surging chorus and nearly obliterates Jean's cries. During a moment of respite from what sounds like a tense domestic situation, she wisely notes, "Nothing's forgiving like time."
Loose Tooth is a promising start for Clever Girls, though, at roughly 15 minutes, it's a tease. But here's some good news: The band already has plans to head back into the studio later this spring. We'll be waiting patiently.
Loose Tooth is available at clevergirlsmusic.bandcamp.com.