Matthew Thorsen
Diane Jean Reilly of Clever Girls
On a recent edition of "Exposure," the long-running live show on the University of Vermont's WRUV 90.1 FM, Clever Girls' front woman Diane Jean Reilly casually fielded questions about her band. And her filter was off, as it usually is.
While radio staff and other onlookers crowded into the tiny studio space, Reilly accidentally dropped the f-bomb. After a mild scolding from the show's hosts, the Burlington trio ripped into a new song called "Heaven" ... during which Reilly sang the word "shitty." The hosts frantically pantomimed a cease-and-desist message, while another staffer retrieved the station disclaimer, which must be read immediately after a Federal Communications Commission violation. In summation: That was two FCC violations in just a few minutes.
As the performance continued, Reilly announced she was certain she was going to say "fuck" again. The singer-songwriter seems to have a knack for getting herself into trouble.
Clever Girls are a countrified indie-rock trio composed of Reilly, Winfield Holt and Rob Slater. The latter two also perform in the Britpop-inspired band 1881. Since the release of Loose Tooth, Clever Girls' first EP, Reilly has been pondering the concept of taking ownership — specifically of her position as front woman but also of certain regrettable decisions she's made.
"There are a number of people who want my head on a fucking stick because of [Loose Tooth]," she says during an interview with Seven Days. "They're not wrong."
Sitting in a Burlington dive bar, the 25-year-old blonde cracks jokes, explains her various tattoos, boasts of her legendary beer-chugging ability and admits to having a soft spot for singer-songwriter Vanessa Carlton.
At one point, Reilly pauses to point out that Lynyrd Skynryd's "Call Me the Breeze" has started playing. Her knowledge of southern rock is unsurprising, since she's clad in a vintage Lynyrd Skynyrd T-shirt. Bygone fashions are Reilly's bread and butter: She co-owns the Stowe boutique Billie Jean Vintage with her cousin, Meghan Dolliver.
Reilly first came to New England in the late 2000s to finish high school at Kimball Union Academy in New Hampshire. She faced difficulties matriculating in both her native New Jersey and later when her family moved to Pennsylvania.
"I was getting bullied quite a bit, and I was hanging out with a group of kids that were arguably negative influences," she says of the days before her transfer to KUA. Reilly makes a veiled reference to something called "shit-faced Wednesdays" and admits that she was as much to blame for her delinquency as were any outside factors.
After high school, she relocated to Boston to study political science and Spanish at Emmanuel College. She'd never picked up a guitar until just before the move.
"I had a crush on this guy, and he wanted to teach me some chords," Reilly says. After learning the Beatles' "I Want to Hold Your Hand" and Ben Gibbard and Feist's rendition of Vashti Bunyan's "Train Song," she began writing and performing as Koestner, her mother's maiden name. She also worked with Boston-based indie-rock bands Maura and Kin.
Graduation left Reilly feeling lost. She was primed to pursue a career related to her poli-sci degree, but her heart wasn't in it. Instead, she moved to Vermont's "bad liver valley," aka Vermont winter sports mecca the Mad River Valley.
And then, wanting to make something happen, she sought out bandmates.
"I didn't know how to start a band, so I posted a Craigslist ad," she explains. Slater responded and invited her to record harmonies for 1881's Lights, Camera, Action! trilogy. Reilly's takes didn't end up on that project, but she did pique Slater and Holt's interest when she showed them some of her songs.
"The very first time we practiced, I was like, 'Here's this song. I don't really know how it goes yet, but it starts up here, and it somehow ends down here,'" she says of the song "Loose Tooth."
"It was supposed to be a slow and sad song," Reilly recalls. "I remember Rob and Winfield looked at each other and were like, 'But what if we speed it up?' That was the first song where I was like, 'Oh, we could actually be a unit.'"
Holt coined the band's name, which is a reference to fictional game warden Robert Muldoon's famous last words in the film Jurassic Park. Muldoon utters the phrase "Clever girl," just as a sneaky velociraptor makes a meal of him.
The three originally took a casual attitude toward playing, reveling in the late-night madness of the rock-and-roll lifestyle. But an increasingly rigorous regional touring schedule prompted Reilly to think more seriously about the band.
"It was more than getting drunk and slamming on some instruments," she says of touring New England. "It all kind of happened in a whirlwind."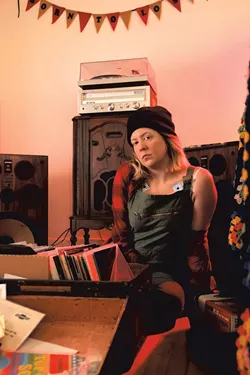 Matthew Thorsen
Diane Jean Reilly of Clever Girls
In the fall of 2016, Clever Girls recorded Loose Tooth. Its release led to an uproar in her social circle over the EP's centerpiece, the grungy, emotionally searing "45."
The song describes events that led Reilly into one of the most tumultuous times of her life. As it reaches its pinnacle, her lyrics are intentionally obscured and buried under a tidal wave of guitar and cymbals. But she does give insight into the controversial song — and the guy who inspired it.
"I didn't even sleep with him, but [we] did have a sort of fling," Reilly admits while finishing her second beer. "I made some poor decisions, [and] there were a lot of people that were hurt by [them]."
Reilly maintains that her lapse in judgment is not an accurate representation of herself. Since the sort-of indiscretion, she says she's made strides to rectify the part of herself that's prone to making bad decisions by connecting more deeply with her inner self.
"A lot of times, maybe you're being lied to, and you have no idea," she explains. "But maybe you're being lied to, and there's that small part of you that's asking all the right questions. And you're just saying, 'Well, fuck that.'
"You don't see what you're affecting, and your decisions can really fuck up some people," she continues.
Clever Girls head back into the studio later this spring to produce a full-length album. In the meantime, Reilly is working on her fronting skills.
"I never wanted to be a front person," she says, claiming she's too awkward onstage.
As the WRUV audience might attest, she appears to have the effortless — if foul-mouthed — charisma of a seasoned pro. She has the chops, too. As Clever Girls worked through their set, she effortlessly pushed the limits of her upper register without ever breaking into falsetto.
She's also begun pursuing a lifelong dream of playing the drums. After her mother steered her away from the skins in favor of the clarinet in the fifth grade, Reilly finally feels connected to a musical instrument.
"I feel like [the drums are] the only instrument that ever came naturally. [It's] the only instrument I've sat with and been like, 'OK. This makes sense to me,'" she says. "Whereas [learning] the guitar was arduous. It sucked. I'm still not the guitar player I want to be."