Cat Cutillo
Kia'Rae Hanron, Julio Desmont, Näri Penson, Dr. Lydia Clemmons and Michael Dyke at Clemmons Family Farm in early August
Näri Penson and Kia'Rae Hanron sat across from each other on the 148-acre property of Clemmons Family Farm in Charlotte, under the shade of mature trees surrounded by sweeping views of farmland and the Adirondacks in the distance. Though there are thousands of farms in Vermont, Clemmons is one of just 17 that is Black-owned, according to the 2017 United States Census of Agriculture. It's also a landmark on the Vermont African American Heritage Trail.
In May, Hanron graduated from the University of Vermont with a BS in art education. A month later, in June, Penson retired from her position as a senior teacher at the Schoolhouse, an independent school in South Burlington, after working there for 38 years.
The two women, separated by more than six feet of space and four decades, recently joined a team of 18 educators and artists to develop a new K-12 remote learning platform called Windows to a Multicultural World under the leadership of farm president Dr. Lydia Clemmons.
The program will include livestreamed and prerecorded lesson plans, curated resources, and arts programming such as songwriting and painting, all intended to amplify African American and African diaspora history and culture. Dr. Clemmons said the team hopes to launch the pilot program in October, working with a select group of Vermont teachers, parents and students in Chittenden and Windham counties with whom the farm has prior relationships. They will make a portion of the program available to Vermont students for the 2020-21 school year, with the hope of having the full program available by the end of 2023.
Cat Cutillo
Mrs. Lydia and Dr. Jackson Clemmons in the farm's Barn House last year
The remote learning platform is divided into six "windows": Traveling While Black; For the Love of the Land; Culinary Heritage; The Power of Image, Culture, Identity and Lineage; and The Power of Performance. Within each window, different topics will be covered. In the Traveling While Black window, for example, topics will include "Africa and the Transatlantic Slave Trade," "Jim Crow and the Green Book" and "Driving While Black in the 21st Century."
Dr. Clemmons said the curriculum aims to present the full spectrum of the Black experience, instead of "one-dimensional portrayals of Black people as either victims or unreachable heroes." While studying the transatlantic slave trade, kids will hear lesser-known stories of resilience and resistance, such as how African women braided grains of seed into their hair to have a food crop to plant when they arrived and how song dances on the slave ship were used to encourage one another and secretly communicate.
The entire program is being led, developed and implemented by Black artists and educators, who will help children build empathy and enrich the understanding of the Black experience. Those artists include Haitian-born Julio Desmont, who will teach painting through the universal language of symbols, and Jamaican music teacher Michael Dyke, who will teach positivity and songwriting through revival music.
"In the [K-12] classroom, Black history is almost entirely written, interpreted publicly and taught by white people, especially in Vermont," said Dr. Clemmons. "This is our stance to say Black people are going to do this. We are choosing what history to share, how to write about it and how to interpret it."
Dr. Clemmons visited museums, including the Smithsonian's National Museum of African American History & Culture, and also reflected on her family's lives and travels to create the curriculum. Her parents, Dr. Jackson and Mrs. Lydia Clemmons, purchased the farm in 1962 that today implements African American and African diaspora arts, culture and educational programs as a nonprofit organization. Her father, who joined the University of Vermont Department of Pathology in 1962, was the second African American on the College of Medicine faculty. Her mother was the first African America nurse anesthetist at UVM and opened the Authentica African Art Imports shop in 1982 on the farm's property.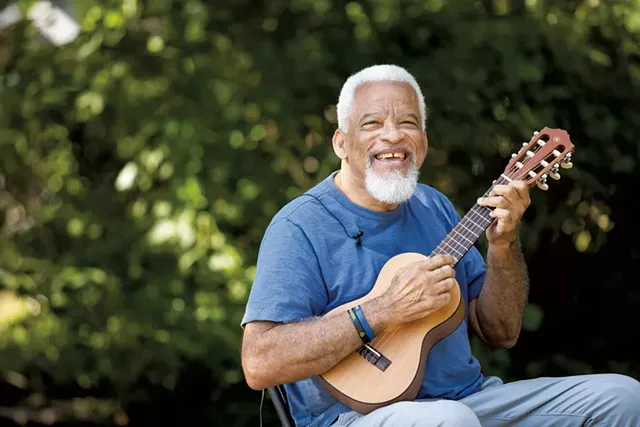 Cat Cutillo
Musician Michael Dyke says he never leaves the house without an instrument in hand
"Raising five Black children in white, white, white Vermont and every effort that they made is now being reflected. They connected with the artists. They built community. They made Black cool," said Dr. Clemmons. "This is part of their legacy."
Dr. Clemmons said the ethnic studies bill, H.3, that Gov. Phil Scott signed into law in March — which requires that schools have programs reflecting multiple histories and voices of those who have been historically underrepresented — propelled the farm to apply for and receive a $100,000 grant in February from the Bay & Paul Foundations. They hired Hanron as the K-12 learning adviser and contracted Penson as a K-12 teaching artist mentor. Their work was initially intended to be in-person, but, due to the pandemic, plans shifted to a solely remote platform for now.
On May 25, a team of 18 teaching artists and facilitators, including nationally acclaimed playwright, actor and cultural worker Kirya Traber and Winooski's Restorative Justice Panel manager and school board member Margaret Bass, embarked on a six-day training workshop over Zoom. It was the day that George Floyd was murdered in Minneapolis and Amy Cooper falsely accused Black birder Christian Cooper of threatening her in New York City's Central Park.
"The week of the workshop, I knew every day I was going to turn on this computer and there would be all these brown and Black faces. And that was so powerful. And they were Vermonters. It was very soothing. I felt like having that focus helped me get through that time period," said Penson.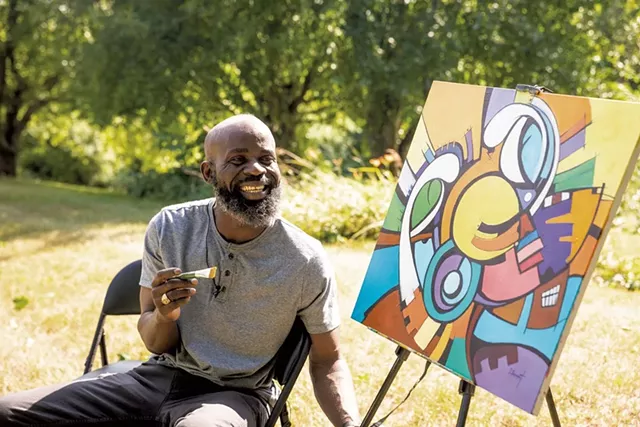 Cat Cutillo
Julio Desmont says his paintings are inspired by a bird he loved watching while growing up in Haiti
Years ago, Penson was part of a volunteer group that brought multicultural education into Vermont schools. The group was ultimately unable to sustain the work while also holding down full-time jobs. In contrast, she said, "This is for real. It's sustainable."
Dr. Clemmons said the farm is hoping to raise additional funds for the program through grants, private donations and sponsorships from Vermont businesses. It will offer different membership levels for schools or individuals. The farm also hopes to receive pro bono support from local business and marketing professionals.
She is particularly interested in bringing the program to less-diverse parts of New England. "In Vermont and places like Maine and New Hampshire, where less than 1 percent or 2 percent of the population is Black, that's where I think it's really needed for white and Black children," said Dr. Clemmons.
Penson, who first connected with the farm in the early 1980s, said she loves the idea of offering the curriculum online but also can't wait until students can visit the property again. "Black people owning land and choosing to use this land to make performance space for other Black people is just so incredible and moving," she said.
As a biracial Vermonter who grew up in Montpelier and was one of five nonwhite students in her high school, Hanron said multicultural education was lacking in the state. "My last semester at UVM, in a college history class taught by a Black professor, I learned more about Black and African American history than I did [my entire life] up until that point," she said. Now, "I get to use my degree [and] work to truly make the state a better place for students, not just the Black or brown students like myself who had serious identity crises, but for the white students, as well ... This is my dream job."