Matthew Thorsen
Soaps at Chasworth Farm Soap Studio in St. Albans
Lucille the mannequin relaxes in a claw-foot tub at Chasworth Farm Soap Studio in St. Albans. She wears just a stretch of red ribbon wrapped around her torso; everything below is properly hidden beneath shimmery shreds of opalescent tinsel.
"We had this big, gorgeous window, and I thought it would be fun," says Marcia J. Hagwood, owner and soap maker, about the bathtub scene. Some people think if a product line is organic and natural it has to be boring, she notes, but Hagwood is proving that wrong.
The shelves surrounding Lucille hold body butters; lip balms; shampoos and conditioners; sculpted soaps; hand, body and face creams; and foaming bath balls. Another section of the studio is devoted to facial hair products, including pre-shave oil, shaving cream and aftershave balm.
Chasworth's soaps are luxurious, offering a creamy, gentle lather and rich yet subtle scent. Rather than using a single fragrance note, Hagwood blends a number of essential oils to create a unique olfactory experience for each soap.
"We try to have each bar tell its own individual story — the way it smells, the way it works and the way it looks," she says. "A lot of people don't realize how creative soap making can be."
Varieties in the artisan line have names such as Mountain Air, Eucalyptus + Spearmint, and Coconut Ginger Lime; this time of year, seasonal specialties include Frankincense and Myrrh, O'Christmas Tree, and Cranberry Balsam.
Though the studio is no longer located in the family's 200-year-old farmhouse in Georgia, Chasworth's signature bar is still Our Farm Soap. "The farm is still part of our culture," Hagwood says.
Matthew Thorsen
Marcia J. Hagwood
Indeed, the farm soap is made with egg yolks from the family's own chickens, and honey, beeswax and sunflower oil from farms nearby. It has an earthy fragrance with a hint of lavender; a sprinkle of dried purple buds and tiny golden calendula petals adorns the textured top. The paper wrapper shows off a painting of Molly the chicken and Martha the sheep by Wolcott artist Gabriel Tempesta. Most of the soap wrappers feature work by local artists, who receive credit on the packaging.
The studio also offers Hagwood's Vermont Sunflower Oil Soap line, which contains oil from flowers grown and pressed on a farm in the Champlain Islands. Inspired by Vermont's seasons, product names include Muddy Boots + Green Shoots, Golden Summer, Falling Leaves + Flannel, and Snowbound.
Hagwood has been making and selling her soap and body care products since 2012, just a year after she learned to make soap from a friend and discovered she loved the process. In 2014, when her business started to take off — and take over the house — she decided to move the studio to downtown St. Albans.
Hagwood follows traditional methods, creating her body care and shaving lotions by hand in small batches with premium ingredients. Most of those are locally sourced and organic — no petroleum products, phthalates or parabens. She uses pure essential oils or other quality oils to fragrance most of the soaps, which sell for $6 each, or a bit less for build-your-own collections.
The studio's prices range from $3 for the lip balm to $48 for some facial products. The handmade shaving products are priced at $10 to $20, and a selection of superior- quality razors and brushes imported from Europe rounds out the facial-hair section with items from $14 to $78.
"So much of what we put on our skins is absorbed into our bodies," Hagwood says. She thinks that knowing your soap maker is akin to developing a relationship with the farmer who grows or raises your food: "You trust that farmer."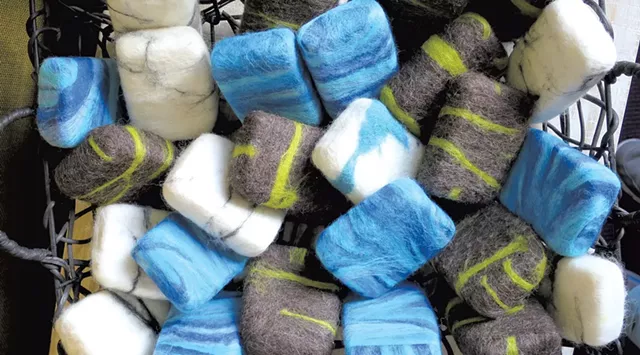 And many customers trust this soap maker. The manufacturing process doesn't require certification, but Hagwood nonetheless earned an advanced one through the Handcrafted Soap & Cosmetic Guild. "As a maker, I have a great deal of responsibility," she says, "and I take that seriously."
Hagwood also values the input of customers who offer scent ideas or mention needs she hasn't yet thought of addressing, she says. She hadn't seriously considered creating bath bombs, for example, until customers at the Burlington Farmers Market asked about them. The fizzy bath treatments she'd researched tended to have ingredients that she chooses to keep out of her products. After more study, though, Hagwood was able to find healthy alternatives, including a coconut-based foaming agent, and so the Chasworth Farm Foaming Bath Butter Balls were born.
"If I'm going to make a product, I want it to be natural," she says, "and I want people to feel good when they get out of the tub."