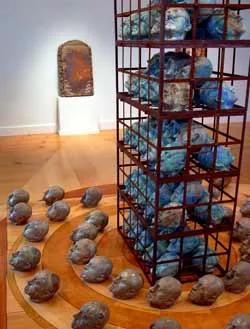 "Who Knows Why?" (detail) by Tony Moore
The current exhibit at Brandon's Gallery in-the-Field draws on the ancient theme of memento mori in art. Ceramic sculptor Tony Moore's "Paradox in Form" examines a central conundrum of existence: that each hour of life brings us another hour closer to death. But Moore's work isn't all doom and gloom; rather, it reminds us that human handiwork can challenge that paradox by leaving lasting imprints on the world.
Memento mori loosely translates from Latin into "remember you are mortal." The phrase has spawned centuries of skull and funerary-urn images in still-life paintings, friezes, even New England needlepoints. Moore's "Thou," a 36-by-22-inch gravestone form that is about 3 inches thick, firmly fits into that genre. The word "THOU" is inscribed on this ceramic headstone, recalling Ebenezer Scrooge's tombstone as revealed by the Ghost of Christmas Yet to Come in "A Christmas Carol." Moore also pressed a handprint at lower left, and several leaf forms onto the sculpture's red and black-singed, wood-fired surfaces. "Thou" sits on a wall-mounted shelf. Its face is smoothed, but the gravestone's edges appear as rough as coarsely graveled concrete. Moore often mixes pebbles and grit into his clay.
The leaf in "Thou" is a fragment of iconography repeated in these works — the geranium leaf print turns up everywhere. Like the human soul thriving within the confines of a physical body, geraniums will bloom continuously indoors when tended well.
Moore's 35-by-22-by-3-inch "Preparing the Way" is a blank gravestone image; like each person's future, its narrative seems yet to be written. Organic white patches, similar to leached calcium carbonate or salt, spread across the piece, and geranium leaf prints again appear. Moore cut the edges of "Preparing the Way" into a cruciform shape, placing 4-by-4-inch squares of negative space at 3, 6 and 9 o'clock around the piece. Another empty square is cut, windowlike, into the headstone's top third.
"Trophy" is a wall-mounted collection of 15 buildings, each 9 inches high and installed on a 72-by-108-inch grid of little shelves. This aggregate work also employs iconographic forms. Eight buildings have spires, and seven have distinctive mastaba shapes, reminiscent of the earliest Middle Eastern temples. Three buildings in the latter group are topped with odd vessel forms.
"Smoke Screen" is a similar work, but all of its buildings seem to be small cathedrals. Several are imbued with a subtle blue glaze, which also appears in many of the 150 self-portrait heads that constitute Moore's monumental "Who Knows Why?"
A British-American artist, Moore received his MFA from Yale, and his work has been exhibited on both sides of the Atlantic. He's also a former exhibition installer at the Guggenheim Museum. So it's not surprising that "Who Knows Why?" was installed at Gallery in-the-Field with museum-quality precision, taking the gestalt of the elegantly designed venue into account. In the work, Moore's relentlessly repeated, disembodied ceramic heads lie in a precise arrangement on the gallery floor. They are also stacked into a 7-foot-tall vertical, cagelike structure; the faces are cheek to cheek and slightly upturned.
The floor pieces in "Who Knows Why?" are the color of parchment, while blue specimens reside in the cage. Though each individual head is like a death mask, and the tall cage recalls the Catacombs of Paris, Moore's 150 self-portraits aren't necessarily macabre. Instead, each evokes a successive soul with its own identity, even though all the heads are virtually identical. Their beautiful glazing contributes to their peaceful appearance.
As is obvious from the hues of blue-gray, umber, red oxide, black and white sprinkled across the exhibition, Moore is a superb ceramics technician. An exhibition sign discloses that he fires his pieces for six to eight days in an 18-foot-long "hybrid Anagama-Norborigama Japanese-style wood-fire kiln" of his own construction. In that kiln, Moore commingles inferno and earth. The works that emerge from it tell a story of spiritual transcendence.