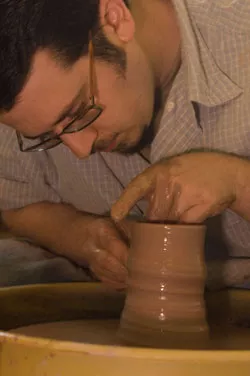 Burlington potter Dan Siegel may spend hours watching a wheel turn, but it's after firing that his work really gets around. This year Siegel showed up among 200 juried artists at the Renegade Craft Fair, held on the floor of a huge, unused public swimming pool in one of Brooklyn's hippest neighborhoods. Dubbed "the alt-design equivalent of the Venice Biennale" by a New York Times writer, the fair sets trends in the design and crafts worlds alike.
Danmade, as the Long Island transplant calls his brand of pottery, nails the aesthetics of fun. Sock monkeys, robots with Zorro-like masks, and skyscrapers topped with clouds adorn plates, ergonomic mugs and skinny watering pots. The cartoon-like designs, glazed in bright red, yellow, pink and sea green, are boldly outlined in charcoal black, recalling a child's coloring book.
Siegel invented his own method of outlining, the affable 28-year-old reveals on a recent evening at the Burlington City Arts clay studio. He took the clear "wax resist" normally applied to prevent one glaze from overlapping a second and added darkening minerals: red iron oxide, cobalt and manganese dioxide. Picking up a brush and a newly baked clay mug, he demonstrates the width of line needed to make the resist work. After a few seconds, a rectangular-faced robot takes shape — a ninja robot, he says, distinguished from his "normal" robots by the mask he is now painting.
"I don't really like robots?" — Siegel says he tends to explain things in questions — "but one of the first things I started drawing as a kid were caricatures of myself? I thought I had a really square head when I looked in the mirror, and I guess it just evolved from there." The rectangular black frames of the glasses he wears uncannily resemble his robot heads.
Siegel actually began his artistic life as a painter: A painting major at Potsdam State University, he developed a flair for producing still lifes of junk food. After graduating, he attended an eight-week seminar at the Chautauqua Institution in upstate New York, where he painted in the mornings and threw pottery in the afternoons as an elective. Pottery soon got the upper hand.
At the end of the program, Siegel headed back to Long Island, only to find he was depressed by the flat terrain. Not that he hikes, he adds with a smile: He just likes to look at mountains. When an internship became available in 2002 at the Burlington City Arts clay studio, then run by Frog Hollow, he applied with success. Siegel stuck around after the internship ended, teaching kids' throwing classes in the summer and working as a cook for a University of Vermont sorority house during the school year. Realizing he wanted to concentrate on his own work, he became a studio assistant, a position that gives him unlimited access to the facilities.
Siegel, who still paints when he can, says he enjoys moving between mediums. "The way I work in oils is a lot looser, less organized. Pottery is more contrived, because it has to be. They serve different needs of mine."
Making pottery takes time as well as organization. Siegel worked every day for weeks to finish 500 pieces for the Renegade show. He keeps an Etsy account stocked and sells pieces through the American Museum of Ceramic Art in Pomona, California. But practice has made perfect, he points out. "It takes years to throw consistently," he declares. "It took me three years before I felt like I had a measure of control."
Next on Siegel's list: moving his operations into the attached studio of an Old North End duplex he just purchased. From there, it's just a short walk to a view of the 'Dacks.
Click a photo above to see the location.