Matthew Thorsen
Old Soul Barbershop
A cop, a lawyer and an ex-convict walk into a barbershop. No, this isn't the beginning of a bad joke. It's a typical day at Old Soul Barbershop, which opened in Winooski in October 2016.
The shop's owner, Christian DuBrul, wasn't joking when he mentioned that particular trio during my recent visit to his shop. The 22-year-old master of shears says Old Soul attracts people from a wide range of backgrounds.
The shop specializes in a number of traditional cuts, such as the high and tight, the crew cut and the executive cut. It also offers the bygone practice of the hot-towel, straight-razor shave. DuBrul opened the shop to fill what he saw as a void in men's grooming options in the area. I discovered an inviting, boisterous hub of male bonding, fine craftsmanship and a pitch-perfect throwback to the American mid-century barbershop.
"I make sure all my clients know me on a personal level," said DuBrul. That sentiment was echoed by his team: Andrew Juhasz, James Lightholder and Jake Sleeper.
On a recent Wednesday morning, I motored over to the shop to get snipped and shorn. Old Soul is located in the small bungalow on Main Street that formerly housed the Classy Closet, a secondhand clothing store.
Upon arrival, I was surprised to see that nearly every seat in the waiting area was full and that all four of the shop's barbers were busy with clients. I later learned that "hump day" is usually the shop's slowest.
Warm and welcoming, DuBrul greeted me and told me to add my name to the list by the door — Old Soul is walk-in only. He's tall and slim with dirty-blond hair and a sparse goatee. He sported a red, polyester zip-up barber's jacket.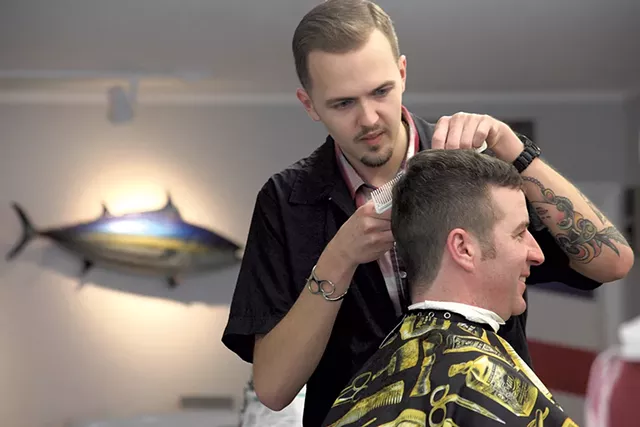 Matthew Thorsen
Christian DuBrul
Born and raised in South Burlington, DuBrul started learning the barber trade by practicing on his friends while still in high school. After graduating in 2013, he trained at O'Briens Aveda Institute. He worked as a barber for a few years at a shop in Burlington before striking out on his own.
On the day of my visit, most clients appeared to be in their twenties or thirties, though DuBrul told me his customers range in age from less than a year to well into their senior years. He also said that the shop is not exclusively for men. Anyone who desires a short hairstyle is welcome.
"I'm not going to tell you [that] you can come in here and get a long, layered cut," he said. "[But] hair doesn't have a sex."
Three Dog Night's "Mama Told Me (Not to Come)" played over the sound system as the barbers discussed popular magicians ("Didn't that one guy get eaten by his tiger?"). I took in the shop's motley collection of found objects, photographs and memorabilia: a large, stuffed fish that DuBrul's dad caught in the '80s; a reprinted World War II-era pinup calendar; a blueprint of a barber's chair; a vintage advertisement for Wildroot hair tonic that reads, "Take care of your hair while you have it"; a large photo of retired professional wrestler Bret "The Hitman" Hart. It's a grand smattering of the quartet's interests and personalities. DuBrul hopes to eventually cover the walls from floor to ceiling.
The shop blends retro charm with modern conveniences. Atop the long counter are a couple of small appliances that look like mini refrigerators. They're actually warming units that use ultraviolet light to make the towels piping hot. At one point, I'm jarred by the sharp hiss of compressed air, which the barbers use to blast stray hairs off a client's face, neck, clothing and shoes.
The shop's four antique barbers' chairs are of a quality that DuBrul said can't be found in new products. Nearly 100 years old, they weigh almost 400 pounds each. He sourced three on Long Island, and one came from Vermont's Champlain Islands.
As I waited my turn, two more men arrived but decided to bail after learning they would have to wait up to 45 minutes.
Old Soul only accepts walk-ins for two reasons. One, traditional barbershops don't take appointments. Second, DuBrul doesn't like the tyranny of scheduling. He prefers to take his time and not rush through the finer points of a cut or shave just to get to the next one. A pithy sign on the wall reinforces this ethos. It reads: "We guarantee fast service, no matter how long it takes."
"We get to know people," said Lightholder. "I actually give a shit about the customers. Like, deeply."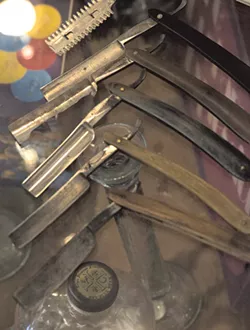 Matthew Thorsen
Antique razors
My turn in the chair finally arrived. We began with a trim. Since I get my hair cut about once a month, there wasn't a lot to be done up top. As a finishing touch, DuBrul used a straight razor to contour around my ears and the back of my neck. While he deftly carved around my hairline, he squeezed my head the way you would a melon to see if it was ripe. When performing this delicate maneuver, a good grip seems to be key.
Then came the main event: the shave. First, DuBrul massaged a tonic and shaving lather all over my lower face. Next, he gently folded a steaming-hot towel across it. That makes the hair easier to remove, he explained.
"This is the hardest part of your day, right?" DuBrul joked while wrapping my visage. The warm, musky mask was soothing and relaxing. Moments later, my relaxation would end.
I usually shave once a week, because I'm lazy. For this experience, I'd put off shaving a few days longer than normal. DuBrul told me that's what he prefers.
"I don't like it when it's just stubble," he said. "Give me a challenge."
He unwrapped my face, applied more lather and began scraping my whiskers away.
"Oh, yeah, it's coming off like butter," DuBrul murmured.
I'm not going to lie: The shave was mildly terrifying. I'm sure my knuckles were 50 shades of white as I clung to the arms of the chair.
DuBrul began with the hairs under my nose, which are the most difficult because mustache hairs tend to be the thickest. The only way to get at them is by thumbing the nose and pulling it up like a pig's snout. It's probably not the most flattering view from DuBrul's perspective, but it's the best way to get into the crannies around the nostrils.
One thing I wasn't expecting was the heft of the blade. It's much thicker than any razor I've ever used. But DuBrul's steady hands never faltered. He told me he's never cut anyone — except himself.
He finished up by patting my face with a healthy layer of aftershave lotion. I resisted the urge to scream and clap the sides of my face like Kevin McCallister in Home Alone, but it did sting quite a bit. The entire process, including the wait time, took about two hours and cost $52, not including tip. And, take note — Old Soul is a cash-only operation.
Before I left, DuBrul told me that the shop has been consistently busy since he opened five months ago.
"There's never a moment when someone's not getting their hair cut or shaved," he said.
After chatting with a couple of clients, I learned that DuBrul and his crew have developed a loyal following, which speaks to their level of care, proficiency and artistry.
"I think that's the best thing that's happened [with] all of this," he said: "giving barbers an opportunity to really show off their art."