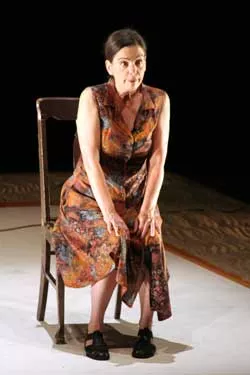 It's no surprise to learn that actress Anne Galjour comes from a verbally gifted family — a family rooted in southeastern Louisiana, where tales, tall and otherwise, are as common as kudzu. "My dad was an amazing storyteller," she reminisces. "When I moved to San Francisco after high school, I could finally get a word in edgewise."
Galjour, now 51, has developed her own command of the spoken word — in fact, made a profession of it — through the telling of her own and other people's stories. Her latest performance, entitled "You Can't Get There from Here," comes to Burlington's FlynnSpace this Friday and Saturday on the heels of last week's premiere at the Hopkins Center at Dartmouth College. In fact, the Flynn and the Hop co-commissioned the piece, for which Galjour interviewed nearly 150 people — from students to senior citizens, from recent refugees to natives — in the Upper Valley and Burlington areas. She then transformed her subjects' revelations into a one-woman show that examines class through the interwoven life stories of eight characters. The result is a slightly fictionalized portrait of a community comprising individuals of various material means but remarkably similar desires and dreams. Given Barack Obama's triumph in the recent presidential election, that message could not be timelier — though Galjour began working on hers even longer than he campaigned.
Her performance at the Hopkins Center concluded a three-year "Class Divide Initiative" at Dartmouth, which the Hop program notes call "this country's first initiative to explore socio-economic class through the eyes of artists." As part of that residency, Galjour conducted "story circles" for her research, and discussions and workshops with both students and the public.
But the work is not just documentary; while Galjour's subject is thought provoking and her characters rooted in often sobering reality, "You Can't Get There from Here" is still a work of theater. And the alchemy of theater — its power not only to entertain audiences but to transport them — relies on the skill of its actors. Especially when the performance is a solo endeavor, sans props, costumes or set changes. Anyone who witnessed "Hurricane," the bayou-based piece Galjour performed two years ago at the Flynn, knows that she is up to the task. The show, which toured nationally, garnered numerous awards and critical accolades. "You 'see' the characters she plays, male as well as female, even when their physical characteristics have not been described," raved The New York Times. "Ms. Galjour herself disappears." For this actress, "multiple personalities" are not a disorder.
Galjour headed west from Louisiana more than two decades ago — she teaches playwriting at San Francisco State University. Yet much of her theatrical work has drawn inspiration from her colorful, and familiar, Cajun roots. The Class Divide project in New England was hence a departure for her both geographically and culturally. Galjour acknowledges the relative reticence of her new northeastern acquaintances, yet she says the participants in her story circles readily opened up once the ice was broken. She facilitates that process by asking open questions — about education, money, siblings, gay or transgendered family members, drug and alcohol addiction — and then really listening to the answers. Who is not seduced, finally, by being heard?
"Many things cut across class lines," Galjour says. "In Burlington I got some good feedback from people who are very well educated and still cannot afford to buy a house. Home ownership is the American dream."
She also points out that Burlington has welcomed many refugees. "Issues around that came up a few times that I didn't get in the Upper Valley."
Though the interview process yields this artist her raw material, she doesn't approach it in a way that's simply self-serving. Galjour, whose manner even on the phone is thoughtful and gracious, says she formed fast friendships with some of her subjects. It's clear from her choice of words that she cares about the people whose lives she inhabits — and honors — on stage. "There's a growing number of people in this country who feel invisible," she laments. "And there's a lot of things about class that are invisible — things I can't know about you unless we talk about it."
That invisibility allows many Americans to believe this country does not have a "class system." Yet, while there is mobility — up or down — between socioeconomic strata in the U.S., an entrenched underclass remains. And people are angry about it, Galjour found in her story circles — well before the $700 billion bailout of Wall Street. "Never before has so much been given to so few," she declares with disgust. "I'm grateful for how this election turned out, but I'm not fooled."
It's easy to get strident about systematic inequity and the demoralizing effects of long-term poverty on people, but in "You Can't Get There from Here," Galjour transcends politics. From individual narratives she weaves a universal human story. "Flannery O'Connor once said something about how a Southerner makes sense of the world," Galjour says. "Everybody in every part of the world has their stories, too."