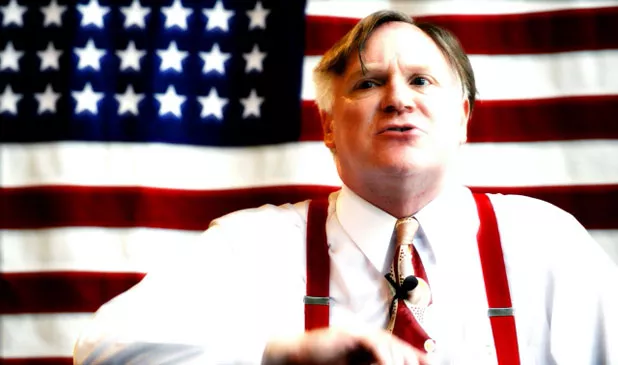 The name Clarence Darrow is used so consistently as a substitute for "person of eloquence" or "progressive" or even "atheist" that it has become its own pseudo brand. The legendary orator, trial attorney and author most famously defended schoolteacher John Scopes in 1925 for teaching evolution to high school students in Tennessee at a time when creationism was the state's only legal curriculum. Darrow has been the subject of dozens of books, plays and films. Even though he lost the Scopes "Monkey" trial (a decision later overturned by the Tennessee Supreme Court), his defense of logic over what he perceived as foolish superstition gave him mythic status in the hearts of church/state separation advocates across the country. It also capped a career that included 17 years as a labor lawyer, the defense of conscientious objectors and an expansive caseload of attacks on capital punishment.
But Gary L. Anderson, who wrote and stars in Clarence Darrow's Search for Justice, thinks remembering Darrow as merely a saintly advocate for the weak might do him as much disservice as do the ongoing vitriolic attacks from religious fundamentalists. Anderson's one-man play, which the veteran actor and self-declared "Unitarian social justice 'actor-vist'" has been performing across the country for five years, makes plain that Darrow was full of both stunning virtues and deep faults. His show comes to Vermont for a single performance this Thursday, September 18, in the Film House at the Main Street Landing Performing Arts Center.
Sponsored by the Vermont Trial Lawyers Association, the show is what Anderson describes as an adventure in "time traveling." His monologues start with the reminiscences of a 75-year-old Darrow, which propel the audience back through some of the most controversial legal moments of the 20th century.
In the process, we find that the same man who saved 102 defendants from execution was also a womanizer and a prolific drinker, with wildly shifting worldviews. (Darrow was an avowed pacifist for decades, until Nazi Germany invaded Belgium, then advocated war against the Third Reich.)
"But that's just the point," says Anderson from his home in Redding, California. "I found that a warts-and-all portrayal of Darrow makes him much more accessible than any image of a knight on a white horse. He actually never suggested that he was a hero, and felt mystified as to why people would put him on a pedestal."
One of the novel aspects of Anderson's performance is its extensive incorporation of the audience. Through the medium of the actor, "Darrow" asks audience members whether they would trade civil liberties for personal security, death penalty convictions for crime-less streets, and a variety of other arguably Faustian bargains that still have resonance today.
"It's a tightrope," Anderson says when asked how he might respond to a particular reply from an audience member. "But that's the thrill of live theater. I've had to research Darrow's life well enough to guess his responses. And the audience interaction is appropriate, too, I think, because Darrow always said that he wanted every citizen to feel responsible for what was going on in the courtroom. To that end, he stalked the jury, seduced them, made love to them, and I suppose that's what I need to do, too."