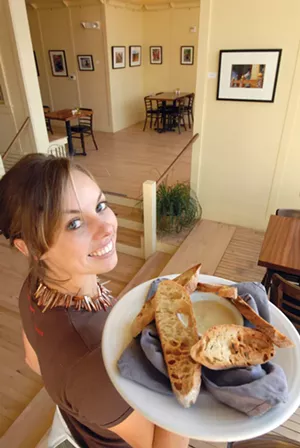 Jeb Wallace-Brodeur
Claire's Restaurant & Bar
The citizens of hardscrabble Hardwick are a mix of farm folk and back-to-the-landers. So it's not surprising that the "downtown" hosts both a natural-foods store and a busy, homestyle diner.
But the burg boasts one totally unexpected eatery: Claire's Restaurant & Bar. The chef, Steven Obranovich, has a culinary pedigree that extends from the California Culinary Academy to a pair of Michelin-three-star restaurants in Strasbourg, France. At Claire's, he prepares localvore fare infused with global sensibilities.
Take, for example, a heaping plate of crisp calamari, topped with a scattering of kalamata olives and red Cara Cara orange supremes. Served with a cruet of garlicky aioli, it's a symphony of flavor and texture.
A thick-cut, maple-glazed pork chop, topped with cranberry chutney, is New England through and through. But a clever side dish — a baked apple stuffed with wild rice — makes it special.
Even more special is the pricing. Last spring, no item on the daily-changing menu cost more than $20 — not the rich veal stew with rustic mashed potatoes, nor the London broil sprinkled with world-renowned Bayley Hazen blue cheese.
The pricing fits with the fun, communal vibe. The business is based on the "community-supported" model in which patrons are also investors. Staffers chat with customers, old friends greet one another from across the room, and the window into the kitchen lets diners watch the staff at work.
Even if you're not part of the Hardwick community, you can find plenty of reasons to "support" Claire's.