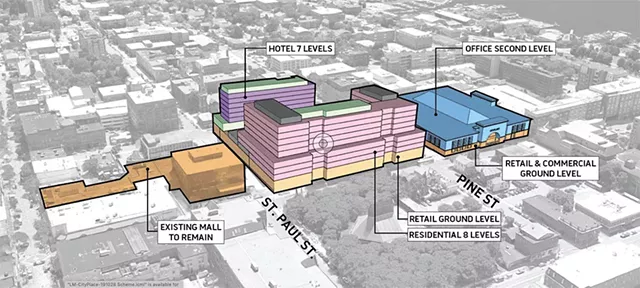 Courtesy Of Brookfield Asset Management
The new proposal
When New York City developer Don Sinex waltzed onto the Burlington scene in 2014, he had cosmopolitan dreams for Vermont's largest city. At an event inside the suburban-style Burlington Town Center mall that November, Sinex unveiled a $200 million proposal for a downtown redevelopment project that included hundreds of apartments, a convention center, office and retail space, and a rooftop park.
The plans "just took my breath away," City Councilor Karen Paul (D-Ward 6) said then.
Five years later, Sinex's grandiose vision has come crashing down, and his CityPlace Burlington is nothing more than an empty pit in the middle of town. On October 28, the now-majority owner of the project, Brookfield Asset Management, presented a scaled-down proposal at a Burlington City Council meeting. The very preliminary concept includes a hotel and substantial housing but far less retail and office space — and no convention center. CityPlace 2.0 also incorporates a redesign of the building next door that once housed a Macy's. Its tallest structure would be just 10 stories high, instead of a towering 14. The company has pledged to start construction in 2020.
After so many fits and starts, can this proposal actually make it over the finish line? Boosters are cautiously optimistic, though many unknowns — price and financing, the potential for a lengthy design and review process, and legal speed bumps — could again slow or stall the project.
"We are looking for them to do more, quickly, to prove ... that, in the end, it's going to succeed," Mayor Miro Weinberger said. "We are looking for some further confirmation on that."
But Brookfield has done anything but move quickly in the months since the company took over the project reins from Sinex. Back in August, Brookfield pledged to involve the public on its evolving plan; they haven't. And last week, at a council subcommittee meeting, Brookfield reps were supposed to propose a schedule of community meetings about the project; they didn't.
"If you don't have it now, when are you going to have an actual timeline?" Councilor Paul asked them. "There's gotta be a certain amount of a plan at this point, and I feel like, after three months, there should be a little bit more to say."
But the two Brookfield reps and William Fellows, a New York City-based architect, didn't reveal much. Only after Councilors Paul, Brian Pine (P-Ward 3) and Ali Dieng (D/P-Ward 7) prodded did they agree to do what they were supposed to in the first place — propose a schedule of community meetings — before year's end.
Seven Days, too, has had little luck getting the developers to open up: They have repeatedly ignored interview requests and again dodged questions after last week's meeting at city hall.
"Give us a little time," Peter Calkins, Brookfield's senior vice president of development, said.
Time isn't on Brookfield's side. Apart from antsy officials, the company has deadlines related to its development agreement with the city. That document requires that Brookfield sign a $50 million construction contract — which it would need to start building — by December 31.
It is possible the sides will renegotiate that date, but a separate state-imposed deadline doesn't appear to be as flexible. In 2016, the Vermont legislature approved a bill that gives Burlington more time to borrow $21.8 million in tax increment financing funds to fix up sidewalks and rebuild streets lost to the mall decades ago — as long as the construction contract is signed by June 2021. This type of financing allows municipalities to use a portion of municipal and education property taxes to pay for these improvements and pay back the debt using the additional tax revenue generated by the project.
But the redevelopment's reduced size raises questions about whether it will generate enough revenue to pay back the debt.
"It's all fluid, and that's the work we're doing right now," said Jeff Glassberg, a consultant working as a liaison between the city and Brookfield. "We are very busy trying to get this all pulled together. There are a lot of moving pieces, but it feels like progress."
Glassberg wouldn't elaborate on what the new plan means for projected TIF revenues but said the first step is to submit a "substantial change request" to the Vermont Economic Progress Council, the state body that oversees TIFs. The body's executive director, Megan Sullivan, did not return a request for comment.
If the TIF return falls short, Weinberger said, the city will build "as much new infrastructure" as it can, starting with Pine and St. Paul streets; work on Cherry and Bank streets would come next.
"We won't know exactly how everything is going to sort out until we have both updated cost and actual revenue assessments," the mayor said. The latter won't be in hand until after the project is built.
And first, CityPlace needs new permits. Developers will have to submit to city zoning review, Planning Director David White said, particularly since the concept now incorporates the former Macy's building, which is billed as the future home of University of Vermont Medical Center offices. Nothing's been submitted except sketch drawings the developer presented at the October 28 council meeting, but White is optimistic that permitting will go smoother than last time around, when the city created a special downtown district to accommodate 14-story buildings.
"We're anxious for the opportunity to sit down and work with the applicant to make sure the project is ready to go," White said. "There's no question in my mind they're going to dot every i and cross every t."
It's unclear whether the changes would trigger a potentially lengthy and arduous Act 250 state review. CityPlace was exempt the first time around since it met the state's definition of a "high-priority housing project."
But adding a hotel to the mix could change things. In early 2016, Sinex's attorneys floated a hotel concept to state regulators, who indicated that would spur Act 250 review. Sinex ultimately never proposed the hotel and got his exemption. But the rules may have changed since then, according to Evan Meenan, associate general counsel for the Act 250 board. He said he'd need to see formal plans before determining whether the project would again be exempt.
Is there a need for another hotel in Burlington? Sinex told Seven Days in 2016 that he didn't think so. But data from STR, the nation's leader in hotel market research, show that demand for hotel rooms in Chittenden County is on the rise; it's up 1 percent from January to September of this year. Over the same period, revenue per available room — an important industry metric achieved by multiplying hotels' occupancy rates by their average room cost — increased 3 percent. Nationwide, the same figure was just 1 percent, according to Jan Freitag, STR's senior vice president of lodging insights.
Other developers appear to have taken note: Construction is under way for a 142-room Cambria hotel on College Street, and a 93-room hotel is planned for Pearl Street. Burlington's Airbnb business is also booming. The website listed 720 short-term rentals in the Queen City earlier this year, up from 430 listings in January 2017.
Tom Torti, president and CEO of the Lake Champlain Regional Chamber of Commerce, thinks there's room for more lodging. The chamber frequently refers tourists to hotels outside of the county during peak foliage season and busy holiday weekends, he said. Brookfield would have analyzed the hotel market before proposing to build one, he noted.
Even Joe Carton, the chief operating officer for Westport Hospitality, which operates Hotel Vermont and the Marriott-brand Courtyard Burlington Harbor downtown, said he'd welcome the competition.
"I'd rather have a hotel than an empty lot," he said. "Having it vacant doesn't do anybody any good."
The plan's most dramatic change, though, is its height. According to Aanen Olsen, Brookfield's vice president of development, the height reduction would make it cheaper to build. A shorter building doesn't require high-rise construction techniques, which he described to the council in October as work that Vermont laborers aren't qualified to perform. Additionally, the 10-story building will use lighter-weight, less expensive steel, according to Brookfield development manager Chelsea Ziegelbaum, who declined to elaborate when pressed by Seven Days after last week's council subcommittee meeting.
"I don't want to get into that right now," Ziegelbaum said as she attempted to walk away.
Matthys Levy, a structural engineer who has worked with world-famous architects, disputed the notion that contractors would use different methods to build a 10-story building than a 14-story one. Levy, who is 90 and lives in Shelburne, has engineered everything from single-family homes to 60-story skyscrapers. He said losing four stories cuts costs simply because it's a smaller building, not because of how it's built.
"They're essentially equal in terms of complexity," Levy said.
What it costs means little to project opponents; they just want it shorter. John Franco, an attorney representing a group that sued the developers over previous design issues, said his clients are generally pleased with the new concept, but they don't plan to withdraw their ongoing lawsuit. Filed in 2018, the suit alleges that the developers violated a prior court settlement by changing the project design without notifying the plaintiffs.
Earlier this month, Franco asked a judge to ensure that his clients get "timely notice" of changes to the design before Brookfield applies for a zoning permit. It's an attempt to head off more litigation down the road, he said. Brookfield has yet to respond to the motion.
The suit also demands that the developers make good on a promise to donate $500,000 to a local charity, another condition of the settlement agreement. Brookfield has still not paid up.
Regardless, Franco thinks these issues could be resolved in short order.
"We'd like to work collaboratively on what this thing should look like," Franco said.
"If the story line is, the lawsuits are going to hold these things up, that's the last thing we want," he continued. "[The community is] getting tired of all that stuff."
The chamber's Torti, too, was pleased with the new concept. He attended Sinex's dramatic announcement in 2014 and said he still supports the project, despite years of broken promises and missed deadlines.
"Anything is better than a crumbling, old, tired, decaying mall," Torti said.
But does he think the new plans will pan out?
"I have no reason not to, but then again, I'm too old to be Pollyanna here. I said I believed Don [Sinex], too, so..." Torti said, pausing to reflect.
"Look, I'm hopeful," he continued. "I think we should all be hopeful."