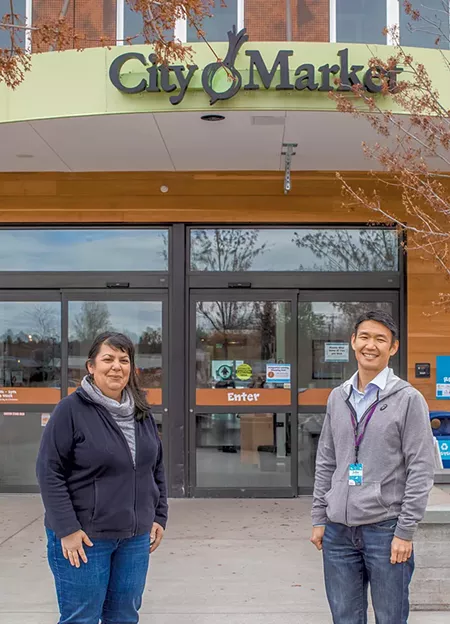 Luke Awtry
Madelyn Cataford & John Tashiro
C
ity Market, Onion River Co-op, is a Vermont institution. From modest beginnings on Archibald Street in the Old North End, the member-owned cooperative has been providing local, organic and conventional food to the Burlington community for more than 40 years.
Now it's a huge force in the local food ecosystem. City Market works with more than 1,000 Vermont vendors from around the state. In 2020, its sales topped $53.8 million; Vermont products accounted for approximately 40 percent of that.
And the co-op is about much more than making money. Promoting sustainable agriculture is part of its mission. So is ending childhood hunger and supporting essential community partners. That's why City Market encourages shoppers to "round up" their purchases to the nearest dollar amount — it collects the extra cash and donates it to local nonprofits. In March alone, shoppers sent more than $18,000 to three organizations; Feeding Chittenden, the Burlington School Food Project and the Flynn Center.
City Market also incentivizes members to earn discounts by volunteering with its 24 community partners. Last year its members completed more than 17,000 hours of volunteer work in 2020 for organizations including the Intervale Center, Hunger Free Vermont and Local Motion.
City Market works with a variety of banks and credit unions, too. In 2015, it looked to them for a loan to expand and build a second location in Burlington's South End. After reviewing the options, the leadership team chose a new partner: Mascoma Bank. The lender, which operates in Vermont and New Hampshire, financed construction of City Market's 27,000-square foot store on Flynn Avenue; it opened in 2017.
City Market Finance Director Madelyn Cataford explains that Mascoma saw value in the unique role the co-op plays in the community.
Another factor, says General Manager John Tashiro: As a Certified B Corporation Mascoma is focused on the long-term impacts of its investments. "I think that's quite unusual in the banking world," he says. "That certainly resonates very strongly with us."
Tashiro says he's seen evidence of that mission-driven commitment in Mascoma president and CEO Clay Adams, who visits Burlington regularly. "Clay is a big supporter of co-ops," Tashiro notes. "He understands some of our challenges."
Important as all those factors are, Tashiro explains that the deal had to make financial sense; City Market's member owners expect his team to do their due diligence. Mascoma checked that box, too. The bottom line?
"They offered us a very good rate," he says.
This article was commissioned and paid for by Mascoma Bank.
Member FDIC. Equal Housing Lender.
* All credit requests subject to commercial underwriting standards established by Mascoma Bank.