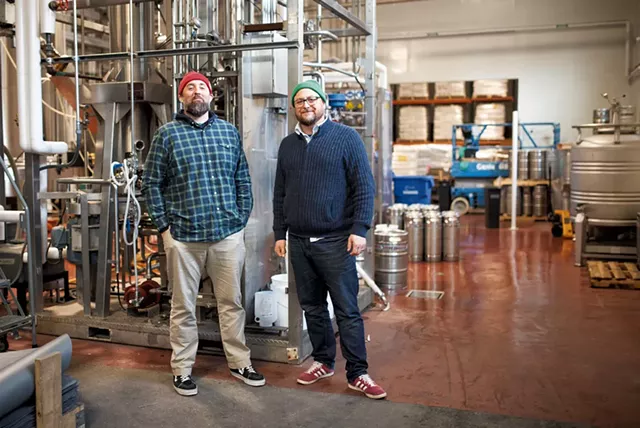 Courtesy Of Katie Palatucci
Matt Wilson (left) and Kris Nelson at Zero Gravity Craft Brewery
Kris Nelson, cofounder and co-owner of Citizen Cider, left his job at the Pine Street cidery last week to collaborate with Zero Gravity Craft Brewery on a new product: alcohol-free beer.
The beverage, still under development, represents a new brand for Zero Gravity. It will be produced at the brewery on Pine Street, where removal of the alcohol will follow fermentation with hops and barley.
"The idea is to give people something that's a craft beverage, that has flavor, that's low in calories, and that's beyond hanging out with seltzer or juice," Nelson said. "You're able to mix it up with a local craft product that happens to not have alcohol."
Nelson and his partners at Zero Gravity expect the non-alcoholic beer to be available at the Burlington taproom in early 2020. The branding of the product is a work in progress, he said, and its name will be released later.
Matt Wilson, co-owner of Zero Gravity, said production will make use of new technology that renders it possible "to produce nonalcoholic beers of a higher quality than previously available."
Elaborating on that theme, Wilson said: "We're trying to apply our level of painstaking detail and craft brewing into a space that's previously been an afterthought."
Nelson remains a co-owner of Citizen Cider with Justin Heilenbach and Bryan Holmes.