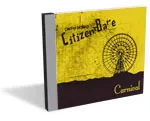 (Self-released, CD, digital download)
Live free, die naked. So says local Americana outfit Citizen Bare. After five years of toiling in local juke joints, the Jericho-based band has transferred its cheeky motto to a debut EP, Carnival, with mixed results. Living free — clothed or not — is fine and dandy. But we hold certain musical truths to be self-evident. Among them: It's important for a band's players to be locked in with one another. While there are several nice moments to be found throughout their EP, Citizen Bare too often err on the side of unchecked disorder, bordering on sloppiness.
Take the opening track, "On & On." The loping, alt-country tune begins promisingly enough as a sauntering lead-guitar line, courtesy of John Gratton, it sets a dusty tone. But as the full band enters behind him, things begin to unravel. The primary culprit seems to be the tandem of drummer Darin Savard and bassist Jesse Cowan, who never quite synchronize. In particular, Savard's drum work is too busy, favoring a quantity of strikes over quality. As a result, he struggles to lock in the beat, which has a trickle-down effect and distracts from the band's overall performance.
Songwriting credits are given to the band as a whole, though Andrew James is generally the front man. Lyrically, the group trades in high-minded sociopolitical messages with an activist bent that aligns well with the Occupy movement. Particularly on tracks such as "On & On," "Enough" and "Imagining Everything," James' delivery is direct and forceful. What he lacks in nuance he makes up for in intensity, which suits the band's forthright songwriting style. Citizen Bare won't rock your world with profound social commentary. But those of a similar socially conscious mindset should find a lot to latch onto.
While the bulk of the band's material falls in the alt-country rubric, Citizen Bare do dabble outside the genre's twangy constraints. Traces of jam, soul and straight-up rock can be heard throughout. That deference to myriad stylistic influences is largely a strength, and suggests a healthy sonic curiosity and willingness to take risks. But those risks don't always pay off. The EP's closing track, "Underground Veteran," is a ham-fisted mishmash of jammy Americana and limp hip-hop whose unifying message loses all urgency in translation. And that's the crux of the problem with the EP.
With freedom comes responsibility. While there is potential on Carnival, Citizen Bare do themselves, and their noble message, a disservice by settling for mediocrity. They have talent and, with more attention paid to detail, could overcome those failings. After all, freedom isn't … well, you know.
Citizen Bare play the Monkey House in Winooski this Friday, February 3, with This Way and Kingsley Flood.