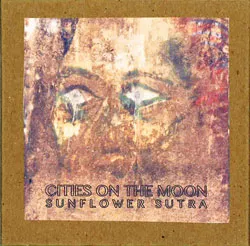 (Self-released, CD, digital download)
Sunflower Sutra, the third release from Burlington-based songwriter Patrick Crowley under the name Cities on the Moon takes its title from an Allen Ginsberg poem of the same name. Crowley, who moonlights in the local funk band What's Good, wrote the record last year as a meditation on isolation. While not exactly a concept album, there are thematic threads that stitch the work together, culminating in a closing five-song suite that tells the larger story of the album as a whole — and perhaps Crowley himself. It's an ambitious project, with a heightened degree of difficulty given its overt invocation of one of the Beat Generation's great poets.
Crowley is no Ginsberg, and it would obviously be unfair to compare the two. But, lyrically, at least, Crowley does occasionally approach a similar level of howling disillusionment as his famed muse. On album opener "Ninety" he sings, "Dressed like a fugitive / turning up in all your photos / either for the first time or not." He writes with a keen eye and a wounded heart. Especially when he resists the temptation to overexpose and allows some room for interpretation, it is an effective combination.
But Crowley's Sunflower wilts under a burning glare of schmaltzy arrangements and maudlin vocal performances. It's not a lack of talent. He is clearly a capable multi-instrumentalist and a gifted singer. Yet the mystery he crafts with his words is too often unmasked by a grating conflux of tinny synth drums, Muzak-y electric piano and various other crimes against good taste. Witness "Mary and Me and the Marionette," a song that opens like a Mariah Carey Christmas ballad gone awry and never recovers.
Crowley has a flair for the dramatic, especially vocally. But his tendency to gloss his substantial prose with unnecessary musical flash is a contradiction.
However, there are some truly compelling moments to be found on Sunflower Sutra, particularly in the album's closing chapters. On the comparatively spare "Fall Like the Tree in a Clearing," Crowley gives his words room to breathe. The result is a somber dirge that elicits favorable comparisons to the delicate work of artists such as Rufus Wainwright. On "Subversive Jingle," he attacks consumerism with a rapier wit that Ginsberg would have appreciated, coupled with a smart electronic arrangement that highlights his dramatic croon.
On the whole, Sunflower Sutra is an uneven effort, but one that suggests promise, should Crowley strike that elusive balance between the head and the heart.
Sunflower Sutra by Cities on the Moon is available at citiesonthemoon.com.