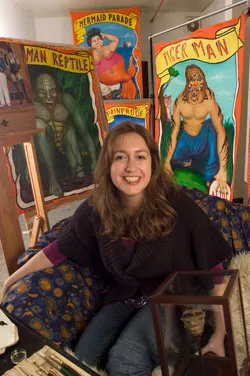 Matthew Thorsen
Toni-Lee Sangastiano
On the first day of each new semester, Champlain College professor Toni-Lee Sangastiano tells her graphic-design pupils a few things about herself they would never have guessed: She has a black belt in Taekwando; she's a former volunteer firefighter; and she's one of the leading "sideshow banner" painters in the United States.
Sideshow what? Yes, for the last decade, Sangastiano, 34, has been selling 4-by-5-foot acrylic paintings that immortalize sword swallowers, fire-eaters and other non-main-stage performers. The sideshow — what she calls the three ring's "seedy underbelly" — was a common form of popular entertainment in the 19th and early 20th centuries. Though out of favor with modern-day masses, sideshows still attract diehard enthusiasts who maintain fan websites and trade quirky memorabilia. Sideshow performers also strut on a side stage at Ozzfest, she informs.
"Most people don't peg me painting this stuff, which I guess ties into what I'm trying to show," explains Sangastiano, who's wearing bright-red lipstick and sitting in a faux-leopard-skin chair in her Pine Street studio. "People have all these perceptions of what performers are," she adds. "People think they're weird, when, in fact, they're just like everybody else."
On this balmy October afternoon in Burlington, Sangastiano is painting politically incorrect — post-PC? — banners for a Halloween sideshow gathering in Wilkes-Barre, Pennsylvania. In keeping with tradition, most of her canvases feature an orange or red background, a scroll and a sensational caption.
Walking around her studio, she stops to stick out her studded tongue at a banner featuring a green-haired woman whose own tongue has been pierced by a gargantuan nail. "PAINPROOF," says a caption. Further along, "REX the HUMAN REPTILE" crouches next to a mass of jungle vines. "I saw him on Ripley's," she explains. If Sangastiano's laptop and external hard drive weren't in evidence, her studio could be mistaken for P.T. Barnum's storage room.
******
Sangastiano first learned about sideshows in 1996, during the fall of her junior year at Fairleigh Dickinson University in New Jersey. That's when Dick Zigun of the Coney Island Circus approached her studio-art professor, Marie Roberts, to ask if she knew anyone who could paint banners. "I was really excited, even though I didn't know anything about it," Sangastiano recalls.
By the following spring, she had painted six banners, three of them for the Coney Island Museum. The experience prompted her to explore the history of the genre in her senior thesis. After college, while doing graphic-design work for magazines, Sangastiano bought the domain names sideshowbanners.com, -org and -net. They have helped her score banner commissions from comedy clubs, sideshow conventions and performers across the country.
One of the last is "Matt the Knife," a world-traveling, Guinness Record-holding sword swallower from Rhode Island. In 2006, he asked Sangastiano to paint a 5-by-7-foot banner portrait, detailing the color of his shoes, props and pinstripe suit. "He was very specific in his color scheme," she recalls. The resulting banner shows the performer clutching his sword in front of a plush purple curtain. The accompanying caption reads simply: "REAL." Sangastiano says Matt plans to commission a full series when he can afford it.
Not all of her patrons are entertainers or event planners. John Robinson, CEO of a nonprofit in Utah, has commissioned four banners from Sangastiano over the past six years. He attended his first sideshow as a child and now runs the fan site sideshowworld.com. Robinson collects such "natural wonders" as skulls, shrunken heads, Fiji mermaids, alligator men and two-headed babies. He sometimes sends samples to Sangastiano for inspiration. A skeleton from Robinson now occupies center stage in her studio.
Robinson says he appreciates how Sangastiano channels the old-time stylings of pre-1960s banner painters. Unlike some contemporary banners, "Toni-Lee's work piques curiosity," he attests in a phone interview. "It draws someone in and helps them say, 'Gee, what could be behind that banner? I want to be able to see that!'"
Marie Roberts, the Fairleigh Dickinson professor who jumpstarted Sangastiano's sideshow career, says the Burlington artist has a special gift for probing sideshow performers' psychological depths. She should know: During the 1920s, Roberts' uncle was a sideshow "talker" — the guy who heckles passersby — for the now-defunct Dreamland Circus Sideshow in Coney Island. A classically trained artist, she also teaches banner-painting classes at the Coney Island Sideshow School.
While Roberts' banners border on the "cartoony," she suggests, Sangastiano's have a "soft, fleshy" quality that both humanizes them and taps into universal themes. Speaking from Brooklyn, Roberts stresses that Sangastiano's soft touch isn't a sign of weakness; when her former student paints a "strong man," she explains, "He still looks like a strong man, but there's another layer."
Sangastiano has plenty of formal training of her own to draw from: She holds an MFA in Studio Art, and she spent the last two summers studying painting at the Angel Academy of Art in Florence, Italy. Immersion in the Old Masters, she says, influences her oil portraits of contemporary sideshow performers, whom she depicts lounging backstage or eating in diners.
Meanwhile, Sangastiano's graphic-design skills inform her sideshow-themed posters and illustrations. One example is her 2008 Coney Island Film Festival poster, which depicts the locale's "Wonder Wheel" in vibrant bands of primary colors. Another is a forthcoming cover of the sideshow-themed magazine Shocked and Amazed, which Sangastiano painted based on illustrations she'd created in Adobe Photoshop.
As for banner painting, Sangastiano says she's finding ways of changing her approach sans breaking with sideshow tradition. Case in point: A sketch of her next banner shows a woman whose leg is a snake that wraps around a classical-looking column — the latter inspired by her sojourns in Florence. However, Sangastiano says, the banner still honors a request from its subject, a legendary sword swallower whom she met at last year's sideshow gathering in Wilkes-Barre.
Another Sangastiano banner looks past the circus toward current events. Near the door of her Pine Street studio, an unfinished canvas depicts the "Alligator Man" — "Daily Show" host Jon Stewart — standing before a red, white and blue backdrop and flanked by fellow satirist Stephen Colbert. "REAL LEADERSHIP" and "REAL TRUTHINESS," read the captions.
"It's my first political banner," Sangastiano explains. "I want to send it to 'The Daily Show,' but first I have to fix Jon's face."