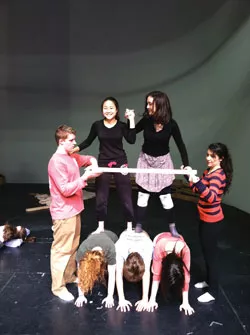 Servant girl meets rich boy but cannot reveal her identity. Girl loses shoe, and boy. Boy finds shoe, then finds girl. Couple lives happily ever after.
The tale of Cinderella, with its rags-to-riches transformation and all-important identifying shoe, goes back thousands of years and has roots in 47 different countries, according to Middlebury College visiting assistant professor of theater Andrew Smith. The earliest version is believed to have originated in ancient China, he says, before being passed over trade routes and finally hitting the Brothers Grimm in the 19th century. Then Disney in the 20th.
Smith dove into the classic tale's origin story when he decided to launch Middlebury College's inaugural new play festival, titled "Undressing Cinderella," which starts next Wednesday, April 10, at the college's Wright Memorial Theatre. Fourteen new plays from playwrights around the country will be presented seven at a time, alternating over four nights, with current students playing each of the 66 roles. Each play tells a brand-new story focused on any of the existing characters in the tale — except Cinderella.
Smith, a 1997 Middlebury grad, has been developing new plays for the last seven years through his New York City-based Project Y Theatre Company. He returned to Middlebury last fall for a two-year teaching gig.
Last September, Smith solicited scripts from MFA programs and playwriting organizations around the country, and ended up with 101 submissions. A team of students, faculty and staff sifted through the plays to find the best. "We received a lot of submissions that were very cute and sensitive and pristine, so we found ourselves being really attracted to some that were unexpectedly crude, in a good way," Smith says.
Why Cinderella? For one thing, there are quite a few more female than male students in the theater department. "I wanted to tackle something that had lots of roles for women," Smith says. More importantly, Smith was drawn to the "universality" of the story. "Everyone knows Cinderella," he says.
But not everyone knows its history. In early versions, Cinderella's mother dies and her heartbroken father vows never to marry again — until he starts noticing his attractive daughter. "The father starts pressing himself on the daughter," Smith says. "It's an incest-based story." So Cinderella runs away, and goes into hiding as a servant girl.
It was important to Smith to share these details in the prompt he gave writers, so they wouldn't rely too much on Disney. "I know it worked, because we got a lot of really dark stuff," he says.
Some of the selected plays interpret the original story quite literally — the action all happens somewhere else on the night of the ball, for example. Others take a whole new tack. In a play called "Stamps," a modern-day mother and father — a settled-down Cinderella and her prince-turned-politician — are at a parent-teacher conference discussing their child, who has been acting out.
Inspired by the Broadway show Wicked, which tells the backstory of the Wizard of Oz witches, Smith wanted to take a well-known play and "strip it down to something that was underneath, maybe something we didn't know was there," he says. "Not only satisfying people's expectations but also upending people's expectations."
"Undressing Cinderella," a new play festival. Wednesday through Saturday, April 10 to 13, 8 p.m., at Wright Memorial Theatre, Middlebury College. $6-12. A lunch and discussion will be held in the theater on Tuesday, April 8, 12:30 p.m. go.middlebury.edu/arts