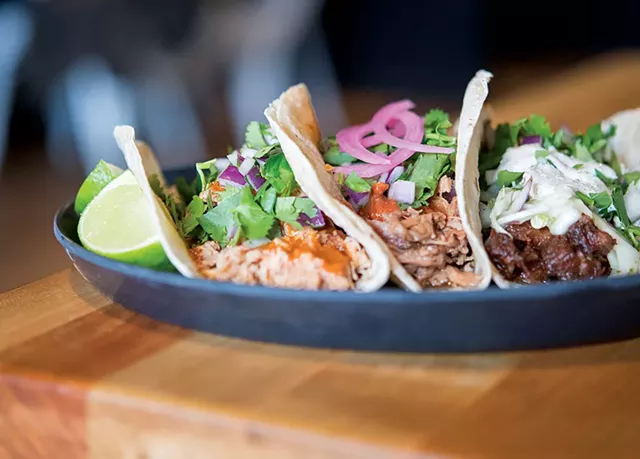 Caleb Kenna
Cilantro, Bennington
When Cassidy Warren started out in the restaurant business in his Illinois hometown, he often had coworkers who hailed from Mexico. "The staff meals they cooked were great," Warren recalls, referring to the group meal served to employees before a shift. "They'd take the scraps from the kitchen and always turn them into something delicious."

More than two decades later, his Cilantro restaurants in southwestern Vermont pay homage to that homey, practical cooking method, marrying local ingredients with the smoky, spicy flavors of Mexico.
Warren first came to Vermont to earn a degree from the New England Culinary Institute in Montpelier; he went on to build a career in fine-dining restaurants. Working in Colorado close to the New Mexico border, he continued to cultivate a love of chiles, slow-braised meats and corn in many forms.
Whenever he traveled to big cities around the U.S., Warren sought out authentic Mexican street tacos: small, fresh corn tortillas cradling tender shredded pork or beef and topped with chopped onion, cilantro and a tomato-based chile salsa. "It became my favorite thing to cook at home, my go-to food," he says. "It's all hand food, quick comfort food."
After Warren moved back to Vermont to start a family, he noted a need for this kind of fare — and saw an opportunity to bring locavorism to a broader audience. "Tacos are approachable," he says. "It shows you can do locally sourced food for everyone, not just the select few."
Caleb Kenna
Cilantro, Bennington
The original Cilantro opened in Manchester Center in 2010; a second location followed in Bennington in 2016. The no-frills counter-service spots offer traditional street tacos as well as "taco Americanos" loaded with more toppings in a flour tortilla. Do not expect margaritas or cheese melted all over your food. Do expect deeply flavored meats and equally delicious veggies for non-carnivores.
Warren buys three whole pigs weekly from a local farm and sources his beef from a New England co-op. Corn tortillas and black beans are from Vermont producers. Five different salsas range from a mild, smoky fire-roasted tomato to a snappy tomatillo-jalapeño, all made in-house, just like the chorizo sausage and queso fresco.
Says Warren, "It's a slow-food approach to fast food."