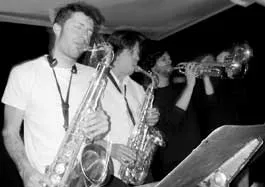 If anyone's qualified to speculate about central Vermont's new generation of creative young musicians, it's Michael Chorney. "There must be something in the water," jokes the 46-year old Lincoln-based saxophonist and Middlebury College teacher. As leader of the cosmo-funk mini-orchestra viperHouse, Chorney gathered some of the state's most promising musical talent and provided a stage — literally — for their development.
More than a year after that group broke up, Chorney is cultivating Orchid, his new improv-based jazz quartet. Simultaneously, some former vipers are stepping out with bands of their own. Rob Morse's collaborative trio Vorcza and Brian Boyes' globe-spanning Tala Septet highlight the maturing compositional and technical abilities of these intent and eager twentysomethings.
It all started back in an East Montpelier elementary school. That's where Robinson Morse and P.J. Davidian, both progeny of Vermont Jazz Ensemble members, began to make music together. At the tender age of 14, Morse enlisted in the popular local funk band Mr. Dooley, where he encountered Boyes, then a trumpet student in his second year at Goddard College. When Chorney later joined Mr. Dooley, the band that would be viperHouse had found its building blocks.
"When I first met Brian and Rob, I was immediately struck by their musicianship and their sensibility," Chorney recalls. "It came across right away. They were serious about what they were doing, but not at the expense of enjoying it, too."
Seeing these talented young artists emerge with their own projects, in addition to their sensitive contributions to Orchid, surely must make Chorney feel like a proud papa?
"Hmmm, maybe more like a proud brother than a proud father," he suggests. "I was in a position where, yeah, I brought them on board and put them together, but what had attracted me to each of them as musicians and people was recognizing that they already had their own innate abilities and qualities."
Boyes, now 27, is looking for his own "compositional niche" with the Tala Septet. "As much as I loved being a part of [viper-House] and learning from it, my role in the band was really as a player," Boyes says. "And after I left I just started sitting down and writing. It wasn't something I was consciously trying to do, but the next thing I knew, I had a handful of tunes."
Boyes was raised in Philadelphia and came to Goddard College in 1993, where he studied jazz with valve trombonist Don Glasgo and world music via field programs in Nepal and India. Today, it's clear his progressive music education is paying off. Since graduation, Boyes has taught multidisciplinary social studies and fine arts classes at the Cabot School, using music and visual art to address issues of equality and social justice.
Last year Boyes organized the group — from a ready stable of friends, former vipers and fellow Goddard alumni — that would bring his "handful of tunes" to life. The current version of Tala boasts an unusual four-horn frontline, which occasionally expands to five when Morse puts down the upright bass and picks up his first instrument, the trombone. The double saxophones of Chorney on alto and young Montpelierite Zack Tonnissen on tenor complement the paired trumpets of Boyes and Morse's younger brother Tom. Davidian on the drum kit and tabla player Gabe Halberg complete the East-meets-West rhythm section.
Tala's music is an intriguing blend of honeyed jazz melodies, complex, classical-sounding interludes and angular, cubist funk. There's not much solo space, and that's by design. Some of the longest pieces have no solos at all, Boyes points out, which makes them more special when they do occur. In fact, Tala's music is rather complicated and tightly composed, with Boyes guiding the musicians with an array of hand signals on the bandstand.
"Brian's charts are like this," says Chorney, holding his hands improbably far apart. "When I first heard Tala's music, at a concert they did before I'd joined the group, what struck me was how assured Brian's voice had become. It was unequivocal, in every piece, how that voice defines the aesthetic of the group very clearly. It's like Brian's brain, right on display."
"I want to pull in my collective global experience," confirms Boyes, "and of course my jazz and funk background, creating a sound that's expressive and new, for me. Maybe nobody else will think it's new, but as long as I feel like I'm pushing my musical horizons, that's what counts."
Boyes mixes jazz, funk and group improv with modern composition, and says he'd eventually like to add some electronics. "It's kind of a hodge-podge stew," he says, "but I hope it doesn't sound like a hodge-podge. I want it to sound like a unified whole."
A Tuesday night residency at The Waiting Room in Burling-ton, which began in February and continues through March, has been Tala's first opportunity to play together on a regular basis. Boyes predicts that by the end of the run they'll be ready to record this demanding music, most likely at Rich Davidian's basement studio in East Montpelier.
That's the same subterranean space where P.J. Davidian and Rob Morse learned to play together years ago. "We're basically still doing the same thing in the same place where we started," says Morse. The offspring of Vermont Jazz Ensemble director Rich Davidian and VJE trumpeter Burr Morse spent untold hours making music. "Even before junior high," recounts Morse, "we were doing these jam sessions with his dad, and me and my brother, and sometimes my father would play, too. We tended towards old jazz standards, the kind of gems that all beginning jazz aficionados get handed — stuff like Duke Ellington's ÔSatin Doll.' I remember Miles Davis' ÔFour' was another popular one."
The simultaneous influence of Jimi Hendrix and Led Zeppelin prompted Morse to pick up the electric bass, and by eighth grade he'd formed his first band. The short-lived Skeptic Tank played original music and covers ranging from David Byrne to the Brand New Heavies. Morse kept up his trombone chops as the junior member of Dooley's horn section, gigging at ski bars around the state and beyond. At 24, he's already a decade-long veteran of Vermont's club circuit.
"I'd be up all night, then be a zombie all day at school," Morse recalls the experience of moonlighting while a student at U-32 in Montpelier. "But it was such a high playing that music, making people want to move. At this point, music's about something different for me, but that'll always be a big part of it, that physical reaction."
These days, according to Morse, playing music "is about something deeper, more about listening, perhaps, and responding, in addition to that visceral feeling."
He gets the opportunity to challenge his eardrums most frequently with Vorcza, which he co-leads with drummer Gabe Jarrett — a Goddard alumnus who also plays with the James Harvey Trio — and ex-viper Ray Paczkowski on keyboards. "It tends to be pretty high-energy," Morse says of Vorcza's music. "I was trying to articulate to those guys what I was feeling about how we were playing recently, and I ended up calling it a maximalist take on musicÉ just this kind of explosive energy." There still may be too many notes sometimes, he muses, but "there's a pure, central thing to find in there."
While Vorcza's early sets leaned on the compositions of Ellington, Monk and Sun Ra, they're currently focused on originals, some of which were recently recorded at Trey Anastasio's farmhouse studio and will be released later this year. With a lineup of bass, drums and organ, the keyboard has a defining sound. Most organ players can't help but evoke Jimmy Smith's greasy gurgle, but Paczkowski's rhythm method more closely resembles the Coltrane-inspired, spiky, slashing B-3 stylings of Larry Young.
"Often we're using the pulse as the basis for improvisation," Morse says of the rhythm section's role, "a shifting feel where you lose track of where in the meter you are, and you don't mind that you've lost track."
If Vorcza's music is "maximalist," that of Chorney's Orchid "is the minimalist side of the spectrum," Morse proposes. "I think someone called it Ôdeconstructionist' once."
"Keeping things really simple has been one of our guiding principals," agrees the saxophonist, who says he will soon release a limited-edition pressing of the quartet's music. "There's a lot of improvisation in Orchid, and a lot of spaceÉ Our principle is, if you don't know what to play, don't play anything at all."
When Chorney needed musicians last year to learn a program of his music commissioned by — and later performed at — the FlynnSpace, he gathered some familiar faces: Rob Morse, P.J. Davidian and Zack Tonnissen, the tenor-toting classmate of Tom Morse who'd joined viperHouse shortly before the group folded.
"I've played with Rob and P.J. and Zack for so long now," says Chorney, "that we have an innate understanding between us. I knew that as soon as we started playing there would be no instructions needed to deepen the music, because the guys would get it right away."
Despite the relative youth of his bandmates, Chorney notes, they "already are in touch with their voice — and not just the tone on their instruments, but their way of synthesizing all the aspects of music making and putting it out there." Many musicians, even technically gifted ones, never get that, he says. "I'm always attracted to the details and the sincerity of a musician's true voice," Chorney continues, "when they have the courage to look for it and share it, and the discipline. These guys, I feel, have always had it."
Vorcza, the Tala Septet and Orchid represent not only a musical evolution for this close-knit crew, but a shift in practical and professional priorities as well. Vorcza plans some limited regional touring, Morse reports, but for the most part the musicians seem content — even determined — to stay close to home and develop their music with quiet, humble patience.
"There's absolutely no striving involved," Chorney asserts, "other than to play this music. When you're doing a hundred shows a year, you begin to take certain things for granted. And when you're only playing a few gigs in situations that you like, each one becomes more of a significant event."
"It's going on two years since [viperHouse] parted ways, and I'm still at a place where I don't take a gig unless I'm really interested in the perpetuation and well-being of the project," adds Davidian. "Because I am trying to separate anything negative from the experience of playing music."
He might be speaking for all the members of Tala, Vorcza and Orchid when he says, "We need to keep this music fun and pure."
Vorcza plays at the Waiting Room in Burlington every other Thursday through April 25. The Tala Septet will play there March 19 and 26.