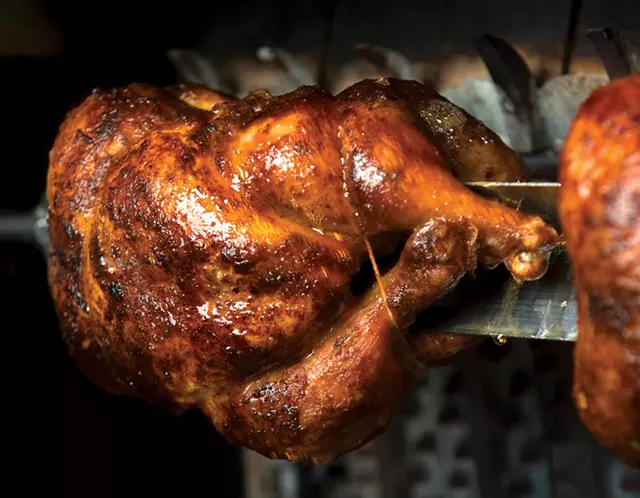 caleb kenna
Choices Restaurant and Rotisserie in Killington
Walk into Choices Restaurant, and there's dinner: golden-brown chickens spin temptingly in a rotisserie oven right by the front door.
Yep, you've decided — roasted chicken it will be. Until the giant dinner menu arrives, and Choices' moniker suddenly makes sense. The all-purpose Killington eatery offers a dozen seafood dishes, 20 meats, 10 pastas, seven salads — more than 60 options in all. This "something for everyone" ethos has been a successful survival strategy for Chef Claude Blais since 1986.
2820 Killington Rd.
Rutland/Killington
Killington, VT
802-422-4030
American (New) and Bar
Back then, the Vermont-born, Culinary Institute of America-trained Blais wanted to create a place for skiers and locals alike, so he set up two dining rooms: one with casual fare, the other serving high-end dinners. A slump in the early 1990s caused him to change course. Blais merged the dining rooms and their menus and installed his French-made rotisserie oven — all smart marketing moves in a sink-or-swim industry.
Twenty years later, many visitors to Killington single out Choices as the best spot in town. Don't be fooled by the black lacquered chairs, ficus trees and other vestiges of the '80s; Blais' fare is geared toward modern families with a sense of adventure.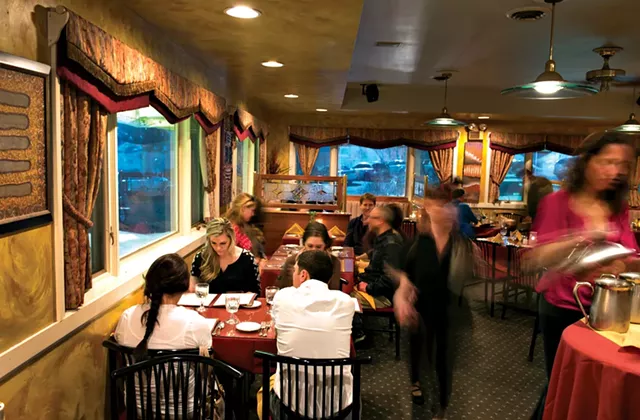 caleb kenna
Choices Restaurant and Rotisserie in Killington
While kids nosh on cheeseburgers, their parents can tuck into delicate, cornmeal-crusted fried oysters wedged between slices of andouille sausage and flavored with gutsy remoulade. A crisp potato pancake topped with capers, pickled onions and a drizzle of sour cream, served with smoked-salmon rosettes, is an Alpine snack for eaters of all ages.
Sautéed monkfish fillets soaked in pecan butter are both sophisticated and satisfying, while those rotisserie meats — herb-dusted leg of lamb; tender pork loin stuffed with apples; and moist, spicy chicken — are reliable crowd pleasers. Can't choose? Order a sampler platter.
Dessert necessitates more decision making, with the "choices" presented tableside on an old-school tray. Perhaps the most emblematic is the towering, feather-light chocolate mousse cake, with its crisscross of light and dark chocolates — as if the chef himself couldn't decide between the two.